Substance Abuse Prevention Coalition of Alexandria (SAPCA)
Information about the Substance Abuse Prevention Coalition of Alexandria (SAPCA).
Page updated on
February 6, 2023 at 10:45 AM
Learn more about the For Our Future messaging campaign
SAPCA is launching For Our Future, a campaign to promote the health benefits of living alcohol-free, alternatives to alcohol use, and the importance of supportive role models. Learn more.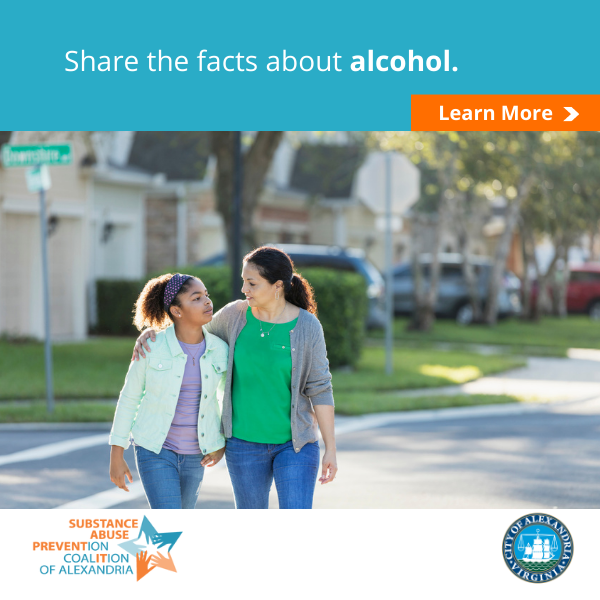 Más información sobre Por Nuestro Futuro, una campaña de comunicación
SAPCA está lanzando Por Nuestro Futuro, una campaña de comunicación que promueve los beneficios para la salud de vivir sin alcohol, alternativas al consumo de alcohol, y la importancia de contar con modelos de apoyo. Más información.
Think you know about fentanyl? Think again.
Fast Facts
Fentanyl is a tasteless and odorless synthetic opioid that is 50 times stronger than heroin and 100 times stronger than morphine.

Only two salt-sized grains of fentanyl may cause an opioid overdose.

Street drugs can be laced with fentanyl without the user's knowledge. These may include:

Marijuana

Vaping e-liquids

Fake pills

Cocaine

Since fentanyl is randomly distributed in laced substances, one "dose" may have a fatal amount when another does not.

If medication has not been prescribed to you, it runs the risk of being laced.

Looks are deceiving -- fake pills look real. Only take medication prescribed by a doctor or purchased at a pharmacy. It may only take a small amount of fentanyl to cause an opioid overdose.
Learn more about fentanyl and help spread the word by sharing these flyers:
Supporting Healthy Youth and Healthy Families
SAPCA encourages families to talk with children and teens about substance use and misuse. Check out these ideas for starting - or continuing - the conversation:
Make your values clear about substance use - particularly underage use of substances - with children and teens. 

Have a conversation about family rules and consequences. Topics to discuss together could include:

What is a realistic curfew for week nights? Is curfew different on weekends?
What are some of the potential consequences of arriving home past curfew? How might these consequences change if communication takes place to explain a delay?

Talk about the health, legal and social consequences of using substances like  alcohol,  marijuana, and  e-cigarettes and misusing prescription and over-the-counter medication. 
 Know the legal consequences related to underage use of these substances. It is illegal for anyone under 21 to use, purchase or possess alcohol, marijuana or tobacco products. It is also illegal for anyone over 21 to provide alcohol, marijuana or tobacco  products to persons under 21.
Resource Spotlight: Playbook for Parents To Support Healthy Youth
The Partnership to End Addiction has released two comprehensive resources to support families with children and teens: "Playbook for Parents of Pre-Teens" and "Playbook for Parents of Teens." These guides highlight key factors that increase the likelihood youth will experience more difficult circumstances in life (risk factors) and those factors that can provide a buffer against these negative outcomes (protective factors). By learning about these challenges and sources of strength, parents and caregivers can take action to protect their children's health and well-being now and in the future. Explore other resources from the Partnership to End Addiction here.
Who We Are
SAPCA is an alliance of parents, youth, schools, city health and recreation agencies, media, nonprofits, businesses, policymakers and law enforcement.
Our mission is to engage diverse sectors of the community in collaborative, cross-cultural and comprehensive substance abuse prevention efforts that result in a reduction of underage substance use and abuse in the City of Alexandria.
SAPCA is a member of the  Community Anti-Drug Coalitions of America (CADCA) , the nation's leading drug abuse prevention organization. CADCA represents the interests of more than 5,000 community anti-drug coalitions and comprises members from every U.S. state and territory. 
SAPCA uses a variety of community-wide strategies to accomplish our goals -- outlined in our action plan . Each of these strategies represents a key element in building and maintaining a healthy community.
Board Members
Officers
Chair: Allen Lomax, Independent Consultant

Vice Chair: Kimberly Hyde Santucci, Salem Media Marketing Director

Secretary: Kate Harbour, Alexandria City High School Senior

Treasurer: Fredy Martinez, Alexandria City Public Schools K-12 Substance Abuse Prevention and Intervention Services Coordinator
Board of Directors
Cheyenne McKay, Alexandria City High School Junior
Gabriel Elias, Alexandria City High School International Academy Teacher
Keiry Cortez, Francis C. Hammond Middle School 8th grader
Maureen McNulty, Neighborhood Health Ryan White Nurse
Tom Gates, Metropolitan Washington Council of Governments Deputy Executive Director for Operations and Programs
Staff
Emma Beall, SAPCA Coordinator
On July 1, 2021, marijuana was legalized for adults, 21 years or older, with certain conditions. SAPCA thought youth and adults should know these Top 10 Things about the new law. They are:
It is illegal for anyone under the age of 21 to use, purchase, or possess any amount of marijuana.
Adults may possess up to one ounce (28.3 grams) and use marijuana in Virginia.
Adults may grow up to four marijuana plants per household—not per person. Youth access to these plants must be restricted and plants should not be grown in a public place. Each plant must have a legible tag attached with the owner's name, driver's license or ID number, and a statement that it is grown for a personal use as authorized by law.
It is illegal for anyone to use marijuana in a public space.
Adults may use marijuana in a private residence but the owner of a residence can restrict the use of marijuana in the residence.
Colleges and universities in Virginia have the right to prohibit marijuana use and possession on their campuses and in campus housing.
It is illegal for anyone to buy or sell marijuana, including marijuana seeds.
It is also illegal to ship, transport, import or bring marijuana or marijuana products into Virginia.
It is unsafe to drive while under the influence of marijuana, alcohol, or a combination of these substances.
It is illegal for anyone under the age of 21 to use, purchase, or possess any amount of marijuana.

Learn more facts about the new Virginia Legalization Law at  cannabis.virginia.gov
Resource Spotlight: Raising Resilient Kids
Donate to SAPCA
Want to donate to SAPCA?  We welcome your involvement and support. 
Donations via credit card can be submitted here.
Donations in the form of a check can be made out to the City of Alexandria with "SAPCA" written in the memo line. Checks should be mailed to the following address:
Substance Abuse Prevention Coalition of Alexandria
C/O Emma Beall
123 N. Pitt Street, Suite 225
Alexandria, VA 22314
Supporting Positive Youth Development
Contact Us
If you would like additional information or are interested in getting involved with the Substance Abuse Prevention Coalition of Alexandria or one if its initiatives, please contact:
Emma Beall 
Coordinator, Substance Abuse Prevention Coalition of Alexandria
Emma.beall@alexandriava.gov
703.746.3670