Translate
Contractor Alert! Contractors performing renovation, repair and painting projects that disturb lead-based paint in homes, child care facilities, and schools built before 1978 must be certified and must follow specific work practices to prevent lead contamination. Learn more here.
Attention Building & Electrical Contractors -  Concrete Encased Electrode Inspections
In accordance with the National Electrical Code®, if the building footing has rebar in concrete that is in contact with the earth you are required by NEC® Section 250.52(A)(3) to use this electrode or bond to this electrode from other present electrodes. Below is a copy of what the National Electrical Code® is asking you to do.
"250.52(A)(3) Concrete-Encased Electrode. An electrode encased by at least 50 mm (2 in.) of concrete, located horizontally near the bottom or vertically, and within that portion of a concrete foundation or footing that is in direct contact with the earth, consisting of at least 6.0 m (20 ft) of one or more bare or zinc galvanized or other electrically conductive coated steel reinforcing bars or rods of not less than 13 mm (1⁄2 in.) in diameter, or consisting of at least 6.0 m (20 ft) of bare copper conductor not smaller than 4 AWG. Reinforcing bars shall be permitted to be bonded together by the usual steel tie wires or other effective means. Where multiple concrete-encased electrodes are present at a building or structure, it shall be permissible to bond only one into the grounding electrode system."
When building contractor schedule an inspection of footer(s)be sure to install a properly constructed "Concrete Encased Electrode" sometimes referred to as a "UFER" from the rebar (with a properly listed clamp) to the service disconnection means grounded conductor location via a minimum 4 AWG copper GEC (Grounding Electrode Conductor) conductor. Our inspectors will be looking for this "Concrete Encased Electrode" on all footing inspections that rebar is present within the footing. ( Note: if a vapor barrier is installed under the footing so that the footer is not in direct contact with the earth then you do not have a Concrete Encased Electrode and it can't be used for your grounding electrode. If at any point you have questions please feel free to give us a call for more details)
If you are confused or need assistance in learning more about Concrete Encased Electrodes, please call Supervisor Abernathy at 703.906.2371.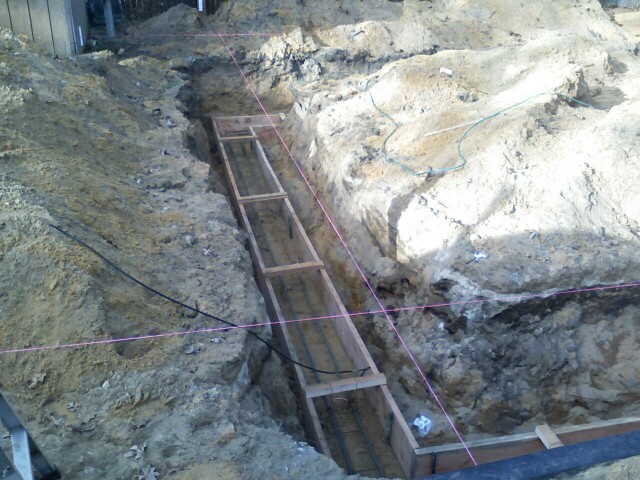 * Above is an example of a properly installed Concrete Encased Electrode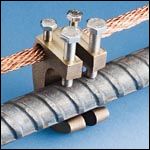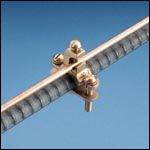 * Examples of two listed clamps ( Acorn Clamps are not acceptable unless listed for the application )
Attention Customers : Please be aware that on Thursdays field inspectors may be attending in-house training on the National Electrical Code® from 8:30-9:30 AM. If you are requesting an inspection on those Thursdays, please be aware that the inspectors will be getting into the field a bit later than normal. Thank you in advance for your patience. (P.S. This training is open to Electrical Contractors who would like to attend.)