Translate
City of Alexandria Provides COVID-19 Updates; Pregnancy, Birth and Newborn Guidance; Weekly Featured Jobs and Workshops
­­For Immediate Release: November 9, 2020
The City of Alexandria and the Alexandria Health Department (AHD) remind everyone that you are safest at home. Older adults and persons with underlying medical conditions are at greater risk for severe disease and are advised to minimize potential exposures as much as possible. To stop the spread of COVID-19, the state order and City ordinance require everyone ages 10 and older to wear a mask over their nose and mouth in indoor public places and when at least 6 feet of physical distance cannot be maintained between those of different households in outdoor public places, with limited exceptions. Your neighbors and loved ones are counting on you.   
Pregnancy, Birth and Newborn Guidance
People who are pregnant are strongly urged to follow guidance for minimizing exposure to  COVID-19, due to increased risk for severe illness that can include adverse outcomes, such as preterm birth. The Centers for Disease Control and Prevention offers extensive guidance for pregnancy, breastfeeding and caring for newborns. It is important to limit interactions with people who might be exposed to COVID-19, including anyone within the household. When outside the household, be sure to wear a mask, maintain 6 feet of physical distance whenever possible, and avoid activities that make taking protective measures difficult or impossible. 

Continue scheduled healthcare appointments during and after pregnancy, to continue to monitor health. Receive recommended vaccines during pregnancy, such as flu and whooping cough, and keep a 30-day supply of medications at home. Seek emergency medical attention when necessary, and notify first responders and medical staff if COVID-19 infection is present. There are many decisions that will need to be made for the newborn in the event that the pregnant person has COVID-19, including whether the newborn will be rooming in at the hospital following birth. Precautions must be taken both in the hospital and upon returning home, including how to safely manage newborn doctor visits and breastfeeding.      
Weekly Featured Jobs and Workshops
Residents who have lost employment due to COVID-19 are encouraged to review the list of employers who are hiring, which is updated weekly. This week, the Alexandria Workforce Development Center (WDC) has several workshops to help residents enhance job readiness and improve their job search, including resume building, job search skills, networking skills, and transferable skills. All events and workshops take place online, are free, and registration is requested. Follow WDC on Facebook, Twitter or   LinkedIn for the latest flyer, or visit the WDC's job board for a complete list of job opportunities.
Alexandria COVID-19 Data At-a-Glance
This chart provides information about how preventive measures are impacting Alexandria's response to the pandemic. Click or tap the chart to view an interactive version that provides details of the seven-day moving average number of COVID-19 cases, and the daily and cumulative case and fatality counts. Detailed data, including data on age, race and ethnicity, are available through links at alexandriava.gov/Coronavirus.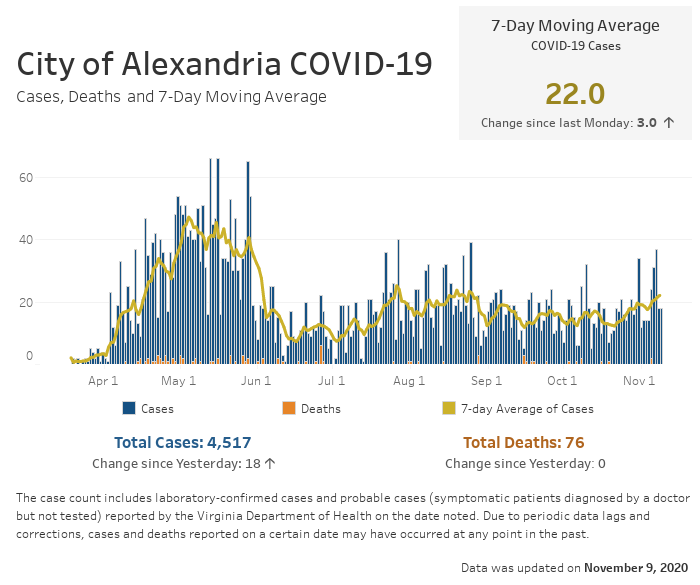 AHD estimates that approximately 1 in 13 Alexandrians who tested positive for COVID-19 have required hospitalization. An estimated 66% of Virginia adults who become infected never have symptoms. The best ways to stop the spread of COVID-19 remain wearing a mask in public, maintaining at least 6 feet of distance from others, and frequently washing your hands or carrying and using hand sanitizer with at least 60% ethyl alcohol. Help your loved ones and neighbors by answering a call from AHD if identified as a close contact of someone who tests positive for COVID-19, and download the Virginia Department of Health's COVIDWISE app to be quickly and anonymously notified of likely exposure to the virus.
# # #
This news release is available at alexandriava.gov/118788.