Translate
City of Alexandria Provides COVID-19 Updates; Contactless Payments, Hardship Waivers for Taxes Due Today; Impact of New Restrictions on City Operations; Upcoming Testing Events; Weekly Featured Jobs and Workshops
­­For Immediate Release: November 16, 2020
The City of Alexandria and the Alexandria Health Department (AHD) remind everyone that you are safest at home. Older adults and persons with underlying medical conditions are at greater risk for severe disease and are advised to minimize potential exposures as much as possible. To stop the spread of COVID-19, the state order and City ordinance require everyone to wear a mask over their noses and mouths in indoor public places and when at least 6 feet of physical distance cannot be maintained between those of different households in outdoor public places, with limited exceptions. Your neighbors and loved ones are counting on you. 
Contactless Payments; Hardship Waivers Available for Real Estate Taxes Due Today
There are several contactless ways to pay second-half real estate taxes, which are due by midnight tonight. Pay by credit card or eCheck at alexandriava.gov/Payments, by credit card over the phone at 877.273.5708, or by check via the dropbox located on the Royal Street side of City Hall (301 King St.). Payments must be made by midnight tonight to be considered on time. While the COVID-19 pandemic has affected our entire community, the City recognizes that the financial impact on some taxpayers may be particularly substantial. If a taxpayer's ability to pay the full amount due by November 16 has been affected by the COVID-19 pandemic, email covid19realpropertytax@alexandriava.gov or call 703.746.4800 to discuss the circumstances and learn about payment options. For general information about the real estate tax, refuse fee and stormwater utility fee, real estate assessments, appeals or updating the property owner's mailing address, visit alexandriava.gov/RealEstateTax. For information about payments, late payment penalty and interest, visit alexandriava.gov/TaxGuide or contact the Treasury Division at 703.746.746.4800 (Spanish also available).  
Impact of New Restrictions on City Operations
The new statewide mitigation measures to slow the spread of COVID-19 are now in effect and will not significantly impact City operations. City recreation, nature, art and library facilities, programs and classes already comply with COVID-19 best practices and will not be affected, other than that children ages 5 and up will be required to wear masks. The maximum number of attendees for indoor and outdoor events held by the City or under special event permits has been reduced from 1,000 to 250. All public and private in-person social gatherings must be limited to 25 individuals, down from the prior cap of 250 people, and includes both indoor and outdoor settings. Races and marathons may have up to 250 participants, provided there are staggered starts of groups of no more than 25 per group. Spectators at sporting activities are limited to the lesser of 30% of the occupancy load of the venue (if applicable) or 25 per field.
Upcoming COVID-19 Testing Events
The City and AHD have partnered with Neighborhood Health, with assistance from Medical Reserve Corps volunteers, to conduct weekly targeted COVID-19 testing events in Alexandria's communities to increase access to testing. These free testing events are intended to reach those who don't have access to care, are uninsured or might not have identification. The City has compiled COVID-19 testing resources, including a multilingual guide to testing facilities every day of the week, a symptom checker, and an interactive map to find testing locations. Guidance materials for next steps following a positive test result are also available in English, Spanish, Amharic and Arabic and can be downloaded.     
Weekly Featured Jobs and Workshops
Residents who have lost employment due to COVID-19 are encouraged to review the list of employers who are hiring, which is updated weekly. This week, the Alexandria Workforce Development Center (WDC) has several workshops to help residents enhance job readiness and improve their job search, including interviewing skills, networking skills, virtual job fair preparation, and transferable skills. All events and workshops take place online, are free, and registration is requested. Follow WDC on Facebook, Twitter or   LinkedIn for the latest flyer, or visit the WDC's job board for a complete list of job opportunities.
Alexandria COVID-19 Data At-a-Glance
The chart below, containing the seven-day moving average number of COVID-19 cases and the daily and cumulative case and fatality counts, provides detailed information about how preventive measures are impacting Alexandria's response to the pandemic. An interactive version is available at alexandriava.gov/114883. Note that the increase in cases from yesterday is higher than usual due to technical difficulties that prevented the Virginia Department of Health from making updates over the weekend. Detailed data, including data on age, race and ethnicity, are available through links at alexandriava.gov/Coronavirus.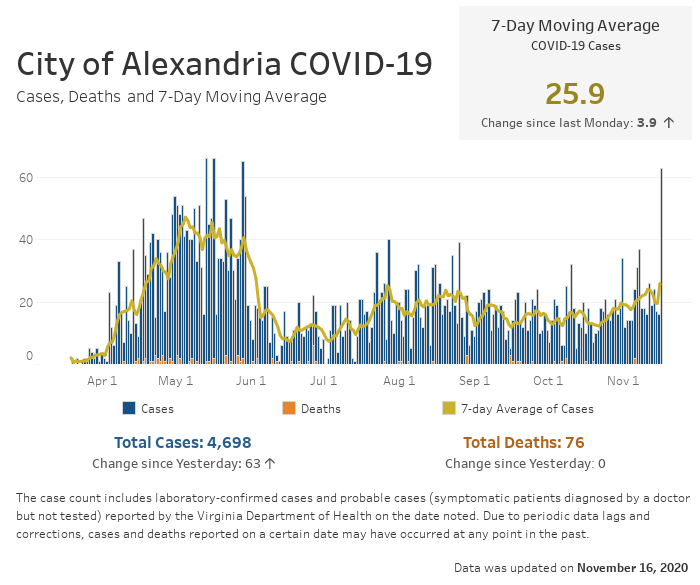 AHD estimates that approximately 1 in 13 Alexandrians who tested positive for COVID-19 have required hospitalization. An estimated 66% of Virginia adults who become infected never have symptoms. The best ways to stop the spread of COVID-19 remain wearing a mask in public, maintaining at least 6 feet of distance from others, and frequently washing your hands or carrying and using hand sanitizer with at least 60% ethyl alcohol. Help your loved ones and neighbors by answering a call from AHD if identified as a close contact of someone who tests positive for COVID-19, and download the Virginia Department of Health's COVIDWISE app to be quickly and anonymously notified of likely exposure to the virus.
# # #
This news release is available at alexandriava.gov/118937.