Translate
City of Alexandria Provides COVID-19 Updates; Increased Demand for Testing Across Region; Celebrate the Holidays Virtually 
­­For Immediate Release: November 20, 2020
The City of Alexandria and the Alexandria Health Department (AHD) remind everyone that you are safest at home. Older adults and persons with underlying medical conditions are at greater risk for severe disease and are advised to minimize potential exposures as much as possible. To stop the spread of COVID-19, the state order and City ordinance require everyone to wear a mask over their noses and mouths in indoor public places and when at least 6 feet of physical distance cannot be maintained between those of different households in outdoor public places, with limited exceptions. Your neighbors and loved ones are counting on you. 
Increased Demand for Testing Across Region
AHD and the City conduct targeted COVID-19 community testing events for people who live and work in the immediate neighborhood of each location, especially for those who are uninsured. Recently, there has been a significant increase in requests for testing due to an increase in cases in the region. More than 200 people participated in yesterday's community testing event at the Burke Branch Library before capacity was reached, more than double the usual number. Many participants indicated the test was because of plans to travel, not because they were experiencing symptoms. The CDC, AHD and City strongly urge against elective travel during the holidays or at any other time. Testing resources other than community testing events are available for anyone who is insured, has been exposed to COVID-19, is not experiencing symptoms, or must undertake essential travel; including the organizations listed on the City's " Get Tested" web page. Call or book an appointment online before going to any facility.   
Celebrate the Holidays Safely with Virtual Activities
While the community continues to see an increase in COVID-19 cases, AHD urges residents to consider virtual holiday activities that are lower risk of possible spread of the coronavirus. Options being hosted in Alexandria and across the region include: 

Alexandria COVID-19 Data At-a-Glance
The chart below, containing the seven-day moving average number of COVID-19 cases and the daily and cumulative case and fatality counts, provides detailed information about how preventive measures are impacting Alexandria's response to the pandemic. An interactive version is available at alexandriava.gov/114883. Detailed data, including data on age, race and ethnicity, are available through links at alexandriava.gov/Coronavirus.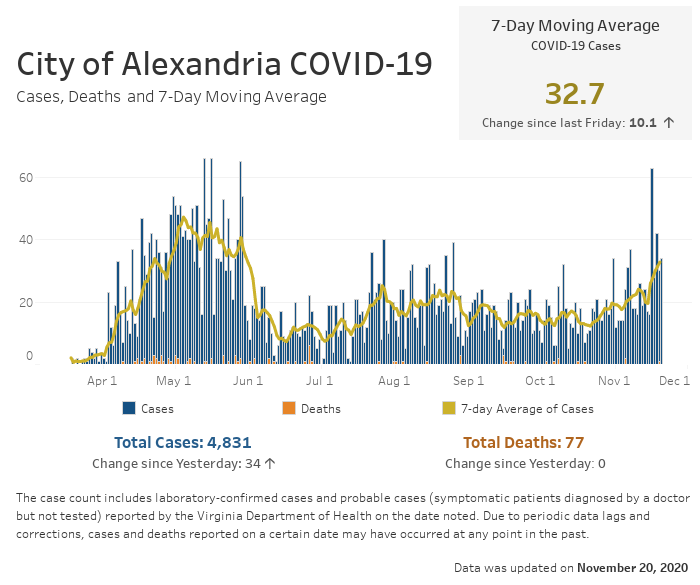 AHD estimates that approximately 1 in 13 Alexandrians who tested positive for COVID-19 have required hospitalization. An estimated 66% of Virginia adults who become infected never have symptoms. The best ways to stop the spread of COVID-19 remain wearing a mask in public, maintaining at least 6 feet of distance from others, and frequently washing your hands or carrying and using hand sanitizer with at least 60% ethyl alcohol. Help your loved ones and neighbors by answering a call from AHD if identified as a close contact of someone who tests positive for COVID-19, and download the Virginia Department of Health's COVIDWISE app to be quickly and anonymously notified of likely exposure to the virus.
# # #
This news release is available at alexandriava.gov/119044.