Translate
City of Alexandria Provides COVID-19 Updates; Emergency Food Distribution this Saturday; Benefits of Getting a COVID-19 Vaccine; Advisory Committee on Immunization Practices Makes Recommendations
­­For Immediate Release: December 2, 2020
The City of Alexandria and the Alexandria Health Department (AHD) remind everyone that you are safest at home. Older adults and persons with underlying medical conditions are at greater risk for severe disease and are advised to minimize potential exposures as much as possible. To stop the spread of COVID-19, the state order and City ordinance require everyone to wear a mask over their noses and mouths in indoor public places and when at least 6 feet of physical distance cannot be maintained between those of different households in outdoor public places, with limited exceptions. Your neighbors and loved ones are counting on you. 
Emergency Food Distribution this Saturday
ALIVE! Truck-to-Trunk will distribute emergency groceries at two drive-through sites on Saturday, December 5, 8:30-10:30 a.m., in the parking lot of Cora Kelly Elementary School (3600 Commonwealth Ave.) and parking lot B-1 of the Northern Virginia Community College Alexandria Campus (3320 Bisdorf Drive). To minimize risk of possible exposure to COVID-19, attendees are asked to drive through and remain in their cars and stay home if they feel sick. Walk-up customers are permitted but should maintain 6 feet of physical distance, wear face masks, and bring carts or reusable bags to carry food home. Additional food assistance resources are available for Alexandria residents.  

The Benefits of Getting a COVID-19 Vaccine
COVID-19 vaccines are in the final stages of approval for distribution to the public and will only be authorized for use if they prove to substantially reduce the risk of becoming infected with COVID-19. There are many benefits of getting a COVID-19 vaccine once they become available. Under Emergency Authorization Use, a vaccine must be able to prove that the known and potential benefits of the vaccine outweigh the risks in order to be authorized. Vaccines help the body develop natural protection against the virus by triggering an antibody response to the virus, without infecting the recipient. Based on current information, experts believe that vaccines may help reduce the risk of severe illness if a recipient becomes infected with COVID-19. Vaccinations protect the recipient and others, particularly individuals with health issues that could result in severe illness from COVID-19. The City will provide updates as experts continue to learn about COVID-19 and the vaccines.  

Advisory Committee on Immunization Practices Makes Recommendations
The Centers for Disease Control and Prevention's (CDC) Advisory Committee on Immunization Practices (ACIP) conducted an emergency meeting on December 1 to make recommendations to the CDC. ACIP decided that, when a COVID-19 vaccine is authorized by the FDA and recommended by ACIP, the initial phase vaccines should be provided to healthcare workers and residents of long-term care facilities. The ACIP recommendations will be considered by the director of the CDC and then by the Department of Health and Human Services. The CDC and ACIP have promulgated four ethical principles to guide their decision-making process: maximize benefits and minimize harms; promote justice; mitigate health inequities; and promote transparency. AHD is committed to following these principles while the entire Alexandria community is vaccinated. 
Alexandria COVID-19 Data At-a-Glance
The chart below, containing the seven-day moving average number of COVID-19 cases and the daily and cumulative case and fatality counts, provides detailed information about how preventive measures are impacting Alexandria's response to the pandemic. An interactive version is available at alexandriava.gov/114883. Detailed data, including data on age, race and ethnicity, are available through links at alexandriava.gov/Coronavirus.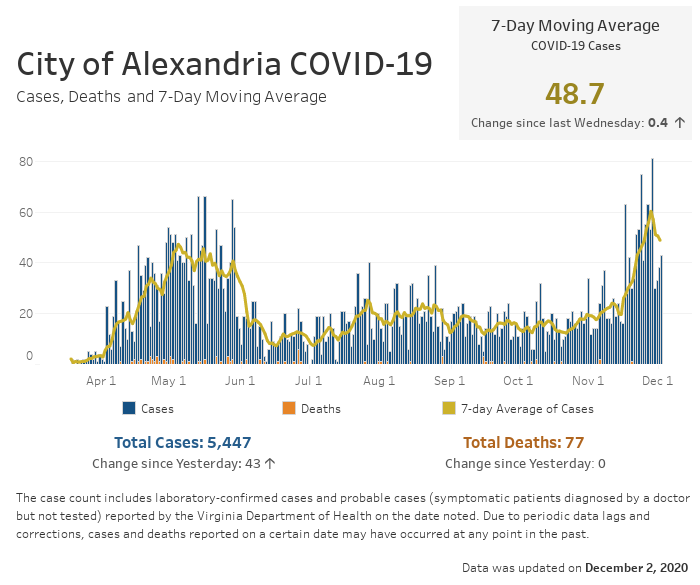 AHD estimates that approximately 1 in 15 Alexandrians who tested positive for COVID-19 have required hospitalization. An estimated 66% of Virginia adults who become infected never have symptoms. The best ways to stop the spread of COVID-19 remain wearing a mask in public, maintaining at least 6 feet of distance from others, and frequently washing your hands or carrying and using hand sanitizer with at least 60% ethyl alcohol. Help your loved ones and neighbors by answering a call from AHD if identified as a close contact of someone who tests positive for COVID-19, and download the Virginia Department of Health's COVIDWISE app to be quickly and anonymously notified of likely exposure to the virus.
# # #
This news release is available at alexandriava.gov/119175.