Translate
City of Alexandria Provides COVID-19 Updates; Phase 1b of Vaccination Begins Monday; Accuracy of PCR Tests; Vaccine Update
­­For Immediate Release: January 8, 2021
The City of Alexandria and the Alexandria Health Department (AHD) strongly urge residents to stay home as much as possible during the current surge of COVID-19 cases in our community. Cases, hospitalizations, and deaths are increasing in Alexandria. Take immediate and ongoing action to control the spread by wearing a mask over both your nose and mouth, staying home unless it's necessary to go out, and washing your hands frequently. Without these critical steps, additional lives may be at risk.
Phase 1b of Vaccination Begins Monday
As a result of advocacy from AHD and the City, state officials have authorized Alexandria to move into Phase 1b of vaccination starting on Monday, January 11. Eligible organizations and individuals can pre-register for vaccination appointment notifications using this brief form. The form may load slowly due to high demand. If you receive an error message, please try the form at a later time.

Accuracy of PCR Tests
AHD is aware of a statement from the U.S. Food and Drug Administration about the risk of false negative results with Curative COVID-19 Polymer Chain Reaction (PCR) tests and is reviewing and assessing results from clinical studies. Curative operates three testing kiosks in Alexandria. There is always a risk of false negative results with any PCR test, since the sensitivity is dependent on the concentration of virus in the sample and how well the sample was collected. To ensure greater accuracy, the City specified in its contract with Curative that only nasal tests would be used, rather than Curative's oral test. AHD has been involved with the training of Curative staff working in Alexandria and is confident in their ability to provide precise instruction to the patient in advance of the self-administered test. Through the combination of nasal only tests and guided instruction, AHD believes Curative is providing the most accurate test available at this time.

All PCR tests reflect the point in time in which the sample is collected. As a result, anyone with a known exposure to COVID-19 must protect themselves and others by completing the full 14-day quarantine period (or 10 days after symptoms end without medication), even if a negative COVID-19 test result is obtained..
Vaccination Update
Between January 5 and January 7, AHD administered 486 doses of COVID-19 vaccine, for a total of 1,518 doses administered since December 24. AHD expects these numbers to increase sharply with the start of Phase 1b of vaccinations. 
Alexandria COVID-19 Data At-a-Glance
The chart below, containing the seven-day moving average number of COVID-19 cases and the daily and cumulative case and fatality counts, provides detailed information about how preventive measures are impacting Alexandria's response to the pandemic. An interactive version is available at alexandriava.gov/114883. Detailed data, including data on age, race and ethnicity, are available through links at alexandriava.gov/Coronavirus.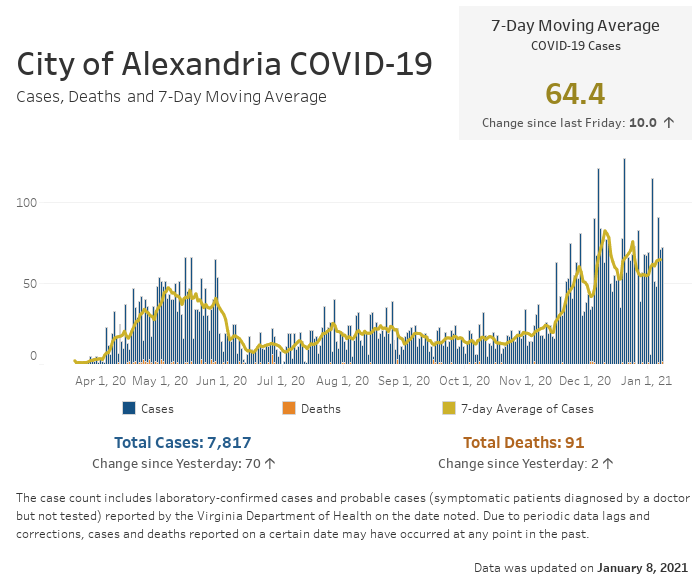 AHD estimates that approximately 1 in 15 Alexandrians who tested positive for COVID-19 have required hospitalization. An estimated 66% of Virginia adults who become infected never have symptoms. The best ways to stop the spread of COVID-19 remain wearing a mask in public, maintaining at least 6 feet of distance from others, and frequently washing your hands or carrying and using hand sanitizer with at least 60% ethyl alcohol. Help your loved ones and neighbors by calling your close contacts if you test positive for COVID-19. Learn who to call and what to say from AHD's " What to Do If You Get Sick" guidance, which is available in Spanish, Amharic, Arabic, and Farsi or this brief video. Download the Virginia Department of Health's COVIDWISE app to be quickly and anonymously notified of likely exposure to the virus. 
# # #
This news release is available at alexandriava.gov/119713.