Translate
City of Alexandria Provides COVID-19 Updates; Vaccine Prioritizations Within Phase 1b; Sewer Bill Relief Available; New Higher Education Outbreak Dashboard
­­For Immediate Release: January 21, 2021
The City of Alexandria and the Alexandria Health Department (AHD) strongly urge residents to stay home as much as possible during the current surge of COVID-19 cases in our community. Cases, hospitalizations, and deaths are increasing in Alexandria. Take immediate and ongoing action to control the spread by wearing a mask over both your nose and mouth, staying home unless it's necessary to go out, and washing your hands frequently. Without these critical steps, additional lives may be at risk.
Vaccine Prioritizations Within Phase 1b
While Phase 1b of vaccination represents a wide pool of people--those ages 65 and older, people with underlying medical conditions, and essential workers--the extremely limited vaccine supply forces all vaccine administrators to prioritize within this category. AHD has received nearly 20,000 pre-registrations from people eligible within Phase 1b solely based on age or medical condition, and thousands of essential worker pre-registrations, and yet Alexandria will likely be receiving less than 2,000 doses per week for the next 3 to 4 weeks. AHD will provide updates each Friday on the number of vaccines received, vaccines administered via AHD vaccination events, appointments scheduled, and vaccines redistributed to community providers.
Therefore, AHD is prioritizing those who are age 75 and older because this group is at highest risk of severe disease and death from COVID-19. AHD will notify people in this group who have pre-registered when vaccine appointments are available. AHD will then contact those who are ages 65 and older, followed by people with underlying medical conditions. While AHD is holding a quantity of vaccine slots for people based on age, there are also vaccine appointment slots specifically for essential workers. AHD is prioritizing the groups listed first in the state's Phase 1b guidance, including first responders, corrections and shelter workers, childcare employees and K-12 educators, because of their high risk of exposure to COVID-19 on the job. If you have already filled out the pre-registration form, it is not necessary to call or submit the form again. AHD will notify you when appointment slots become available. Although the exact timing is unclear, everyone who wants to get vaccinated will receive a vaccine. 
Sewer Bill Relief for AlexRenew Customers
AlexRenew, Alexandria's wastewater treatment provider, is offering assistance to eligible customers with sewer bills more than 30 days overdue as a result of financial hardship from COVID-19. Customers may receive relief for some portion of their outstanding balance accrued since March 1, 2020. To be considered, fill out the online form. Eligible customers will also receive a form via mail which can be completed and mailed or scanned and emailed to covidbillrelief@alexrenew.com. Forms must be postmarked, emailed, or submitted online by February 12, 2021 to be considered for the initial round of funds. Visit alexrenew.com for updates, including potential future deadlines. For questions call AlexRenew's Customer Service at 703.721.3500 (select Option 1) or email billing@alexrenew.com.
New Higher Education Outbreak Dashboard
A new higher education dashboard that tracks COVID-19 outbreaks in Virginia's public and private colleges and universities has been launched on the Virginia Department of Health website. The dashboard will report outbreaks since August 1, 2020, and will be updated weekly on Fridays. Only distinct confirmed outbreaks, which consist of two or more confirmed cases of COVID-19, and deaths related to the outbreak will be noted in the dashboard. It will not reflect the total number of positive cases at the college or university. VDH collaborates with colleges and universities to investigate and report outbreaks, but they may have other methods of tracking and avenues of reporting, which may reflect different numbers. Parents and students with questions about reported numbers should contact the college or university directly.    
Alexandria COVID-19 Data At-a-Glance
The chart below, containing the seven-day moving average number of COVID-19 cases and the daily and cumulative case and fatality counts, provides detailed information about how preventive measures are impacting Alexandria's response to the pandemic. An interactive version is available at alexandriava.gov/114883. Detailed data, including data on age, race and ethnicity, are available through links at alexandriava.gov/Coronavirus.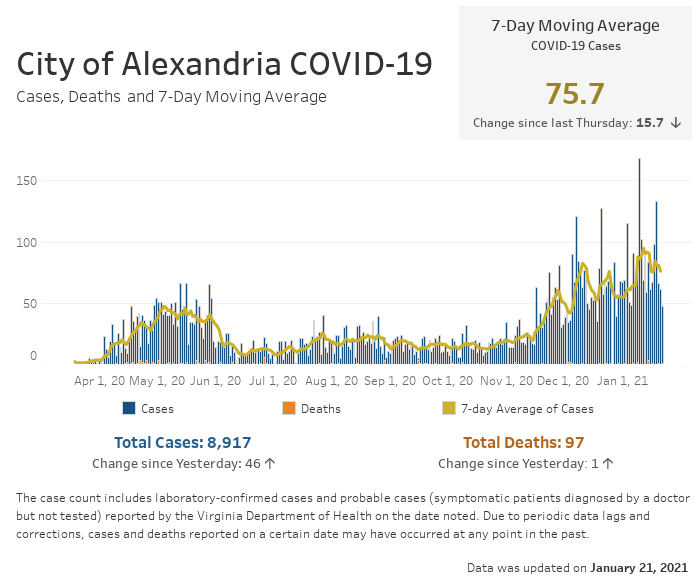 AHD estimates that approximately 1 in 15 Alexandrians who tested positive for COVID-19 have required hospitalization. An estimated 66% of Virginia adults who become infected never have symptoms. The best ways to stop the spread of COVID-19 remain wearing a mask in public, maintaining at least 6 feet of distance from others, and frequently washing your hands or carrying and using hand sanitizer with at least 60% ethyl alcohol. Help your loved ones and neighbors by calling your close contacts if you test positive for COVID-19. Learn who to call and what to say from AHD's " What to Do If You Get Sick" guidance, which is available in Spanish, Amharic, Arabic, and Farsi or this brief video. Download the Virginia Department of Health's COVIDWISE app to be quickly and anonymously notified of likely exposure to the virus. 
# # #
This news release is available at alexandriava.gov/119945.