Translate
City of Alexandria Provides COVID-19 Updates; CARES Act Utility Assistance Deadlines; Rent and Mortgage Relief Program Extension; Statewide Virtual Job Fair
­­For Immediate Release: January 26, 2021
The City of Alexandria and the Alexandria Health Department (AHD) strongly urge residents to stay home as much as possible during the current surge of COVID-19 cases in our community. Cases, hospitalizations, and deaths are increasing in Alexandria. Take immediate and ongoing action to control the spread by wearing a mask over both your nose and mouth, staying home unless it's necessary to go out, and washing your hands frequently. Without these critical steps, additional lives may be at risk.
CARES Act Utility Assistance Deadlines
Residents may be eligible for assistance with past due payments that accrued between March and October 2020, through the Coronavirus Aid Relief and Economic Security (CARES) Act and are urged to take action soon. The deadline to complete a customer attestation form online for past due balances owed to Virginia American Water is Friday, January 29. Washington Gas must receive completed, signed applications by Sunday, January 31. The deadline for the first round of funding for AlexRenew customers is February 12 for bills that are more than 30 days past due. Customers in need of additional assistance with their primary heating bill can apply for Crisis Assistance until March 15. The City's Emergency Safety Net Services web page provides details for how to apply; contact information for private utility companies; and other assistance programs.
Rent and Mortgage Relief Program Extension 
The deadline for landlords to apply for the Rent and Mortgage Relief Program, to cover overdue rent or mortgage payments due to the COVID-19 pandemic, has been extended to March 1. Applications that have not yet been submitted can now include requests to cover rent payments through February 2021. Previously submitted applications are also eligible to include rent due in February through a contract amendment process. The Virginia Housing User's Guide explains how to submit a contract amendment.Virginia Housing is working quickly to review submitted applications, so please be patient. Households that have already been approved do not need to submit a new application. Homeowners and renters can also apply directly for assistance by taking a survey to determine if they are eligible, or submit a new application online or by phone at 703.962.1884. Alexandria landlords who have residents in need of rental assistance should contact Virginia Housing at RMRP@VirginiaHousing.com for assistance, or visit virginiahousing.com/rmrp. 
Alexandria residents who have received eviction notices should call the Office of Housing at 703.746.4990 for assistance. Residents impacted by COVID-19 should call 703.746.5700 or text 703.346.5599 to determine eligibility for rental assistance and eviction prevention programs, and review additional services and resources offered by the City.
Statewide Virtual Job Fair
Residents who have lost employment due to the COVID-19 pandemic are encouraged to attend a Statewide Virtual Hiring Event, Thursday, February 4, 1-4 p.m. More than 120 companies and organizations from around the Commonwealth of Virginia will be available to speak to participants about employment opportunities. Employers and job seekers will have the opportunity to network via individual and group chats, and video calls. Attendance is free, but registration is required. Participants will submit their resume upon registration and create a profile. Job Seekers who have never participated in a virtual job fair may want to register for the Alexandria Workforce Development Center's workshop on " How to Prepare & Navigate a Virtual Job Fair," on Tuesday, February 2.     
Alexandria COVID-19 Data At-a-Glance
The chart below, containing the seven-day moving average number of COVID-19 cases and the daily and cumulative case and fatality counts, provides detailed information about how preventive measures are impacting Alexandria's response to the pandemic. An interactive version is available at alexandriava.gov/114883. Detailed data, including data on age, race and ethnicity, are available through links at alexandriava.gov/Coronavirus.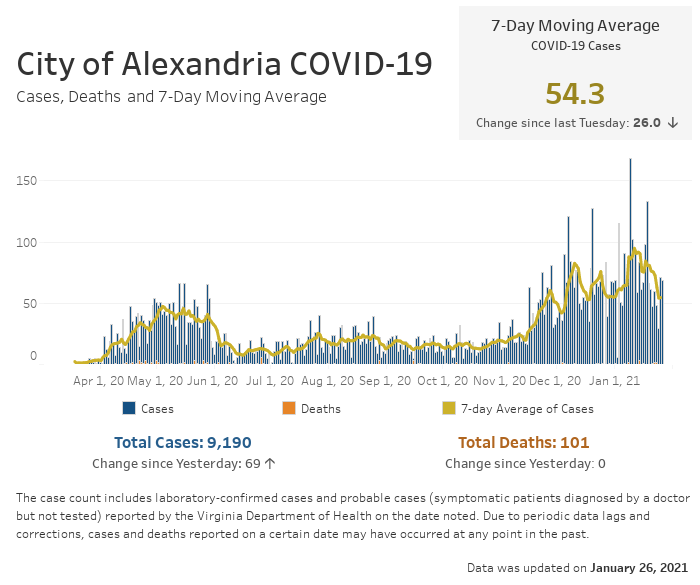 AHD estimates that approximately 1 in 15 Alexandrians who tested positive for COVID-19 have required hospitalization. An estimated 66% of Virginia adults who become infected never have symptoms. The best ways to stop the spread of COVID-19 remain wearing a mask in public, maintaining at least 6 feet of distance from others, and frequently washing your hands or carrying and using hand sanitizer with at least 60% ethyl alcohol. Help your loved ones and neighbors by calling your close contacts if you test positive for COVID-19. Learn who to call and what to say from AHD's " What to Do If You Get Sick" guidance, which is available in Spanish, Amharic, Arabic, and Farsi or this brief video. Download the Virginia Department of Health's COVIDWISE app to be quickly and anonymously notified of likely exposure to the virus. 
# # #
This news release is available at alexandriava.gov/120036.