Translate
City of Alexandria Provides COVID-19 Updates; Vaccinating Frontline Essential Workers; New COVID-19 Strains Emerge
­­For Immediate Release: February 3, 2021
The City of Alexandria and the Alexandria Health Department (AHD) strongly urge residents to stay home as much as possible during the current surge of COVID-19 cases in our community. Cases, hospitalizations, and deaths are increasing in Alexandria. Take immediate and ongoing action to control the spread by wearing a mask over both your nose and mouth, staying home unless it's necessary to go out, and washing your hands frequently. Without these critical steps, additional lives may be at risk.
AHD Now Vaccinating Additional Frontline Essential Workers
Starting on January 11, in addition to seniors, AHD has prioritized vaccinating police, fire, and hazmat; corrections and homeless shelter workers; and, childcare/preK-12 teachers/staff (public and private). AHD is now also vaccinating other frontline essential workers including packaging and agriculture (including veterinarians), manufacturing, grocery store workers, public transit workers, mail carriers (USPS and private), and officials needed to maintain continuity of government (including judges and public-facing judicial workers). If you work in any of those categories, fill out the vaccine  pre-registration form. As vaccine supply is still limited to less than 2,000 doses per week, it may be several weeks or months before all essential workers are vaccinated. Those who are teleworking should consider waiting to get vaccinated to ensure that vaccines are available for people working in jobs with high exposure to the public. 
New COVID-19 Strains Emerge, AHD Reminds Residents to Stay Vigilant
The Centers for Disease Control and Prevention (CDC) warns that there are now three new variants of coronavirus that cause COVID-19. These new strains are thought to spread more easily and quickly than other variants, which may lead to more cases of COVID-19. An increase in the number of cases will put more strain on health care resources, lead to more hospitalizations, and potentially more deaths. The strain first identified in the United Kingdom called B.1.1.7, has been in Northern Virginia since January. It is now joined by a South Africa variant called B.1.351 and a Brazilian strain called P.1. So far, studies suggest that the currently authorized vaccines are effective against these variants. The CDC is closely investigating the situation and more studies are underway. The best way to protect yourself, loved ones, and others is to continue to follow the Six Steps to Stop the Spread and get vaccinated as soon as you are eligible. 
Alexandria COVID-19 Data At-a-Glance
The chart below, containing the seven-day moving average number of COVID-19 cases and the daily and cumulative case and fatality counts, provides detailed information about how preventive measures are impacting Alexandria's response to the pandemic. An interactive version is available at alexandriava.gov/114883. Detailed data, including data on age, race and ethnicity, are available through links at alexandriava.gov/Coronavirus.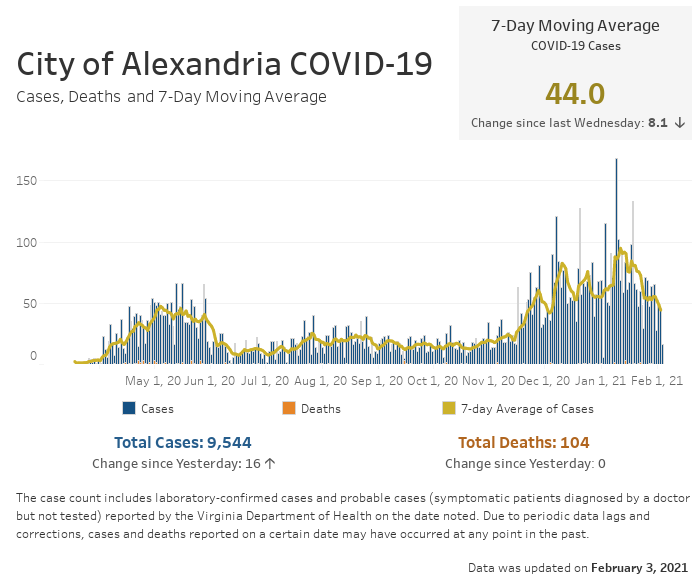 AHD estimates that approximately 1 in 20 Alexandrians who tested positive for COVID-19 have required hospitalization. An estimated 66% of Virginia adults who become infected never have symptoms. The best ways to stop the spread of COVID-19 remain wearing a mask in public, maintaining at least 6 feet of distance from others, and frequently washing your hands or carrying and using hand sanitizer with at least 60% ethyl alcohol. Help your loved ones and neighbors by calling your close contacts if you test positive for COVID-19. Learn who to call and what to say from AHD's " What to Do If You Get Sick" guidance, which is available in Spanish, Amharic, Arabic, and Farsi or this brief video. Download the Virginia Department of Health's COVIDWISE app to be quickly and anonymously notified of likely exposure to the virus. 
# # #
This news release is available at alexandriava.gov/120157.