Translate
City of Alexandria Provides COVID-19 Updates; Beware of Vaccine Scams; Update on Appointment Processes; Weekly Featured Jobs and Workshops
­­For Immediate Release: February 8, 2021
The City of Alexandria and the Alexandria Health Department (AHD) strongly urge residents to stay home as much as possible during the current surge of COVID-19 cases in our community. Cases, hospitalizations, and deaths are increasing in Alexandria. Take immediate and ongoing action to control the spread by wearing a mask over both your nose and mouth, staying home unless it's necessary to go out, and washing your hands frequently. Without these critical steps, additional lives may be at risk.
Beware of Vaccine Scams
AHD warns residents to beware of scams about COVID-19 vaccines. Eligible, pre-registered residents may receive a call from AHD volunteers when an appointment becomes available, from the Alexandria COVID-19 Hotline, at 703.746.4988 or 703.746.4985. AHD may ask several questions such as date of birth and address, but will never ask for information such as social security number, citizenship status or financial details. A vaccine appointment cannot be purchased; there are no out-of-pocket expenses for a vaccine; and doses cannot be purchased for shipment. A call that requests financial information or suggests it is your last chance to get vaccinated is likely a scam. If you are uncomfortable with a call and would prefer to confirm you are speaking with AHD, you should hang up and call back to the Alexandria COVID-19 Hotline at the above numbers. Residents who feel they have been a victim of fraud are encouraged to report it. Alexandria is currently vaccinating residents in Phase 1a and 1b and will contact everyone who has pre-registered when appointments become available. Residents can learn more about vaccines on the City's " Vaccines are Here" webpage or the Virginia Department of Health's Vaccination Frequently Asked Questions page.    

Update on Appointment Processes
AHD strives to ensure a fair and transparent vaccine appointment system and shares any changes and updates as they become available. AHD has recently identified an internal process error that resulted in several hundred people within the 65-74 age group receiving appointment phone calls out of order. To ensure that no one was skipped due to this error, AHD sent emails for appointment scheduling on Sunday, February 7. Many people who have already scheduled appointments or received vaccines were contacted, and those who received the email unnecessarily should ignore it. The link cannot be used to schedule second doses and it cannot be used by others. As of February 8, AHD has contacted everyone ages 65-74 who pre-registered for their first dose by 7:30 a.m. on January 12. 
Another new development is the confirmation that CVS pharmacy will soon be offering COVID-19 appointments in Virginia using a separate registration system, which adds to the challenges of ensuring a fair appointment system. While AHD and the City are encouraged that more Alexandrians will have the opportunity for vaccination, CVS' first-come, first-serve scheduling system will not support goals of increasing equity and access to those disproportionately burdened by COVID-19. AHD has implored CVS to use Alexandria's existing pre-registration list for these appointments to ensure fairness, but it was determined not to be an option and the requests were denied. 
Moving forward, to increase vaccine access to those who have been disproportionately burdened by the effects of the pandemic, AHD will prioritize within eligibility groups (i.e. ages 65-74, ages 16-64 with medical conditions) based on census tract. Persons living in the top third of census tracts experiencing health inequities will receive access to schedule an appointment several days in advance of those who live in other census tracts, and will receive access in their order of pre-registration. This effort will be coupled with continued expanded outreach and engagement efforts in these areas to promote the pre-registration form and vaccine safety. 

Weekly Featured Jobs and Workshops
Residents who have lost employment due to COVID-19 are encouraged to review the list of employers who are hiring, which is updated weekly. The Alexandria Workforce Development Center (WDC) has several workshops coming up to help residents enhance job readiness and improve their job search, including resume building skills, interviewing skills, networking skills, and preparing for a virtual job fair. Residents can also access free " SkillUp" workplace, business, and IT courses. All events and workshops take place online, are free, and registration is requested. Follow WDC on Facebook, Twitter or LinkedIn for the latest flyer, or visit the WDC's job board for a complete list of job opportunities. 
Alexandria COVID-19 Data At-a-Glance
The chart below, containing the seven-day moving average number of COVID-19 cases and the daily and cumulative case and fatality counts, provides detailed information about how preventive measures are impacting Alexandria's response to the pandemic. An interactive version is available at alexandriava.gov/114883. Detailed data, including data on age, race and ethnicity, are available through links at alexandriava.gov/Coronavirus.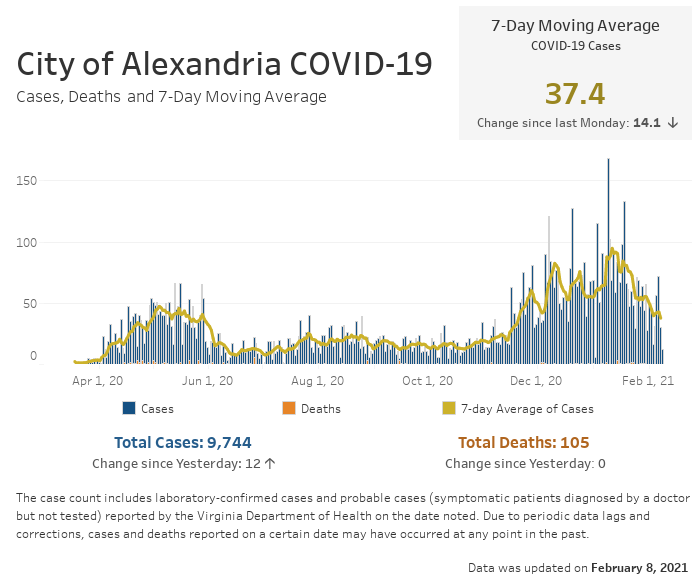 AHD estimates that approximately 1 in 20 Alexandrians who tested positive for COVID-19 have required hospitalization. An estimated 66% of Virginia adults who become infected never have symptoms. The best ways to stop the spread of COVID-19 remain wearing a mask in public, maintaining at least 6 feet of distance from others, and frequently washing your hands or carrying and using hand sanitizer with at least 60% ethyl alcohol. Help your loved ones and neighbors by calling your close contacts if you test positive for COVID-19. Learn who to call and what to say from AHD's " What to Do If You Get Sick" guidance, which is available in Spanish, Amharic, Arabic, and Farsi or this brief video. Download the Virginia Department of Health's COVIDWISE app to be quickly and anonymously notified of likely exposure to the virus. 
# # #
This news release is available at alexandriava.gov/120237.