Translate
This news release has been updated to include detail about use of mitigation strategies in schools in the 'Guidance on School Sports and Activities' section.
City of Alexandria Provides COVID-19 Updates; AHD Begins Vaccinating Those Under 65 With Medical Conditions; Guidance on School Sports and Activities; CVS Appointments for Ages 65+ Now Available; Emergency Food Distribution Rescheduled
­­For Immediate Release: February 10, 2021
The City of Alexandria and the Alexandria Health Department (AHD) strongly urge residents to stay home as much as possible during the current surge of COVID-19 cases in our community. Cases, hospitalizations, and deaths are increasing in Alexandria. Take immediate and ongoing action to control the spread by wearing a mask over both your nose and mouth, staying home unless it's necessary to go out, and washing your hands frequently. Without these critical steps, additional lives may be at risk.
AHD Begins Vaccinating Those Under 65 With Medical Conditions
Within the next week, AHD will begin offering COVID-19 vaccine appointments to those under 65 with underlying medical conditions that put them at higher risk of severe illness from COVID-19. AHD will first contact those with underlying medical conditions on the pre-registration list who live in the city's 13 census tracts with the highest social vulnerability score on the CDC's Social Vulnerability Index. The Index uses 15 social factors, including poverty, race/ethnicity status, speaking English "less than well," and crowded housing, to help identify the residents that may be disproportionately burdened by COVID-19. This CDC data aligns with findings of health inequities in AHD's monthly ZIP code analysis of COVID-19 cases and the City of Alexandria's 2019 Community Health Assessment.

If the available vaccine appointments for those with medical conditions are not filled in a day or two by residents in the priority census tracts, AHD will contact the next people on the pre-registration list in order of their sign up. 

Guidance on School Sports and Activities
Area schools are making plans to reopen and return teachers and students to classrooms. AHD recognizes that sports are an important part of school. AHD supports athletics for physical and mental health and the importance of learning and practicing life skills, such as teamwork and sportsmanship. However, evidence shows that schools can be high risk environments for COVID-19 transmission when mitigation strategies, such as wearing a mask and maintaining physical distance, are not in place. ACPS plans to mitigate risk of transmission in its in-person learning by implementing five key mitigation strategies (e.g. face masks, social distancing, hand hygiene, disinfecting, and collaboration with AHD). Health experts have also seen an increase in new COVID-19 variants that are more contagious and will likely become the dominant strains in Alexandria in coming months. Given the level of risk and the continued limited supply of vaccine, AHD does not recommend participating in sports or activities where participants are in close proximity (within 10 feet for sports) when mitigation strategies are not being followed. If parents and schools choose to engage in sports and related activities, AHD encourages them to follow VDH guidelines and take the needed precautions.

CVS Appointments for Ages 65+ Now Available
CVS Pharmacy has begun registering Virginians ages 65 and older for COVID-19 vaccination appointments that will start on Friday, February 12. Alexandrians ages 65 and older can register through CVS or call CVS Customer Service at 800.746.7287 to schedule a vaccine appointment, even if they have already pre-registered through AHD. Those who have already received their first dose with AHD or at another clinic should get their second dose through the same provider, and not through CVS. At this time, CVS will be distributing vaccines only to those who are ages 65 and older, and by appointment only; no walk-in vaccinations will be provided. 

Emergency Food Distribution Rescheduled
The ALIVE! Truck-to-Trunk emergency grocery distributions scheduled for this Saturday, February 13, have been rescheduled due to forecasted weather conditions and for the safety of residents, staff, and volunteers. Additional food assistance resources are available for Alexandria residents. Emergency food distribution operations will resume on Saturday, February 20, 8:30-10:30 a.m., in the parking lot of Cora Kelly Elementary School (3600 Commonwealth Ave.) and parking lot B-1 of the Northern Virginia Community College Alexandria Campus (3320 Bisdorf Drive via Dawes Ave.). Per college policy, if they close for any reason, such as inclement weather, food distribution will be canceled. To minimize risk of possible exposure to COVID-19, attendees are asked to remain in their cars and drive through, and to stay home if they feel sick. Walk-up service is reserved for residents without personal vehicles. Customers who participate in walk-up service should maintain 6 feet of physical distance, wear face masks, and bring carts or reusable bags to carry food home. Customers with vehicles should use the drive-through option.  
Alexandria COVID-19 Data At-a-Glance
The chart below, containing the seven-day moving average number of COVID-19 cases and the daily and cumulative case and fatality counts, provides detailed information about how preventive measures are impacting Alexandria's response to the pandemic. An interactive version is available at alexandriava.gov/114883. Detailed data, including data on age, race and ethnicity, are available through links at alexandriava.gov/Coronavirus.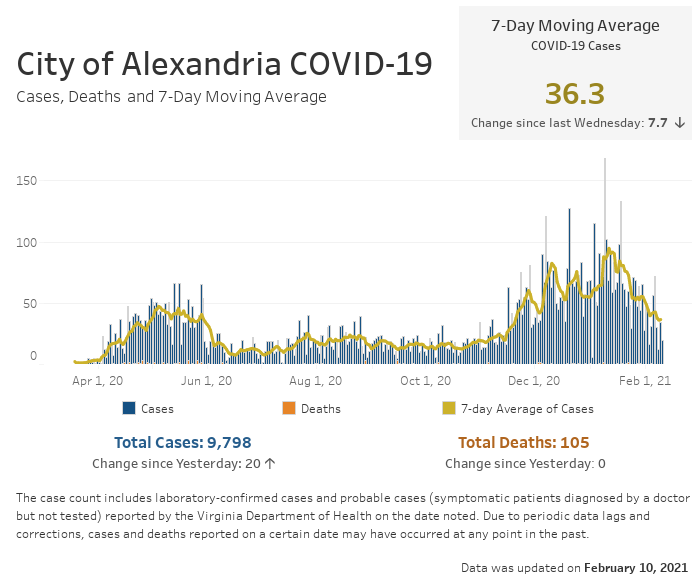 AHD estimates that approximately 1 in 20 Alexandrians who tested positive for COVID-19 have required hospitalization. An estimated 66% of Virginia adults who become infected never have symptoms. The best ways to stop the spread of COVID-19 remain wearing a mask in public, maintaining at least 6 feet of distance from others, and frequently washing your hands or carrying and using hand sanitizer with at least 60% ethyl alcohol. Help your loved ones and neighbors by calling your close contacts if you test positive for COVID-19. Learn who to call and what to say from AHD's " What to Do If You Get Sick" guidance, which is available in Spanish, Amharic, Arabic, and Farsi or this brief video. Download the Virginia Department of Health's COVIDWISE app to be quickly and anonymously notified of likely exposure to the virus. 

# # #
This news release is available at alexandriava.gov/120279.