Translate
City of Alexandria Provides COVID-19 Updates; Weather-Related Schedule Changes; COVID-19 Case Milestone; Foreclosure and Eviction Moratorium Extended
­­For Immediate Release: February 17, 2021
The City of Alexandria and the Alexandria Health Department (AHD) strongly urge residents to stay home as much as possible during the current surge of COVID-19 cases in our community. Cases, hospitalizations, and deaths are increasing in Alexandria. Take immediate and ongoing action to control the spread by wearing a mask over both your nose and mouth, staying home unless it's necessary to go out, and washing your hands frequently. Without these critical steps, additional lives may be at risk.
Weather-Related Schedule Changes
Due to the Winter Storm Warning in effect for the Alexandria area beginning the morning of February 18, several COVID-19 services have been rescheduled. 

The AHD COVID-19 vaccine clinic scheduled for Thursday, February 18 has been rescheduled to Sunday, February 21. Per AHD's vaccine clinic cancellation policy, AHD will email all patients to inform them of the cancellation and provide instructions to reschedule. Residents are reminded that both Moderna and Pfizer second doses may be given up to 42 days (six weeks) after the first dose.

All COVID-19 testing kiosks, located at Charles Houston Recreation Center (901 Wythe St.), Ben Brenman Park (4800 Brenman Park Drive), and Leonard "Chick" Armstrong Recreation Center (25 W. Reed Ave.), will be closed on February 18. Visit Curative.com for weather-related kiosk closures to reschedule appointments. 
The ALIVE! Truck-to-Trunk emergency grocery distributions originally scheduled for Saturday, February 13, were rescheduled to Saturday, February 20, 8:30-10:30 a.m., in the parking lot of Cora Kelly Elementary School (3600 Commonwealth Ave.) and parking lot B-1 of the Northern Virginia Community College Alexandria Campus (3320 Bisdorf Drive via Dawes Ave.). Additional food assistance resources are available for Alexandria residents.    
Visit the weather advisory alert on the City's homepage at alexandriava.gov for up-to-date information about City operating status, facility closures, and previously scheduled City events and meetings, including the FY22 Proposed Budget Public Presentation, scheduled for February 18 at 7 p.m.
Alexandria Exceeds COVID-19 Case Milestone
On Monday, February 15, Alexandria exceeded 10,000 confirmed cases of COVID-19 since the beginning of the pandemic. As vaccine efforts continue, the case count stands as a stark reminder that the pandemic is still a very real threat. AHD urges residents to continue to follow the Six Steps to Stop the Spread: 1) Stay home; 2) Wash hands often; 3) Maintain 6 feet of physical distance; 4) Cover coughs and sneezes; 5) Disinfect surfaces; 6) Wear a mask if you have to go out. These steps are even more critical with the new, more contagious variants of COVID-19 active in the U.S. 

On a hopeful note, Alexandria also hit the milestone this week of more than 20,000 residents vaccinated. AHD and private providers continue to vaccinate and work to schedule the tens of thousands of residents who pre-registered for vaccines.
Foreclosure and Eviction Moratorium Extended
To provide urgent economic relief to homeowners impacted by COVID-19, the U.S. Department of Housing and Urban Development (HUD) has extended the Federal Housing Administration (FHA) foreclosure and eviction moratoriums through June 30 for most FHA-insured or Home Equity Conversion mortgages. The FHA has also extended the length of forbearance for some borrowers and will allow more borrowers access to COVID-19 loss mitigation options, providing relief to homeowners with FHA-insured single family mortgages who are adversely affected financially because of the COVID-19 pandemic. Homeowners in need of assistance should contact their mortgage lender immediately or a HUD-approved housing counseling agency, or to visit the HUD Coronavirus Relief for Homeowners page for more information and additional resources. 
Alexandria COVID-19 Data At-a-Glance
The chart below, containing the seven-day moving average number of COVID-19 cases and the daily and cumulative case and fatality counts, provides detailed information about how preventive measures are impacting Alexandria's response to the pandemic. An interactive version is available at alexandriava.gov/114883. Detailed data, including data on age, race and ethnicity, are available through links at alexandriava.gov/Coronavirus.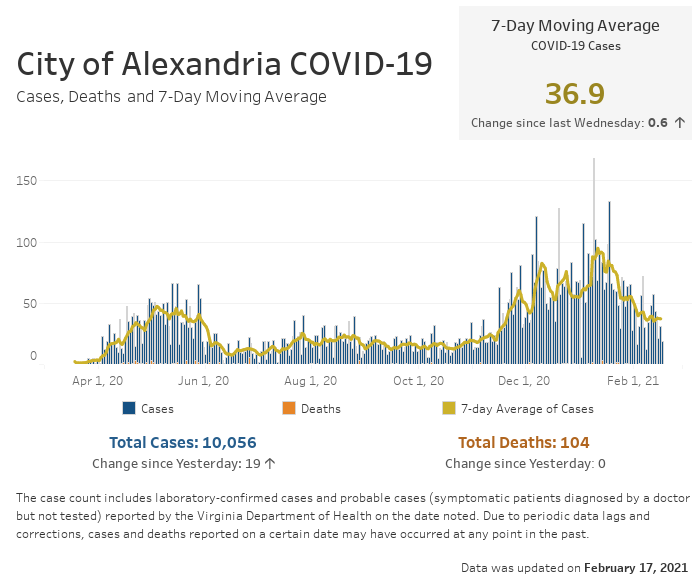 AHD estimates that approximately 1 in 20 Alexandrians who tested positive for COVID-19 have required hospitalization. An estimated 66% of Virginia adults who become infected never have symptoms. The best ways to stop the spread of COVID-19 remain wearing a mask in public, maintaining at least 6 feet of distance from others, and frequently washing your hands or carrying and using hand sanitizer with at least 60% ethyl alcohol. Help your loved ones and neighbors by calling your close contacts if you test positive for COVID-19. Learn who to call and what to say from AHD's " What to Do If You Get Sick" guidance, which is available in Spanish, Amharic, Arabic, and Farsi or this brief video. Download the Virginia Department of Health's COVIDWISE app to be quickly and anonymously notified of likely exposure to the virus. 

# # #
This news release is available at alexandriava.gov/120455.