Translate
City of Alexandria Provides COVID-19 Updates; Job Fair, Weekly Featured Jobs and Workshops
­­For Immediate Release: February 22, 2021
The City of Alexandria and the Alexandria Health Department (AHD) strongly urge residents to stay home as much as possible during the current surge of COVID-19 cases in our community. Cases, hospitalizations, and deaths are increasing in Alexandria. Take immediate and ongoing action to control the spread by wearing a mask over both your nose and mouth, staying home unless it's necessary to go out, and washing your hands frequently. Without these critical steps, additional lives may be at risk.
Job Fair, Weekly Featured Jobs and Workshops
Residents who have lost employment due to COVID-19 are encouraged to review the list of employers who are hiring, which is updated weekly. The Alexandria Workforce Development Center (WDC)'s latest podcast episode, " How Older Workers are Staying Confident During the Pandemic" is now available. WDC is hosting a " Meet the Employer" event on Thursday, March 4 with Goodwin House, where residents will have the opportunity to learn about job openings there. 

WDC has several workshops coming up to help residents enhance job readiness and improve their job search, including job search skills, networking skills, preparing for a virtual job fair, transferable skills, and applying and interviewing for a federal job. Additionally, the City's Office of the Arts is offering a professional development for artists and makers workshop. Residents can also access free " SkillUp" workplace, business, and IT courses. All events and workshops take place online, are free, and registration is requested. Follow WDC on Facebook, Twitter or LinkedIn for the latest flyer, or visit the WDC's job board for a complete list of job opportunities.   
Alexandria COVID-19 Data At-a-Glance
The chart below, containing the seven-day moving average number of COVID-19 cases and the daily and cumulative case and fatality counts, provides detailed information about how preventive measures are impacting Alexandria's response to the pandemic. An interactive version is available at alexandriava.gov/114883. Detailed data, including data on age, race and ethnicity, are available through links at alexandriava.gov/Coronavirus.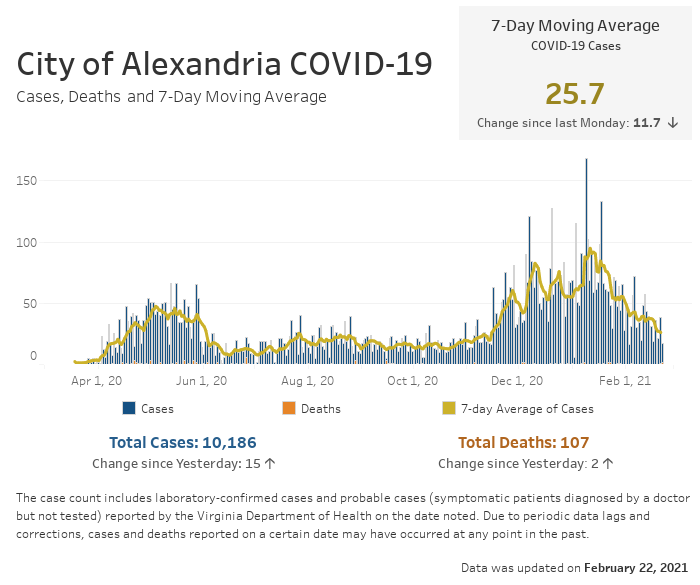 AHD estimates that approximately 1 in 20 Alexandrians who tested positive for COVID-19 have required hospitalization. An estimated 66% of Virginia adults who become infected never have symptoms. The best ways to stop the spread of COVID-19 remain wearing a mask in public, maintaining at least 6 feet of distance from others, and frequently washing your hands or carrying and using hand sanitizer with at least 60% ethyl alcohol. Help your loved ones and neighbors by calling your close contacts if you test positive for COVID-19. Learn who to call and what to say from AHD's " What to Do If You Get Sick" guidance, which is available in Spanish, Amharic, Arabic, and Farsi or this brief video. Download the Virginia Department of Health's COVIDWISE app to be quickly and anonymously notified of likely exposure to the virus. 
# # #
This news release is available at alexandriava.gov/120532.