Translate
City of Alexandria Provides COVID-19 Updates; Changes to Mitigation Mandates Begin Monday, March 1
­­For Immediate Release: February 24, 2021
The City of Alexandria and the Alexandria Health Department (AHD) strongly urge residents to stay home as much as possible. Stop the spread by wearing a mask over both your nose and mouth, staying home unless it's necessary to go out, and washing your hands frequently. Without these critical steps, additional lives may be at risk. Pre-register to receive the vaccine and you'll be notified once when you're eligible.
Changes to Mitigation Mandates Begin Monday, March 1
Governor Ralph Northam announced today that changes to the mitigation measures detailed in Executive Order 72 will go into effect on Monday, March 1, due to slowly dropping numbers of COVID-19 cases. These modifications have no expiration date, but will be updated as changes are warranted. 
Stay at home order: The curfew that required residents to be home between the hours of midnight and 5 a.m. will expire on February 28.
Social gatherings: The maximum number of individuals permitted in a social gathering will increase from 10 to 25 people for outdoor settings, while remaining at 10 persons for indoor settings. Religious services, restaurants, retail businesses, employment settings and schools are not considered social gatherings, and other rules remain in effect.
Dining establishments: The on-site sale, consumption, and possession of alcohol will be extended from 10 p.m. to midnight. All restaurants, dining establishments, food courts, breweries, microbreweries, distilleries, wineries, and tasting rooms still must be closed between midnight and 5 a.m.
Entertainment venues: Outdoor entertainment and public amusement venues capacities will increase from 250 to 1,000 individuals or at 30% capacity, whichever is lower. Indoor entertainment and public amusement venues must continue to operate at 30% capacity with no more than 250 people. 
Outdoor youth sporting events: The number of spectators has increased to 250 per field or 30% capacity, whichever is lower, effective February 22.
Overnight summer camps: Registration can begin now for overnight summer camps, which will be able to open with strict mitigation measures in place, effective May 1.
Masks will continue to be required for everyone ages 5 and over at all times in indoor settings that are shared with others, including places of worship and work settings, and all outdoor settings where 6 feet of physical distance cannot be maintained. These requirements are similar to those already in place under Alexandria's mask ordinance.  
Alexandria COVID-19 Data At-a-Glance
The chart below, containing the seven-day moving average number of COVID-19 cases and the daily and cumulative case and fatality counts, provides detailed information about how preventive measures are impacting Alexandria's response to the pandemic. An interactive version is available at alexandriava.gov/114883. Detailed data, including data on age, race and ethnicity, are available through links at alexandriava.gov/Coronavirus.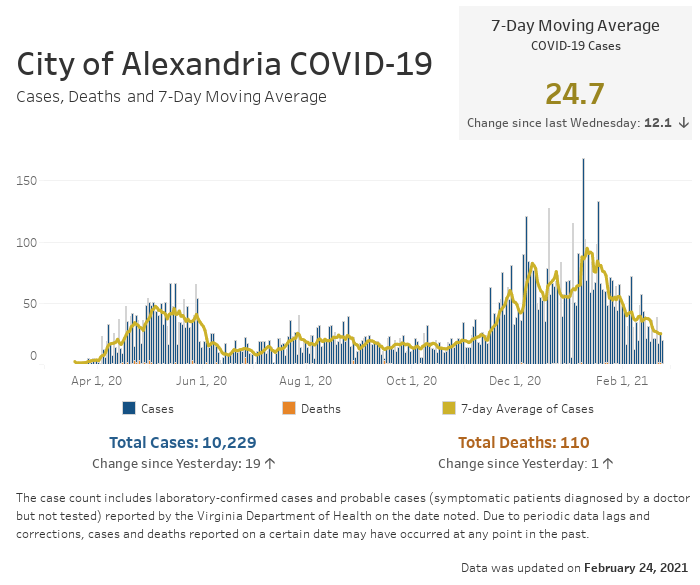 AHD estimates that approximately 1 in 20 Alexandrians who tested positive for COVID-19 have required hospitalization. An estimated 66% of Virginia adults who become infected never have symptoms. The best ways to stop the spread of COVID-19 remain wearing a mask in public, maintaining at least 6 feet of distance from others, and frequently washing your hands or carrying and using hand sanitizer. If you may have been exposed to someone with COVID-19, get tested. If you test positive for COVID-19, help loved ones and neighbors by informing your close contacts using " What to Do If You Get Sick" guidance, which is available in Spanish, Amharic, Arabic, and Farsi or this brief video. Download the Virginia Department of Health's COVIDWISE app to be quickly and anonymously notified of likely exposure to the virus. 
# # #
This news release is available at alexandriava.gov/120596.