Translate
City of Alexandria Provides COVID-19 Updates; City Hall Walk-in Payment Hours Expanded; VDH Releases Vaccine Demographic Information by Jurisdiction; Weekly Vaccine Updates
­­For Immediate Release: February 26, 2021
The City of Alexandria and the Alexandria Health Department (AHD) strongly urge residents to stay home as much as possible. Stop the spread by wearing a mask over both your nose and mouth, staying home unless it's necessary to go out, and washing your hands frequently. Without these critical steps, additional lives may be at risk. Pre-register to receive the vaccine and you'll be notified once when you're eligible.
City Hall Walk-in Payment Hours Expanded
In an effort to better serve Alexandria residents, service hours for walk-in payments at City Hall have been expanded. Beginning Monday, March 1, in-person services are now available Mondays, Wednesdays, and Fridays, from 8 a.m. to 4 p.m. Contactless options include payment via an outside dropbox on the Royal Street side of City Hall; by credit card or eCheck at alexandriava.gov/Payments; by phone at 703.746.4800 weekdays, 8 a.m.-5 p.m; and by mail for most payments. For more information about how to make payments and contact staff with questions, visit alexandriava.gov/Payments.

VDH Releases Vaccine Demographic Information by Jurisdiction
After weeks of advocacy by AHD, the Virginia Department of Health has released COVID-19 vaccine administration data by demographics at the local level. AHD has been scheduling the priority groups to receive the vaccine, with a focus on equity.

Age: 
VDH data shows that 4,503 Alexandrians ages 60 and over have been fully vaccinated; this represents nearly half (49%) of all fully vaccinated residents. This same age group represents 56% of residents who have received at least one dose of vaccine.
After six weeks of vaccinating, 7,093 residents ages 70 and over have received at least one dose of the vaccine. This represents 61% of Alexandrians in this age group (11,676).
AHD has worked closely with Senior Services of Alexandria, the Division of Aging, the Commission on Aging, Alexandria Redevelopment and Housing Authority, Claridge House, all long-term care facilities, and various nonprofits on vaccine education, outreach, and scheduling. 

Race/Ethnicity: 
The data shows that white residents are receiving vaccines at higher rates than Asian or Pacific Islander, Black or Latino residents. Race or ethnicity is not associated with 38% of residents (7,143) who have received at least one dose of vaccine because it had not been required. Legislation passed on February 15 now requires health care providers who administer COVID-19 vaccinations to collect and report race and ethnicity data. 
 The ratio of Black Alexandrians vaccinated with at least one dose compared to white Alexandrians vaccinated (58%) mirrors the ratio of Black Virginians vaccinated to white Virginians vaccinated (57%)
The ratio of Asian or Pacific Islander Alexandrians vaccinated with at least one dose compared to white Alexandrians vaccinated (55%) is somewhat higher than the ratio of Asian or Pacific Islander Virginians vaccinated to white Virginians vaccinated (51%). 
The ratio of Latino Alexandrians with at least one dose compared to white Alexandrians vaccinated (73%) is higher than the ratio of Latino Virginians vaccinated compared to white Virginians vaccinated (47%). 
Some of the disproportionality among people of color compared to white populations may be due to the current vaccination focus on older adults. Alexandria has a life expectancy gap of eight years depending on factors such as ZIP code, education, race and income. 
In addition to  AHD's equitable vaccine prioritization process, AHD will use this data to reinforce existing engagement efforts, such as partnering with communities of color, to raise awareness about vaccine safety and effectiveness, and how to pre-register and how to obtain COVID-19 vaccination. 
Weekly Vaccine Updates
Between February 19 and February 25, AHD administered 690 first doses and 3,732 second doses. These numbers do not include vaccines administered by private providers and pharmacies. Last week's inclement weather forced rescheduled events and resulted in higher than expected numbers of second dose vaccinations this week. 
Next week, Alexandria will receive approximately 3,000 vaccine doses, which are a mix of first and second doses. AHD allocates these doses between health department large vaccine events and private providers. AHD directly schedules appointments for AHD clinics and the vast majority of private providers in Alexandria (by email or phone) from the existing pre-registration list. The other private providers are vaccinating eligible residents based on AHD's guidance. 
To date, 18,951 residents have received at least one dose and 9,106 residents have been fully vaccinated. VDH's vaccine dashboard also includes rates of vaccination by jurisdiction. 
Alexandria COVID-19 Data At-a-Glance
The chart below, containing the seven-day moving average number of COVID-19 cases and the daily and cumulative case and fatality counts, provides detailed information about how preventive measures are impacting Alexandria's response to the pandemic. An interactive version is available at alexandriava.gov/114883. Detailed data, including data on age, race and ethnicity, are available through links at alexandriava.gov/Coronavirus.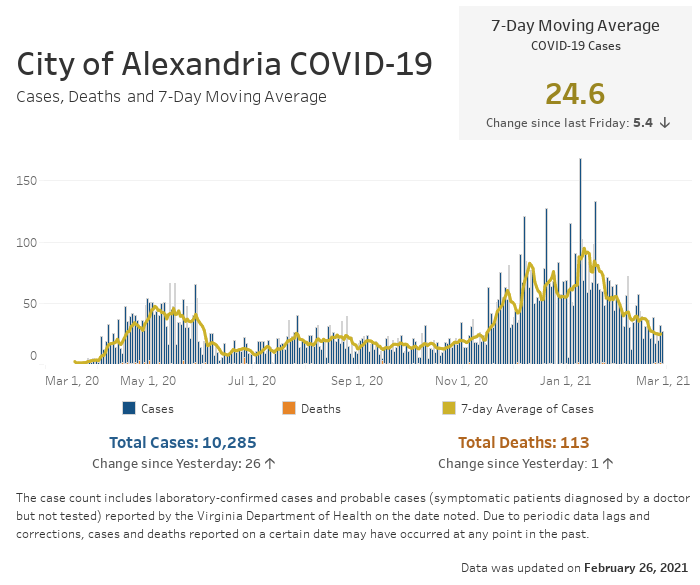 AHD estimates that approximately 1 in 20 Alexandrians who tested positive for COVID-19 have required hospitalization. An estimated 66% of Virginia adults who become infected never have symptoms. The best ways to stop the spread of COVID-19 remain wearing a mask in public, maintaining at least 6 feet of distance from others, and frequently washing your hands or carrying and using hand sanitizer. If you may have been exposed to someone with COVID-19, get tested. If you test positive for COVID-19, help loved ones and neighbors by informing your close contacts using " What to Do If You Get Sick" guidance, which is available in Spanish, Amharic, Arabic, and Farsi or this brief video. Download the Virginia Department of Health's COVIDWISE app to be quickly and anonymously notified of likely exposure to the virus. 
# # #
This news release is available at alexandriava.gov/120641.