Translate
City of Alexandria Provides COVID-19 Updates; Johnson & Johnson Vaccine Authorized for Emergency Use; Ready to Get Business Back to Normal
­­For Immediate Release: March 2, 2021
The City of Alexandria and the Alexandria Health Department (AHD) strongly urge residents to stay home as much as possible. Stop the spread by wearing a mask over both your nose and mouth, staying home unless it's necessary to go out, and washing your hands frequently. Without these critical steps, additional lives may be at risk. Pre-register to receive the vaccine and you'll be notified once when you're eligible.
Johnson & Johnson Vaccine Authorized for Emergency Use
On Saturday, the U.S. Food and Drug Administration (FDA) authorized Johnson & Johnson's COVID-19 vaccine for emergency use. Adding a third vaccine to Alexandria's pandemic response is significant and will ultimately mean that more vaccines are available to protect more people. All three of the currently authorized vaccines have been proven to protect against serious illness, hospitalization and death from COVID-19. Johnson & Johnson vaccines will become available in Alexandra starting later this week. Anyone who receives an invitation to schedule an appointment will clearly see which vaccine is being offered so they can learn about it and make the best decision for their own health. Residents are encouraged to receive the vaccine that is available to them first. AHD will continue to vaccinate the priority groups currently receiving vaccine appointments.

Ready to Get Business Back to Normal
Alexandria businesses will soon receive a " Ready to Get Business Back to Normal?" postcard from the City and AHD. The postcard includes information for businesses in English and Spanish, including who is currently eligible to receive the vaccine; the role employers play in helping to get their employees registered for vaccination; and how to request assistance with pre-registration. The sooner employees are registered to receive a vaccination, the sooner they will be notified of available appointments once they become eligible. Visit alexandriava.gov/Vaccines to pre-register to receive the vaccine; learn who is currently eligible; and get information about the vaccines.
Alexandria COVID-19 Data At-a-Glance
The chart below, containing the seven-day moving average number of COVID-19 cases and the daily and cumulative case and fatality counts, provides detailed information about how preventive measures are impacting Alexandria's response to the pandemic. An interactive version is available at alexandriava.gov/114883. Detailed data, including data on age, race and ethnicity, are available through links at alexandriava.gov/Coronavirus.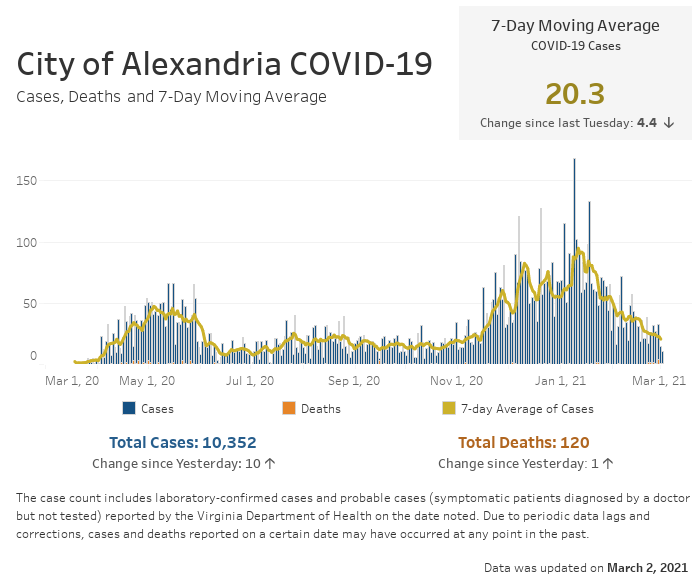 AHD estimates that approximately 1 in 20 Alexandrians who tested positive for COVID-19 have required hospitalization. An estimated 66% of Virginia adults who become infected never have symptoms. The best ways to stop the spread of COVID-19 remain wearing a mask in public, maintaining at least 6 feet of distance from others, and frequently washing your hands or carrying and using hand sanitizer. If you may have been exposed to someone with COVID-19, get tested. If you test positive for COVID-19, help loved ones and neighbors by informing your close contacts using " What to Do If You Get Sick" guidance, which is available in Spanish, Amharic, Arabic, and Farsi or this brief video. Download the Virginia Department of Health's COVIDWISE app to be quickly and anonymously notified of likely exposure to the virus. 
# # #
This news release is available at alexandriava.gov/120696.