Translate
City of Alexandria Provides COVID-19 Updates; When to Expect Alexandria to Begin Phase 1c; Spanish Language Vaccine Town Hall 
­­For Immediate Release: March 16, 2021
The City of Alexandria and the Alexandria Health Department (AHD) strongly urge residents to stay home as much as possible, wear a mask over both your nose and mouth, and wash your hands frequently. Pre-register to receive the vaccine and you'll be notified once appointments are available. AHD estimates that approximately 1 in 20 Alexandrians who have tested positive for COVID-19 have required hospitalization, so without these critical steps, additional lives may be at risk. 
When to Expect Alexandria to Begin Phase 1c
The Virginia Department of Health (VDH) announced today that some health districts will begin the transition to Phase 1c vaccinations this week, and that all communities across Virginia should be able to move into this phase within weeks. None of the northern Virginia health districts have moved into Phase 1c yet. Alexandria continues to make strides in vaccinating residents and essential workers, but AHD has nearly 20,000 pre-registrants in Phase 1b on the waitlist, who have not yet been contacted or vaccinated. Vaccine supply has been slowly increasing, from less than 2,000 total doses per week to the current approximately 5,000 doses, which are a mix of first and second doses. VDH and AHD anticipate these numbers to increase considerably in the coming weeks. AHD anticipates moving into Phase 1c in the next 3-4 weeks depending on an adequate supply of vaccine. The anticipated increase in vaccine supply, and eventual transition to Phase 1c, highlights the importance of pre-registering with vaccinate.virginia.gov, or updating your profile if you have already pre-registered. VDH estimates that Phase 1c will be complete and all of Virginia will be in Phase 2 by May.   
Spanish Language Vaccine Town Hall 
The Virginia Department of Health and the Virginia Hispanic Chamber of Commerce will present "Vacunación en Virginia: Tú preguntas, los expertos responden" on Wednesday, March 17 at 7 p.m. This hour-long town hall will be conducted solely in Spanish and will feature medical experts and community leaders who will address common questions about COVID-19 vaccines. The town hall will be broadcast live on the Telemundo 44 Directo Al Consumidor Facebook page.
Alexandria COVID-19 Data At-a-Glance
The seven-day moving average chart below shows the number of COVID-19 cases and the daily and cumulative case and fatality counts, and provides detailed information about how preventive measures are impacting Alexandria's response to the pandemic. An interactive version is available at alexandriava.gov/114883. The vaccination chart includes total doses administered across all facilities and the percentage of residents ages 16 and older who have been partially and fully vaccinated, and is available at alexandriava.gov/120654. Detailed data, including data on age, race and ethnicity, are available through links at alexandriava.gov/Coronavirus.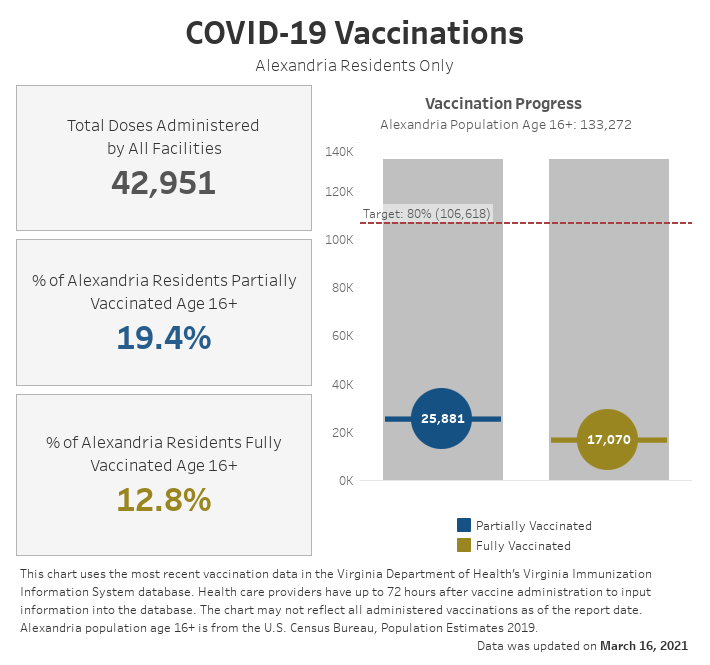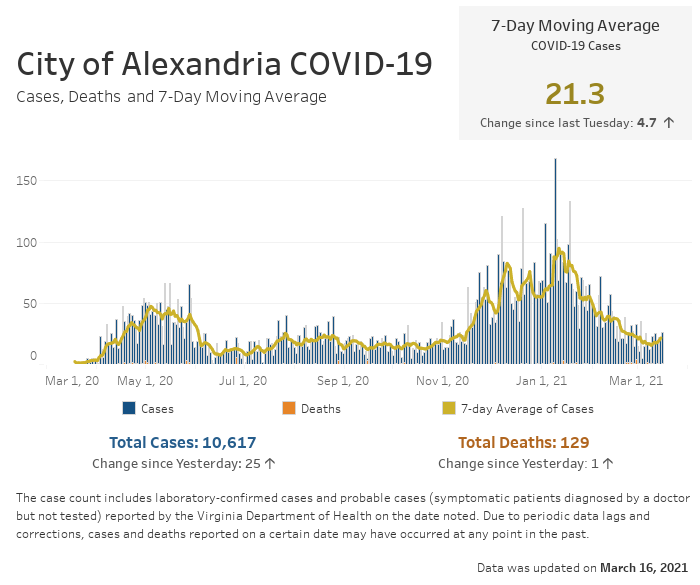 Continue following measures to stop the spread of COVID-19 even after vaccination. Get tested if you have been exposed to someone with COVID-19. If you test positive, help loved ones and neighbors by informing your close contacts using " What to Do If You Get Sick" guidance, which is available in Spanish, Amharic, Arabic, and Farsi or this brief video. 
# # #
This news release is available at alexandriava.gov/120937.