Translate
City of Alexandria Provides COVID-19 Updates; Changes to Executive Order; Celebrate Vaccination Cautiously; Avoid Spring Break Trips and Non-Essential Travel; Weekly Jobs and Workshops
­­For Immediate Release: March 23, 2021
The City of Alexandria and the Alexandria Health Department (AHD) strongly urge residents to stay home as much as possible, wear a mask over both your nose and mouth, and wash your hands frequently. Pre-register to receive the vaccine and you'll be notified once appointments are available. AHD estimates that approximately 1 in 20 Alexandrians who have tested positive for COVID-19 have required hospitalization, so without these critical steps, additional lives may be at risk. 
Changes to Executive Order 72
Governor Northam announced changes to Executive Order 72 today that will go into effect on Thursday, April 1. These changes come as Virginia's vaccination rate is steady and case counts are fluctuating. 
Social gatherings: Limits will increase from 10 to 50 for indoor gatherings, and from 25 to 100 for outdoor gatherings. 
Restaurants and Other Private Events: Maximum party sizes will increase from 10 to 50 people inside, and from 25 to 100 outside. 
Entertainment and Public Amusement Venues: Limits will remain at 30% occupancy, but the cap for indoor venues will increase from 250 to 500 persons, and the cap for outdoor gatherings will be removed. 
Recreational Sporting Events: The number of spectators allowed will increase from 25 to 100 indoors, and from 250 to 500 outdoors, and remain limited at 30% capacity. 
Graduations and Commencements: Limits will remain at 500 persons indoors and 5,000 persons outdoors, as previously announced. 
All other guidelines of Executive Order 72, including wearing masks at all times indoors and outdoors where 6 feet of physical distancing cannot be maintained, remain in effect. 
Celebrate Vaccination Cautiously
The Virginia Department of Health (VDH) is urging caution when sharing pictures online about getting a COVID-19 vaccine. Vaccine cards contain sensitive personal information, such as full name, date of birth, and more, and sharing photos of them could make you vulnerable to identity theft. Celebrate getting your vaccine, telling your story, and encouraging others to do the same by posting pictures of the button or sticker you receive after getting vaccinated at an AHD clinic, and tell others about your experience. 
Avoid Spring Break Trips and Non-Essential Travel
AHD and the City discourage residents from engaging in non-essential travel, particularly during spring break and upcoming holidays. COVID-19 cases, which had been declining since their peak on January 10, are starting to rise again. In addition to the possibility of another dangerous surge in cases, many COVID-19 variants are more infectious than the initial virus and travel may introduce variant forms of the coronavirus to Alexandria. It is critical to continue mitigation measures by wearing a mask at all times and maintaining 6 feet of physical distance from others in shared spaces. This also applies to those who have been vaccinated, as they could potentially still become infected and spread the virus to others.
Whether or not they have been vaccinated, anyone who cannot avoid travel should get tested no more than three days before departing, and stay home and quarantine for 14 days if they have a positive test result. The Centers for Disease Control and Prevention recommends that all travelers get tested 3-5 days after returning home and quarantine for at least 7 days, even with a negative test result. This eliminates the risk of transferring the virus to others, whether or not they have been vaccinated. The City has testing kiosks available to make it quick and easy to get tested 7 days a week. Testing is free, assistance can be provided in Spanish, and results are available within 48-72 hours.    
Weekly Featured Jobs and Workshops
Residents who have lost employment due to COVID-19 are encouraged to review the list of employers who are hiring, which is updated weekly. The Alexandria Workforce Development Center (WDC) is hosting vaccination site job information sessions on Tuesday, March 24 and Monday, March 29 about 112 positions the City is filling. A spring session 50+ Rapid Reskilling Cohort for job seekers ages 50 and older begins April 6. Participants will get help updating their resumes, practice interviewing skills, and learn how to apply for federal jobs. 

WDC offers several workshops to help residents enhance job readiness and improve their job search, including resume building skills, job interviewing skills, networking skills, and transferable skills. Residents can also access free " SkillUp" workplace, business, and IT courses. All events and workshops take place online, are free, and registration is requested. Follow WDC on Facebook, Twitter or LinkedIn for the latest flyer, or visit the WDC's job board for a complete list of job opportunities.    
Alexandria COVID-19 Data At-a-Glance
The seven-day moving average chart below shows the number of COVID-19 cases and the daily and cumulative case and fatality counts, and provides detailed information about how preventive measures are impacting Alexandria's response to the pandemic. An interactive version is available at alexandriava.gov/114883. The vaccination chart includes total doses administered across all facilities and the percentage of residents ages 16 and older who have been partially and fully vaccinated, and is available at alexandriava.gov/120654. Detailed data, including data on age, race and ethnicity, are available through links at alexandriava.gov/Coronavirus.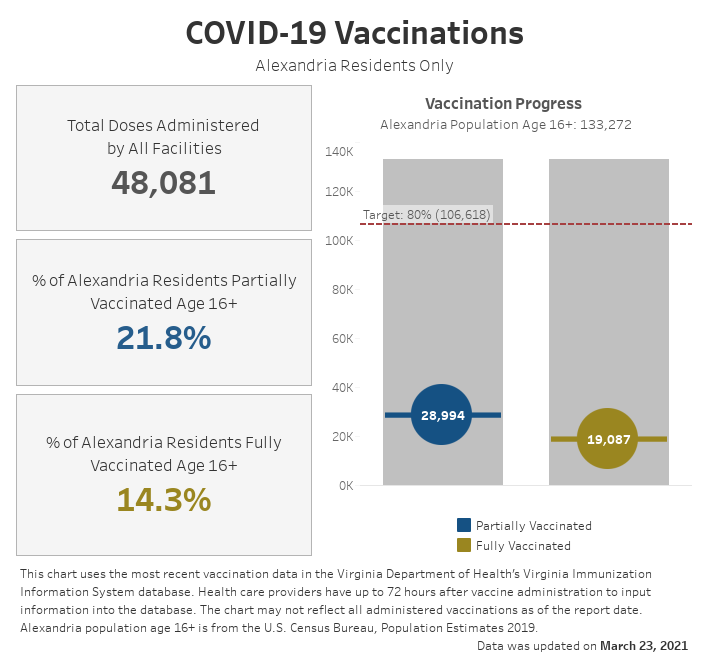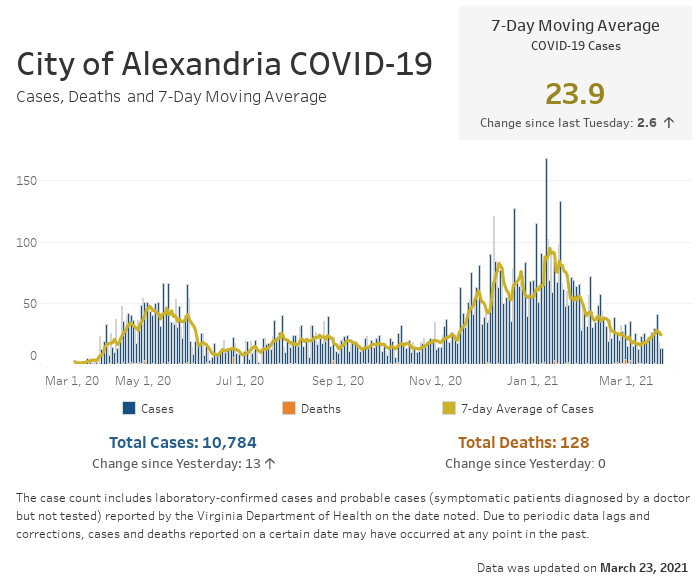 Continue following measures to stop the spread of COVID-19 even after vaccination. Get tested if you have been exposed to someone with COVID-19. If you test positive, help loved ones and neighbors by informing your close contacts using " What to Do If You Get Sick" guidance, which is available in Spanish, Amharic, Arabic, and Farsi or this brief video. 

# # #
This news release is available at alexandriava.gov/121128.