Translate
City of Alexandria Provides COVID-19 Updates; Now Scheduling: Eligibility Groups by Pre-registration Date; Community Vaccine Center Second Dose; Vaccine Eligibility Resources; Food Distribution
­­For Immediate Release: March 24, 2021
The City of Alexandria and the Alexandria Health Department (AHD) strongly urge residents to stay home as much as possible, wear a mask over both your nose and mouth, and wash your hands frequently. Pre-register to receive the vaccine and you'll be notified once appointments are available. AHD estimates that approximately 1 in 20 Alexandrians who have tested positive for COVID-19 have required hospitalization, so without these critical steps, additional lives may be at risk. 
Community Vaccine Center Second Dose Scheduling
The Virginia Department of Health (VDH) opened the first Community Vaccination Center (CVC) in northern Virginia on Tuesday, March 23. The Prince William County CVC is located in Woodbridge and administers 3,000 doses daily. VDH schedules appointments for CVCs from the pre-registration list at vaccinate.virginia.gov and contacts community members directly. Virginians who were vaccinated at the CVC were mistakenly told that their local health department will schedule their second dose. The state will be notifying those who received their first dose at the CVC via email within 7 days. Residents should contact VDH at 877-VAX-IN-VA with any questions about their second dose at a CVC.
Now Scheduling: Eligibility Groups by Pre-registration Date
AHD has attempted to contact, and is currently scheduling, the following groups of people for COVID-19 vaccinations. AHD uses an equitable approach to prioritize within Phase 1b groups.
Phase 1a: Everyone who pre-registered by March 22.
Ages 75+: Everyone who pre-registered by March 22.
Ages 65-74: Everyone who pre-registered by March 22. 
Ages 16-64 with certain existing medical conditions: 

Those in priority census tracts who pre-registered by 9 a.m. on February 4.

Those in all other census tracts who pre-registered by 2 p.m. on January 26. 

Essential Frontline Workers: 

Police, Fire, and Hazmat; Corrections and Homeless Shelter; Childcare/PreK-12 Teachers/Staff who pre-registered by March 17.

Food and Agriculture/Veterinarians; Manufacturing; Grocery Stores; Public Transit; Mail Carriers/USPS and private; Officials needed to maintain continuity of government/judges/public-facing judicial workers; Clergy/Faith Leaders; Janitorial/Cleaning who pre-registered by February 25

Restaurant and Food Service Workers who pre-registered by February 12

If you are an essential worker who registered before the dates listed and you have not been contacted to schedule an appointment, please visit vaccinate.virginia.gov to ensure that your employment is accurately listed. Note: restaurant workers who have been newly classified as being eligible in Phase 1b in Alexandria will be contacted within the next few weeks. 
If you are in one of the categories above and you pre-registered before the date listed and have not been contacted by AHD, first check your spam folder. If you do not have a message in your spam folder, fill out this brief form. This form is not for people who are curious about when their group will be contacted next. Anyone who does not have email or internet access should contact the Alexandria COVID-19 Hotline weekdays from 9 a.m. to 6 p.m. at 703.746.4988.   
Vaccine Eligibility Resources
A mailer was distributed to Alexandria households containing information about who is eligible to receive the COVID-19 vaccine, in English, Spanish, Amharic and Arabic. Those eligible to receive the vaccine in Alexandria include everyone ages 65 and over, frontline essential workers, and individuals ages 16-64 with underlying medical conditions. The mailer specifies who qualifies as an essential frontline worker, including police, fire, and hazmat; childcare, and K-12 teachers and staff; grocery store workers; and faith leaders, just to name a few. The eligibility list is continually being updated, so visit the City " COVID-19 Vaccines" webpage often for the most current information. 
Emergency Food Distribution this Saturday
ALIVE! Truck-to-Trunk will distribute emergency groceries for Alexandria residents at two drive-through sites on Saturday, March 27, 8:30-10:30 a.m., in the parking lot of Cora Kelly Elementary School (3600 Commonwealth Ave.) and parking lot B-1 of the Northern Virginia Community College Alexandria Campus (3320 Bisdorf Drive via Dawes Ave.). Per college policy, if they close for any reason, such as inclement weather, the food distribution will be canceled. To minimize risk of possible exposure to COVID-19, attendees are asked to drive through and remain in their cars and stay home if they feel sick. Walk-up service is reserved for residents without personal vehicles. Customers who participate in walk-up service should maintain 6 feet of physical distance, wear face masks, and bring carts or reusable bags to carry food home. Customers with vehicles should use the drive-through option. Additional food assistance resources are available for Alexandria residents.  
Alexandria COVID-19 Data At-a-Glance
The seven-day moving average chart below shows the number of COVID-19 cases and the daily and cumulative case and fatality counts, and provides detailed information about how preventive measures are impacting Alexandria's response to the pandemic. An interactive version is available at alexandriava.gov/114883. The vaccination chart includes total doses administered across all facilities and the percentage of residents ages 16 and older who have been partially and fully vaccinated, and is available at alexandriava.gov/120654. Detailed data, including data on age, race and ethnicity, are available through links at alexandriava.gov/Coronavirus.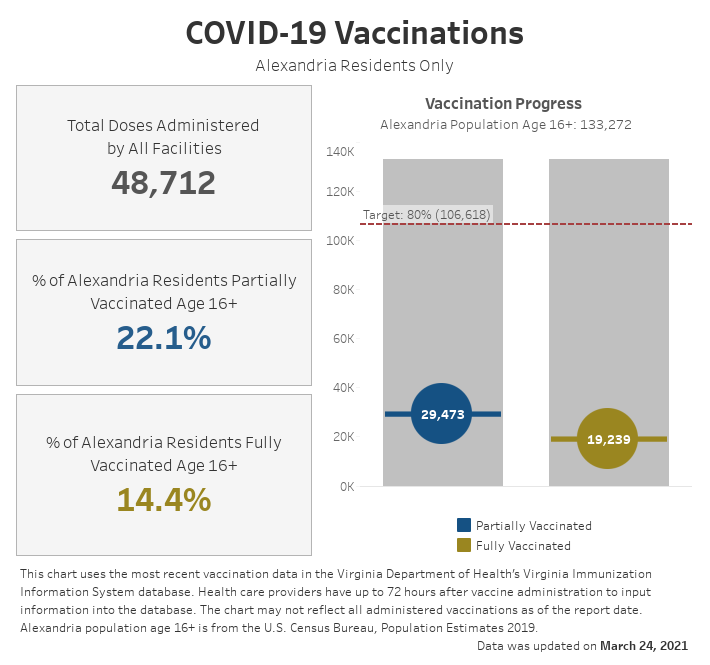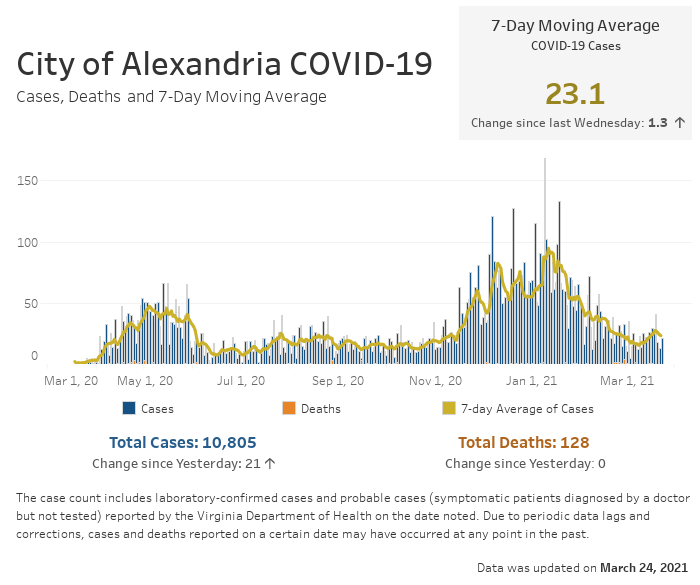 Continue following measures to stop the spread of COVID-19 even after vaccination. Get tested if you have been exposed to someone with COVID-19. If you test positive, help loved ones and neighbors by informing your close contacts using " What to Do If You Get Sick" guidance, which is available in Spanish, Amharic, Arabic, and Farsi or this brief video. 

# # #
This news release is available at alexandriava.gov/121156.