Translate
City of Alexandria Provides COVID-19 Updates; Curative Testing Kiosk Hours Extended; Federal Funding Supports Vaccine Equity
­­For Immediate Release: April 1, 2021
The City of Alexandria and the Alexandria Health Department (AHD) strongly urge residents to stay home as much as possible, wear a mask over both your nose and mouth, and wash your hands frequently. Pre-register to receive the vaccine and you'll be notified once appointments are available. AHD estimates that approximately 1 in 20 Alexandrians who have tested positive for COVID-19 have required hospitalization, so without these critical steps, additional lives may be at risk. 
Curative Testing Kiosk Hours Extended
Beginning Monday, April 5, the operating hours for the Curative COVID-19 Testing Kiosk at Charles Houston Recreation Center (901 Wythe St.) will be extended to Monday-Friday, 11 a.m.-9 p.m. The hours were added to increase access to testing, which remains a key mitigation strategy to minimize the spread of COVID-19. Saturday operating hours will remain 9 a.m. to 3 p.m. Visit curative.com to pre-register for a COVID-19 test.
Federal Funding Supports Vaccine Equity
The COVID-19 Health Equity Task Force was formed to address disparities in access to vaccines in the United States. The U.S. Department of Health and Human Services (HHS) will invest nearly $10 billion from the American Rescue Plan to address the COVID-19 response within communities of color, rural areas, low-income populations, and other under-served communities. The additional funding will be used to expand COVID-19 vaccinations, testing, and treatment for vulnerable populations; deliver preventive and primary health care services to people at higher risk for COVID-19; and expand health centers' operational capacity during the pandemic and beyond, including modifying and improving physical infrastructure and adding mobile units. HHS will also send funding directly to states, territories and some large cities to support local health departments and community-based organizations to launch programs that will increase vaccine access and acceptance, such as door-to-door outreach to schedule vaccine appointments; utilizing food assistance programs to provide outreach and education to its clients; and hiring additional bilingual support.  

Initial efforts of the task force have been positive, with 60% of vaccine doses being administered to people of color at federally run community vaccination sites. Additionally, 45% of pharmacy locations participating in the federal retail pharmacy program were located in zip codes determined by census information the Centers for Disease Control and Prevention (CDC) has used to identify communities that may need support; and more than 65% of doses allocated to Community Health Centers have been administered to people of color.
Alexandria COVID-19 Data At-a-Glance
The seven-day moving average chart below shows the number of COVID-19 cases and the daily and cumulative case and fatality counts, and provides detailed information about how preventive measures are impacting Alexandria's response to the pandemic. An interactive version is available at alexandriava.gov/114883. The vaccination chart includes total doses administered across all facilities and the percentage of residents ages 16 and older who have been partially and fully vaccinated, and is available at alexandriava.gov/120654. Detailed data, including data on age, race and ethnicity, are available through links at alexandriava.gov/Coronavirus.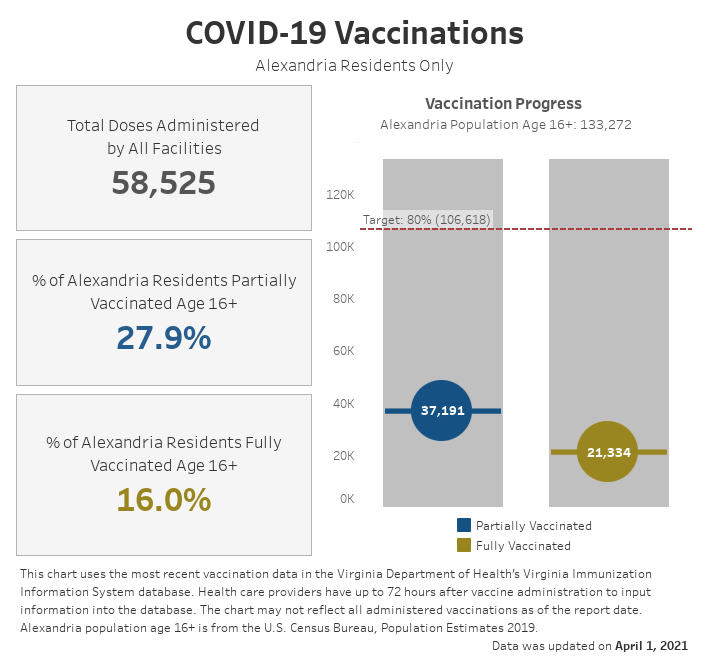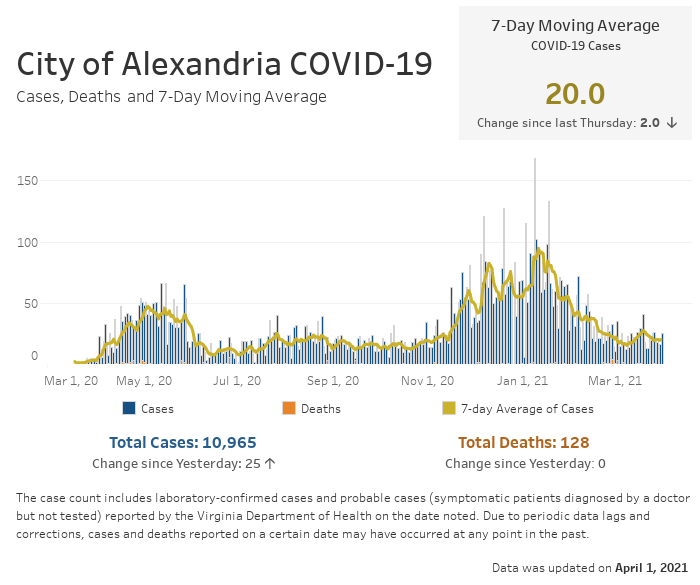 Continue following measures to stop the spread of COVID-19 even after vaccination. Get tested if you have been exposed to someone with COVID-19. If you test positive, help loved ones and neighbors by informing your close contacts using " What to Do If You Get Sick" guidance, which is available in Spanish, Amharic, Arabic, and Farsi or this brief video. 

# # #
This news release is available at alexandriava.gov/121329.