Translate
City of Alexandria Provides COVID-19 Updates; Expanding Phase 1c Vaccinations for Residents; 
New Milestones in Vaccination and COVID-19 Cases; 

ASL Now Available Through Vaccinate Virginia

­­For Immediate Release: April 6, 2021

The City of Alexandria and the Alexandria Health Department (AHD) strongly urge residents to stay home as much as possible, wear a mask over both your nose and mouth, and wash your hands frequently. Pre-register to receive the vaccine and you'll be notified once appointments are available. AHD estimates that approximately 1 in 20 Alexandrians who have tested positive for COVID-19 have required hospitalization, so without these critical steps, additional lives may be at risk. 
Expanding Phase 1c Vaccinations for Residents
AHD follows the Virginia Department of Health (VDH) guidance that considers a frontline essential workers' vaccine eligibility based upon their workplace location. This means that there are Alexandria residents working in essential frontline roles outside of the city limits of Alexandria who have yet to be vaccinated as a result of their employer jurisdiction's supply availability. Therefore, before moving to Phase 2, AHD will offer vaccine appointments to all Alexandria residents who work in Phase 1 industries, regardless of their workplace location. If you are an essential frontline worker in Phase 1a, 1b, or 1c living in Alexandria and have not yet received a vaccine appointment, pre-register online or update your pre-registration record to ensure that the job category in your profile is correct.
New Milestones in Vaccination and COVID-19 Cases 
Since December 2020, AHD has scheduled more than 50,000 vaccine appointments, including first and second doses, with more than 26,000 Alexandrians now fully vaccinated. Sadly, this week also marks more than 11,000 COVID-19 cases in Alexandria since the pandemic started. Variants of the coronavirus have been found in the region that are more contagious. While more residents are being vaccinated every week, it is important for everyone to continue following mitigation measures, whether or not they are vaccinated. All residents are strongly urged to continue wearing masks when out in public; avoiding crowds in medium to large gatherings, maintaining 6 feet of distance; and washing hands frequently. 
ASL Services Now Available Through Vaccinate Virginia 
VDH has partnered with Connect Direct, a subsidiary of Communication Service for the Deaf, to provide American Sign Language (ASL) services for Deaf and hard of hearing Virginians in the Vaccinate Virginia Call Center. ASL users will have access to real-time support by videophone at 877.VAX.IN.VA (877.829.4682) or by clicking the "ASL Now" button at vaccinate.virginia.gov during call center hours from 8 a.m. to 8 p.m. daily. Virginia is the first state to provide real-time support with ASL-fluent representatives for COVID-19 and vaccine information. ASL fluency is important to users because it has its own grammar, syntax, vocabulary and cultural context. Deaf employees of Connect Direct have been trained to provide important information about the coronavirus and answer questions.
Alexandria COVID-19 Data At-a-Glance
The seven-day moving average chart below shows the number of COVID-19 cases and the daily and cumulative case and fatality counts, and provides detailed information about how preventive measures are impacting Alexandria's response to the pandemic. An interactive version is available at alexandriava.gov/114883. The vaccination chart includes total doses administered across all facilities and the percentage of residents ages 16 and older who have been partially and fully vaccinated, and is available at alexandriava.gov/120654. Detailed data, including data on age, race and ethnicity, are available through links at alexandriava.gov/Coronavirus.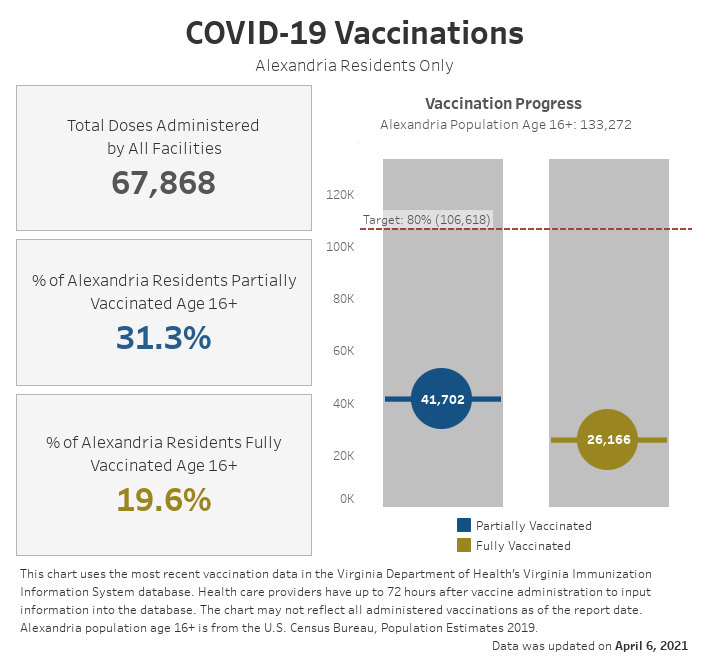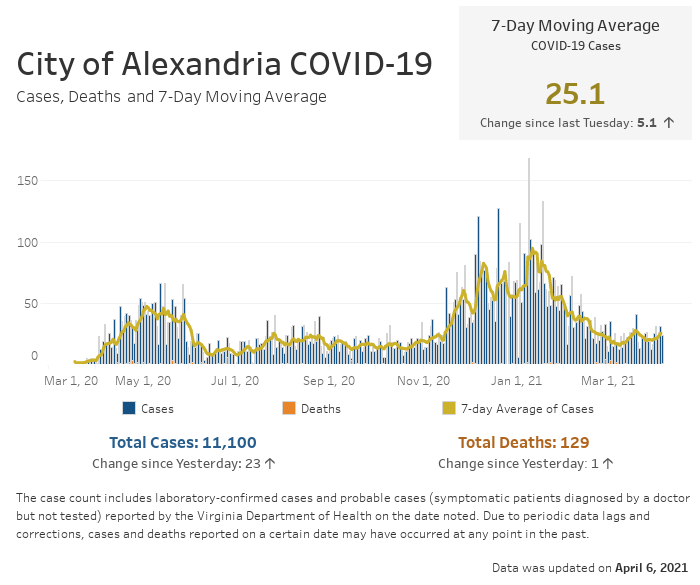 Continue following measures to stop the spread of COVID-19 even after vaccination. Get tested if you have been exposed to someone with COVID-19. If you test positive, help loved ones and neighbors by informing your close contacts using " What to Do If You Get Sick" guidance, which is available in Spanish, Amharic, Arabic, and Farsi or this brief video. 

# # #
This news release is available at alexandriava.gov/121448.