Translate
City of Alexandria Provides COVID-19 Updates; Vaccines Town Hall on May 4; Donate Blood; Weekly Featured Jobs and Workshops
­­For Immediate Release: May 3, 2021
Help end the pandemic by wearing a mask over both your nose and mouth, washing your hands frequently, and scheduling a vaccination appointment. Approximately 1 in 20 Alexandrians who have tested positive for COVID-19 have required hospitalization, so without these critical steps, additional lives may be at risk.
COVID-19 Vaccines Town Hall on May 4
The Virginia Department of Health will host a live broadcast Town Hall on May 4, from 7 to 8 p.m. The program will feature in-depth discussion about COVID-19 vaccines and offer a forum to ask questions about the vaccines and the next steps in the vaccine roll out. Panelists include Virginia State Health Commissioner Dr. Norm Oliver and State Vaccine Coordinator Dr. Danny Avula, as well as other academic, medical, and public health experts. Richmond ABC News affiliate WRIC8 will host the event, moderate the discussion, and receive questions submitted via news@wric.com or posted on Facebook, Twitter or Instagram using #VaccinateVirginia. 
Donate Blood 
Inova Blood Donor Services is asking residents to consider donating blood, as the need for blood is constant and blood banks are anticipating an increase in the need for blood due to the resumption of elective surgeries. During the month of May, Inova will be hosting blood drives at various locations throughout Alexandria. Inova Donor Centers and blood drives take extra precautions to ensure the health and safety of donors, volunteers and staff. Blood donation amenities are professionally cleaned and disinfected regularly. All staff receive temperature checks twice daily, are required to wear masks at all times within clinic areas, and precautions are in place to ensure physical distance is maintained. Every donor receives additional screening for COVID-19. Anyone who has received the Pfizer, Moderna or Johnson & Johnson's Jansen vaccine may donate immediately, as long as they are not experiencing any symptoms. Donors may only give blood if they are feeling healthy and well on the day of their donation. 
Weekly Featured Jobs and Workshops
Residents who have lost employment due to COVID-19 are encouraged to review the list of employers who are hiring, which is updated weekly. The Alexandria Workforce Development Center (WDC) is participating in an Industry Insider Session: Breaking into Cybersecurity for Youth, May 19, 5-6:30 p.m for ages 16-17 who are interested in breaking into the Cybersecurity and IT/Healthcare fields. Several workshops are available to help residents train and prepare for employment, including mastering the job interview and preparing for a virtual job fair. WDC also offers coaching and financial assistance for job searches and career development. All resources take place online, are free, and registration is requested. Visit the WDC's job board for a complete list of job opportunities.    
Alexandria COVID-19 Data At-a-Glance
The seven-day moving average chart below shows the number of COVID-19 cases and the daily and cumulative case and fatality counts, and provides detailed information about how preventive measures are impacting Alexandria's response to the pandemic. An interactive version is available at alexandriava.gov/114883. Vaccination charts include total doses administered across all facilities, the percentage of residents ages 16 and older who have been partially and fully vaccinated, and weekly doses administered. Vaccination charts are available with definitions and data source information at alexandriava.gov/120654. Detailed data, including data on age, race and ethnicity, are available through links at alexandriava.gov/Coronavirus.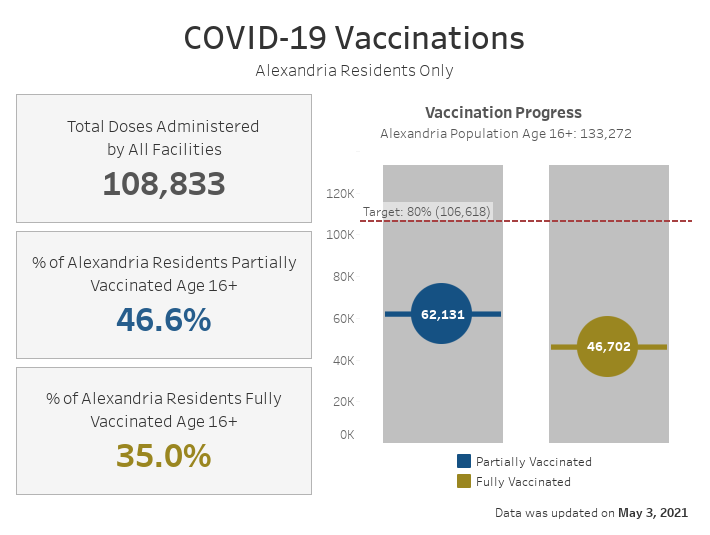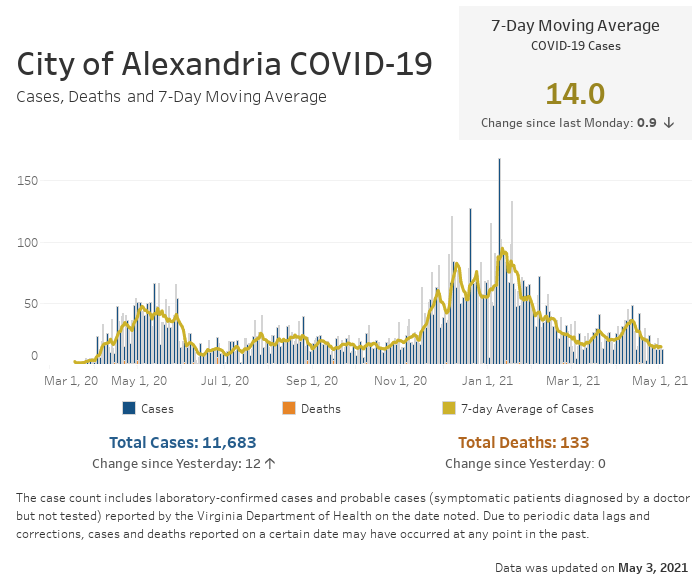 Continue following measures to stop the spread of COVID-19 even after vaccination. Get tested if you have been exposed to someone with COVID-19. If you test positive, help loved ones and neighbors by informing your close contacts using " What to Do If You Get Sick" guidance, which is available in Spanish, Amharic, Arabic, and Farsi or this brief video. 
# # #
This news release is available at alexandriava.gov/122079.