Translate
City of Alexandria Provides COVID-19 Updates; Mask Requirements and COVID-19 Restrictions Easing May 15 and May 28; Weekly Vaccine Updates 
­­For Immediate Release: May 14, 2021
Help end the pandemic by wearing a mask over both your nose and mouth, washing your hands frequently, and getting vaccinated. Approximately 1 in 20 Alexandrians who have tested positive for COVID-19 have required hospitalization, so without these critical steps, additional lives may be at risk.
Mask Requirements and COVID-19 Restrictions Easing May 15 and May 28
Today, Governor Ralph Northam lifted the state's universal mask requirement by no longer requiring that fully vaccinated individuals wear masks in all indoor public settings. This aligns the state's indoor mask requirements with new guidance from the Centers for Disease Control and Prevention (CDC). The updates to Virginia's mask policy are reflected in amendments to Executive Order 72 and will become effective at midnight tonight, along with previously announced changes to alcohol sales and occupancy limits. Other restrictions related to physical distancing and venue capacity will be lifted on Friday, May 28, two weeks earlier than planned, when Executive Order 79 replaces Executive Order 72.
There are some instances when fully vaccinated people should continue to wear masks indoors, including on public transit, in health care facilities, and in congregate settings. Since vaccine clinics are considered health care settings, masks will be required by all patients, guests, volunteers, and staff, while inside and outside of vaccine sites. Businesses retain the ability to require masks in their establishments. Employees who work in certain business sectors—including restaurants, retail, fitness, personal care, and entertainment—must continue to wear masks unless they are fully vaccinated, per CDC guidance. The order also states that all K-12 students, teachers, staff and visitors must wear a mask over their nose and mouth while on school property, regardless of vaccination status. 
The City's mask ordinance currently requires masks in indoor public places in Alexandria. A proposed amendment to the ordinance, to follow suit with state guidance, will be considered for adoption by City Council on Saturday, May 15.
Weekly Vaccine Updates
Between May 7 and May 13, the Alexandria Health Department (AHD) administered first doses of COVID-19 vaccine to 625 people and fully vaccinated 1,937 people with either a second dose of Moderna or Pfizer or a single dose of the Johnson & Johnson vaccine. During this same period, bilingual AHD staff have knocked on hundreds of doors, primarily in the West End and Arlandria, to offer vaccine appointments to those who have not had access because of transportation, technology and language barriers. 
Alexandria will receive 600 doses for next week, including first and second doses. AHD continues to use the vaccine supply received from last week for upcoming clinics. This does not include additional vaccine doses federal programs provide directly to participating providers. AHD administers vaccines at clinic events and allocates the remaining doses to private providers. Appointments from AHD and private providers are listed on alexandriava.gov/Vaccines, with both scheduled and walk-in opportunities.
Alexandria COVID-19 Data At-a-Glance
The seven-day moving average chart below shows the number of COVID-19 cases and the daily and cumulative case and fatality counts, and provides detailed information about how preventive measures are impacting Alexandria's response to the pandemic. An interactive version is available at alexandriava.gov/114883. Vaccination charts include total doses administered across all facilities, the percentage of residents ages 16 and older who have been partially and fully vaccinated, and weekly doses administered. Vaccination charts are available with definitions and data source information at alexandriava.gov/120654. Detailed data, including data on age, race and ethnicity, are available through links at alexandriava.gov/Coronavirus.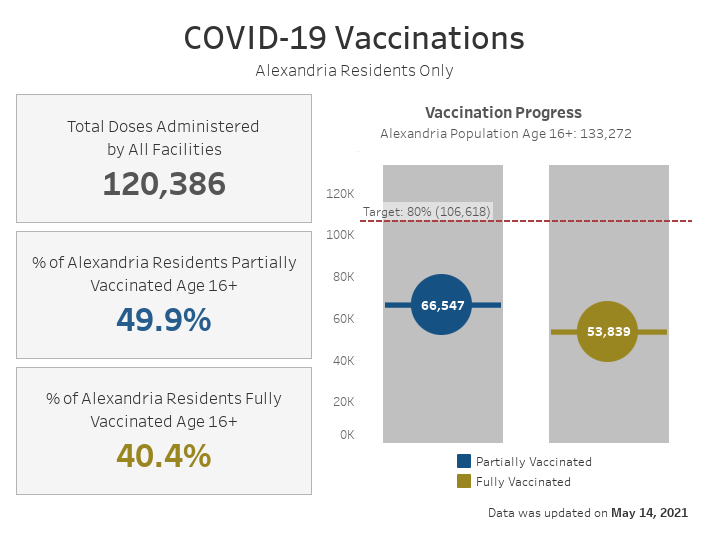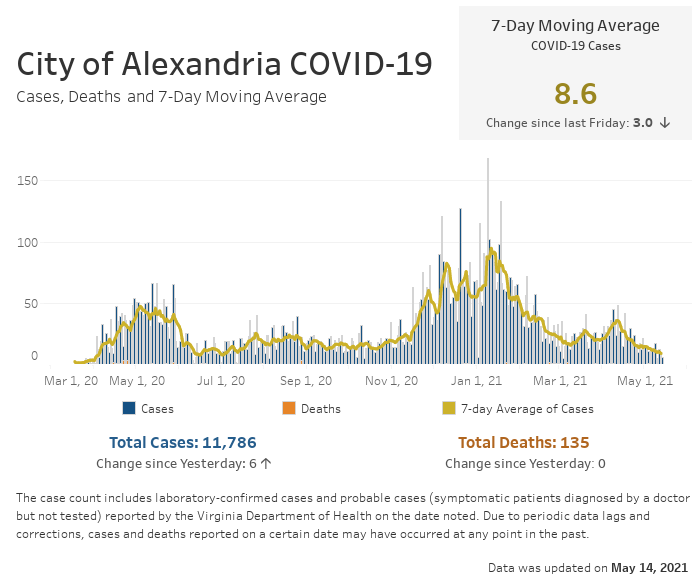 Continue following measures to stop the spread of COVID-19 even after vaccination. Get tested if you have been exposed to someone with COVID-19. If you test positive, help loved ones and neighbors by informing your close contacts using " What to Do If You Get Sick" guidance, which is available in Spanish, Amharic, Arabic, and Farsi or this brief video. 

# # #
This news release is available at alexandriava.gov/122336.