Translate
City of Alexandria Provides COVID-19 Updates; Federally Administered Vaccines Added to State Dashboard; Pfizer Vaccination Events for Ages 12 and Up; National EMS Week
­­For Immediate Release: May 19, 2021
Help end the pandemic by wearing a mask over both your nose and mouth, washing your hands frequently, and getting vaccinated. Approximately 1 in 20 Alexandrians who have tested positive for COVID-19 have required hospitalization, so without these critical steps, additional lives may be at risk.
Federally Administered Vaccines Added to State Dashboard
Today, statewide COVID-19 vaccination numbers increased after federally administered immunizations were counted. The Centers for Disease Control and Prevention estimates that federal agencies or entities have administered approximately 5% of vaccinations in Virginia. Previously, these doses were not reported on the Virginia Department of Health's (VDH) vaccine dashboard. The data is not currently available by jurisdiction, so the updates will not be visible in Alexandria's dashboard. The VDH dashboard also now includes the percentage of the adult population who have received at least one dose of vaccine and are fully vaccinated, in addition to the vaccination rates for the entire population.   
Pfizer Vaccination Events for Ages 12 and Up
The Alexandria Health Department (AHD) is coordinating with Alexandria City Public Schools to host vaccine events for families of children in public and private schools on May 22 at George Washington Middle School (1005 Mount Vernon Ave.) and June 5 at Francis C. Hammond Middle School (4646 Seminary Rd.). AHD encourages everyone who is eligible to get vaccinated as soon as possible. Vaccines are one of the most effective ways to stop COVID-19. Appointments are required for the May 22 vaccine clinic. Walk-ups and appointments will be accepted at the June 5 event. To receive the vaccine, minors 17 years of age and under must have a parent, guardian, or adult aged 18 or older designated by the parent or guardian present onsite. To schedule, visit alexandriava.gov/Vaccines or call 703.746.4988 Monday through Friday, from 9 a.m. to 6 p.m.
National EMS Week
The City recognizes its Emergency Medical Services (EMS) providers in celebration of the 46th annual National EMS Week, May 16-22. Throughout the COVID-19 pandemic, the EMS division of the Alexandria Fire Department has worked closely with City partners and regional hospitals to provide emergency care to residents in need, while adjusting operations to protect staff and patients. New procedures were developed and staff were trained in new protocols for transporting possible COVID-19 patients; sanitizing before and after calls; providing care to patients while fully dressed in Personal Protective Equipment; and administering vaccines at City clinics. Residents are encouraged to support EMS workers by donating blood; learning lifesaving skills such as hands-only CPR and " Until Help Arrives" training on Save-A-Life Day, Thursday, May 20; and thanking an EMS worker for their service on EMS Recognition Day, Friday, May 21.  

Alexandria COVID-19 Data At-a-Glance
The seven-day moving average chart below shows the number of COVID-19 cases and the daily and cumulative case and fatality counts, and provides detailed information about how preventive measures are impacting Alexandria's response to the pandemic. An interactive version is available at alexandriava.gov/114883. Vaccination charts include total doses administered across all facilities, the percentage of residents ages 12 and older who have been partially and fully vaccinated, and weekly doses administered. Vaccination charts are available with definitions and data source information at alexandriava.gov/120654. Detailed data, including data on age, race and ethnicity, are available through links at alexandriava.gov/Coronavirus.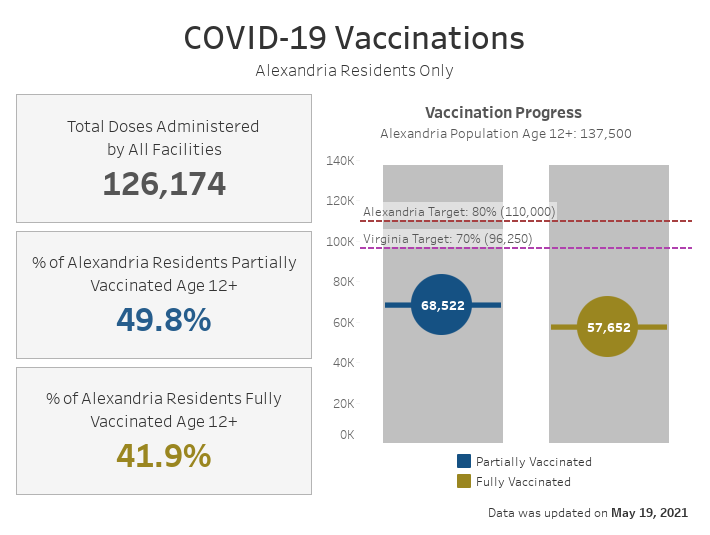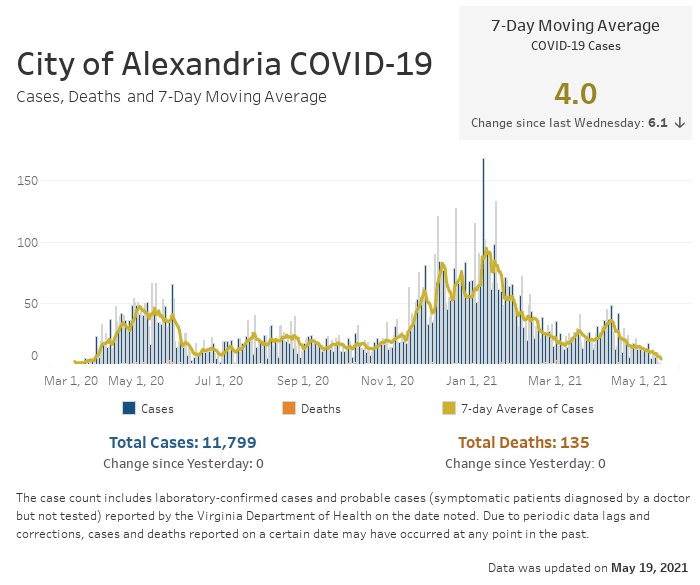 Continue following measures to stop the spread of COVID-19 even after vaccination. Get tested if you have been exposed to someone with COVID-19. If you test positive, help loved ones and neighbors by informing your close contacts using " What to Do If You Get Sick" guidance, which is available in Spanish, Amharic, Arabic, and Farsi or this brief video. 

# # #
This news release is available at alexandriava.gov/122405.