Translate
City of Alexandria Provides COVID-19 Updates; 2021 Child Tax Credit Maximum Increased by American Rescue Plan
­­For Immediate Release: May 20, 2021
Help end the pandemic by wearing a mask over both your nose and mouth, washing your hands frequently, and getting vaccinated. Approximately 1 in 20 Alexandrians who have tested positive for COVID-19 have required hospitalization, so without these critical steps, additional lives may be at risk.
2021 Child Tax Credit Maximum Increased 
Beginning July 15, eligible families will receive a Child Tax Credit from the American Rescue Plan (ARP). Payments of up to $300 per child under 6 years of age and $250 per child ages 6 and older will be made automatically on or near the 15th of every month, by direct deposit, paper check, or debit card. No action will be required by most families and the Internal Revenue Service and U.S. Department of Treasury will work through their partners to ensure families are aware of their eligibility. The 2021 annual Child Tax Credit was increased to a maximum of $3,600 per child under 6, and $3,000 per child ages 6-17 years. ARP is projected to lift more than five million children out of poverty this year, reducing child poverty by more than half.
Alexandria COVID-19 Data At-a-Glance
The seven-day moving average chart below shows the number of COVID-19 cases and the daily and cumulative case and fatality counts, and provides detailed information about how preventive measures are impacting Alexandria's response to the pandemic. An interactive version is available at alexandriava.gov/114883. Vaccination charts include total doses administered across all facilities, the percentage of residents ages 12 and older who have been partially and fully vaccinated, and weekly doses administered. Vaccination charts are available with definitions and data source information at alexandriava.gov/120654. Detailed data, including data on age, race and ethnicity, are available through links at alexandriava.gov/Coronavirus.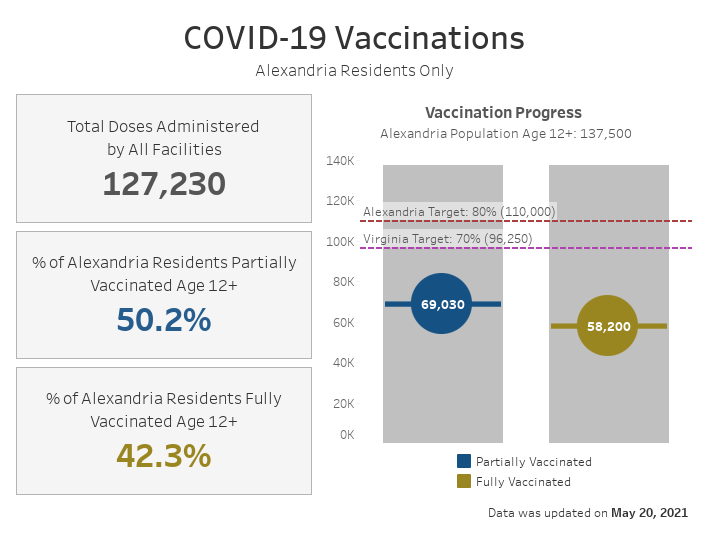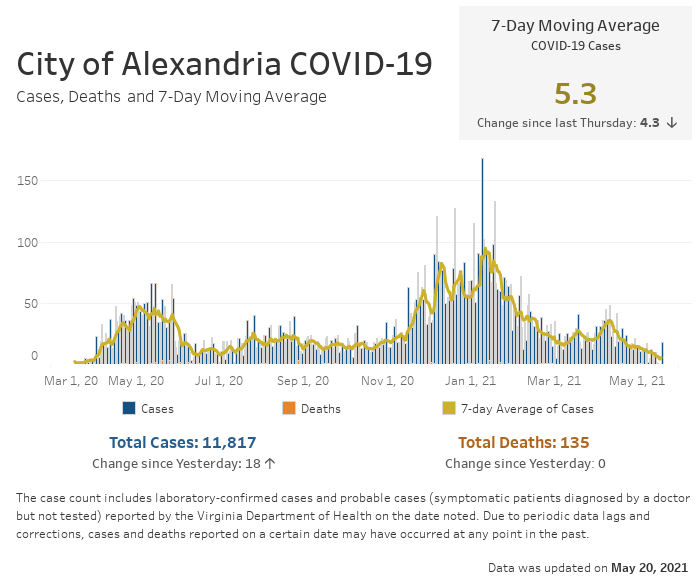 Continue following measures to stop the spread of COVID-19 even after vaccination. Get tested if you have been exposed to someone with COVID-19. If you test positive, help loved ones and neighbors by informing your close contacts using " What to Do If You Get Sick" guidance, which is available in Spanish, Amharic, Arabic, and Farsi or this brief video. 
# # #
This news release is available at alexandriava.gov/122433.