Translate
City of Alexandria Provides COVID-19 Updates; Decline in Mental Health Services Use for Medicaid Recipients; City to Host Town Hall on Anti-Asian Violence 
­­For Immediate Release: May 25, 2021
Help end the pandemic by wearing a mask over both your nose and mouth, washing your hands frequently, and getting vaccinated. Approximately 1 in 20 Alexandrians who have tested positive for COVID-19 have required hospitalization, so without these critical steps, additional lives may be at risk.
Decline in Mental Health Services Use for Medicaid Recipients
The Centers for Medicare & Medicaid Services recently published a report showing a significant drop in primary, preventive and mental health care visits by Medicaid and Children's Health Insurance Program recipients between March and October 2020, due to the effects of the COVID-19 pandemic. Mental health care saw the most significant decline, and has been the slowest to rebound. The study shows a 34% decline in use of mental health services by children under the age of 19, and a 22% decrease for adults aged 19-64. Preliminary results from the study also indicate an increase in drug-related fatalities and a 13% decrease in substance use services. 

The City offers a Wellness Resource Guide to help anyone who is coping with stress, anxiety or burnout, and provides several 24-hour crisis hotlines and suicide prevention resources. If you or a loved one are in danger of self-harm, please dial 911 or go immediately to your nearest emergency room. Residents who are not eligible for Medicaid but need health insurance can apply during the Special Enrollment Period, which was recently extended to August 15. 

City to Host Town Hall on Anti-Asian Violence
The City of Alexandria invites the public to attend a virtual Asian-American Pacific Islander Heritage Month Town Hall, "Contextualizing Anti-Asian Violence in the Age of COVID," on Thursday, May 27, at 7 p.m. The virtual panel discussion focuses on the wave of racial incidents and attacks directed toward Asian Americans and Pacific Islanders in the wake of the COVID-19 pandemic. The panel features Elisabeth Chan, Sue Jean Cho, John Min, and Alexander Purrugganan,  faculty members of Northern Virginia Community College. Their presentation will be followed by an interactive question and answer session. The presentation is free, but attendees must register. Chinese language interpretation will be available. This presentation underscores a resolution adopted by City Council on March 23 condemning hate, scapegoating and violence directed at Asian Americans and Pacific Islanders. Visit alexandriava.gov/HumanRights for more information. 

Alexandria COVID-19 Data At-a-Glance
The seven-day moving average chart below shows the number of COVID-19 cases and the daily and cumulative case and fatality counts, and provides detailed information about how preventive measures are impacting Alexandria's response to the pandemic. An interactive version is available at alexandriava.gov/114883. Vaccination charts include total doses administered across all facilities, the percentage of residents ages 12 and older who have been partially and fully vaccinated, and weekly doses administered. Vaccination charts are available with definitions and data source information at alexandriava.gov/120654. Detailed data, including data on age, race and ethnicity, are available through links at alexandriava.gov/Coronavirus.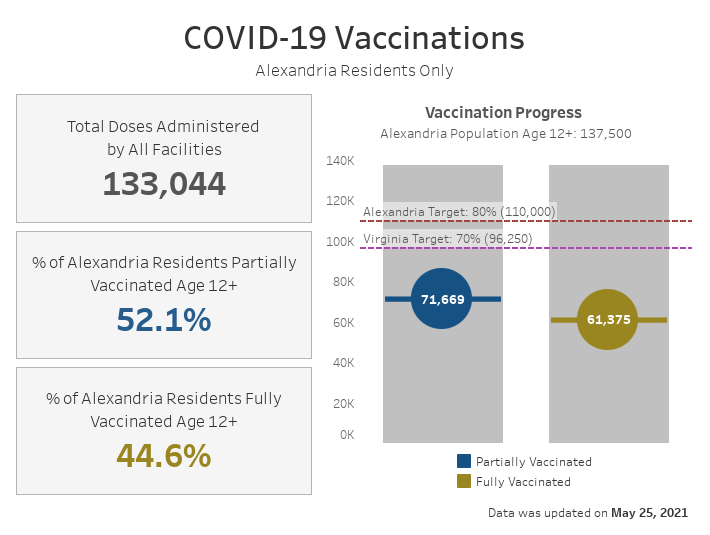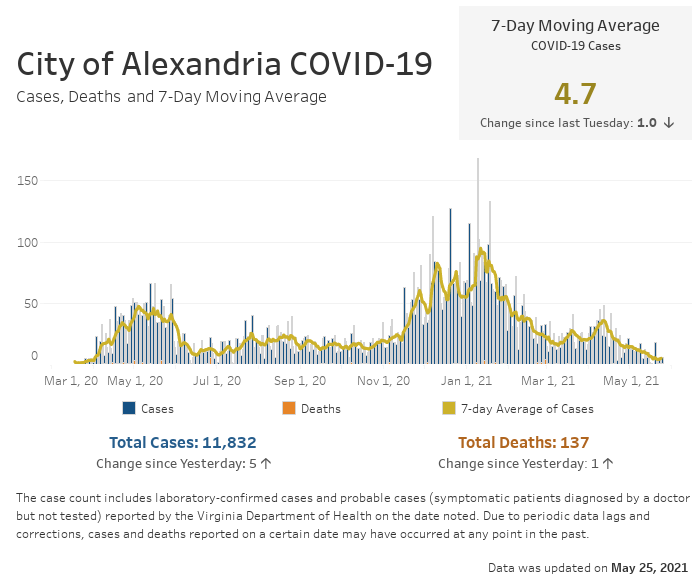 Continue following measures to stop the spread of COVID-19 even after vaccination. Get tested if you have been exposed to someone with COVID-19. If you test positive, help loved ones and neighbors by informing your close contacts using " What to Do If You Get Sick" guidance, which is available in Spanish, Amharic, Arabic, and Farsi or this brief video. 

# # #
This news release is available at alexandriava.gov/122517.