Translate
City of Alexandria Provides COVID-19 Updates; Alexandria Police Department Reopens Headquarters For Public Services; Summer Camp Updates
­­For Immediate Release: June 1, 2021
Help end the pandemic by wearing a mask over both your nose and mouth, washing your hands frequently, and getting vaccinated. Approximately 1 in 20 Alexandrians who have tested positive for COVID-19 have required hospitalization, so without these critical steps, additional lives may be at risk.
Alexandria Police Department Reopens Headquarters For Public Services
Starting today, the main lobby of the Alexandria Police Department Headquarters (3600 Wheeler Ave.) is now accessible for public fingerprinting and in-person records assistance. Public fingerprinting is now available on Tuesday, Wednesday and Thursday from 10 a.m. to 1 p.m. Access to records is provided through the Information Services window, which is now open from 8 a.m. to 3 p.m. on Monday, Tuesday, Thursday and Friday. On Wednesday, the window is open from 10 a.m. to 7 p.m. Record requests are also accepted by mail. At this time, everyone entering the building must wear a mask and check in with security staff at the front desk upon entry.

Summer Camp Updates
The Centers for Disease Control and Prevention updated their guidance for operating youth and summer camps. The guidance outlines strategies that camp programs can use to maintain healthy environments and operations, lower the risk of COVID-19 spread in their programs, prepare for when someone is sick with COVID-19, and support coping and resilience. Families can refer to this guidance to help guide discussion with their camp providers, to ensure everyone is following safety and health protocols to prevent the spread of COVID-19. 

The Department of Recreation, Parks and Cultural Activities offers a variety of summer camp options for ages 3 to 16. To ensure the safety of participants and to prevent the spread of COVID-19, each program will follow all federal, state, and local guidelines. Visit alexandriava.gov/Recreation to register for summer activities or for more information.

Alexandria COVID-19 Data At-a-Glance
The seven-day moving average chart below shows the number of COVID-19 cases and the daily and cumulative case and fatality counts, and provides detailed information about how preventive measures are impacting Alexandria's response to the pandemic. An interactive version is available at alexandriava.gov/114883. Vaccination charts include total doses administered across all facilities, the percentage of residents ages 12 and older who have been partially and fully vaccinated, and weekly doses administered. Vaccination charts are available with definitions and data source information at alexandriava.gov/120654. Detailed data, including data on age, race and ethnicity, are available through links at alexandriava.gov/Coronavirus.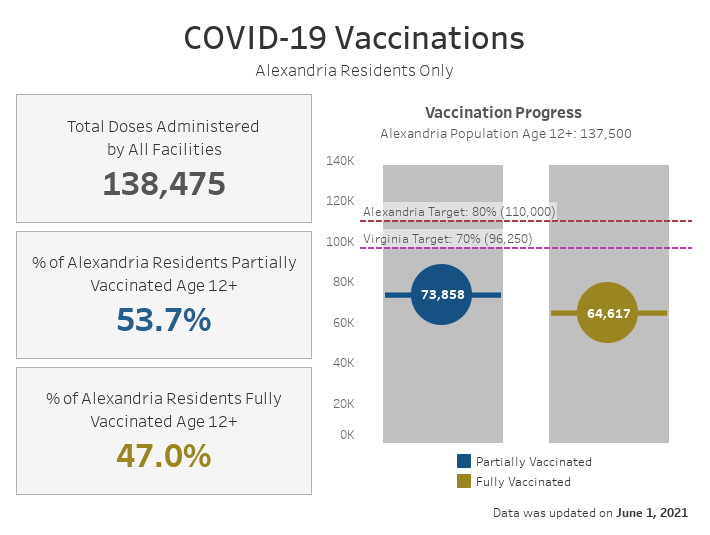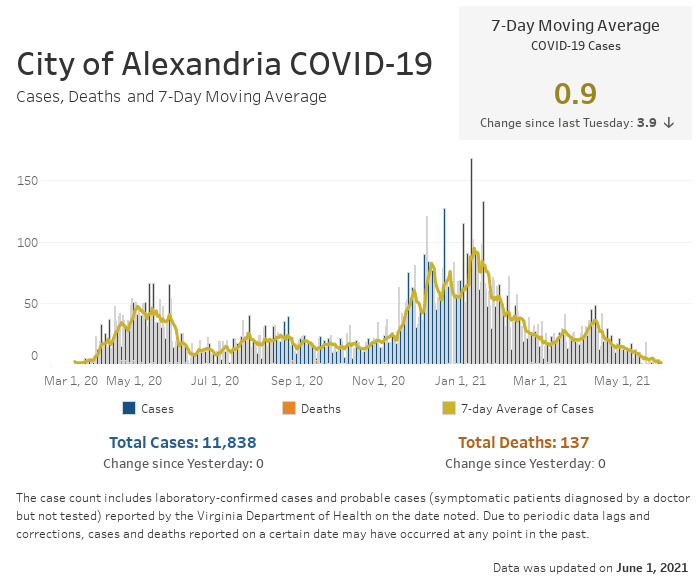 Continue following measures to stop the spread of COVID-19 even after vaccination. Get tested if you have been exposed to someone with COVID-19. If you test positive, help loved ones and neighbors by informing your close contacts using " What to Do If You Get Sick" guidance, which is available in Spanish, Amharic, Arabic, and Farsi or this brief video. 
# # #
This news release is available at alexandriava.gov/122663.