Translate
City of Alexandria Provides COVID-19 Updates; AHD Expands Vaccine Clinic Partnerships and Locations; In-Person Library Services Now Available on Fridays; Metro Commitment to Safety and Health
­­For Immediate Release: June 8, 2021
Help end the pandemic by wearing a mask over both your nose and mouth, washing your hands frequently, and getting vaccinated. Approximately 1 in 20 Alexandrians who have tested positive for COVID-19 have required hospitalization, so without these critical steps, additional lives may be at risk.

AHD Expands Vaccine Clinic Partnerships and Locations
In recent weeks, the Alexandria Health Department (AHD) has expanded vaccine clinic partnerships and locations. In Alexandria and the region, mass vaccination events have slowed significantly over the past month. In response, AHD has focused on targeting outreach in communities where vaccination rates are lower and partnering with organizations to reach priority populations. 

Recently, partner events with Alexandria City Public Schools on May 22 and June 5, for students and their families, resulted in more than 800 Alexandrians being vaccinated with their first dose. AHD is working to replicate this model to serve specific populations by partnering with community organizations and hosting locations in the coming weeks. In addition to regular vaccine clinic locations and long standing partners, upcoming events will take place at Casa Chirilagua, Southern Towers Apartments, Charles Houston Recreation Center, and New Brookside Apartments. To learn more about vaccine clinic locations and availability, visit alexandriava.gov/Vaccines.

In-Person Library Services Now Available on Fridays
Beginning Friday, June 11, Charles E. Beatley, Jr. Central Library (5005 Duke St.) will be open to the public for in-person services on Fridays from 11 a.m. to 5 p.m. Limited reference services and no passport services will be available during these additional Friday hours due to Library staffing shortages. All other Alexandria Library branches will continue to provide curbside-only service on Fridays until further notice. Visit alexlibraryva.org/reopen for current operating hours, holiday schedule and protocols. 
Metro Commitment to Safety and Health
State guidelines require that masks are worn on public transportation, as recommended by the Centers for Disease Control and Prevention. Along with more than 100 public transit systems, the Washington Metropolitan Area Transit Authority Metro has committed to the American Public Transportation Association's Safety & Health Commitments Program to protect riders and employees so that public transportation can continue to deliver safe, valuable services to everyone. The program centers on shared commitments between Metro and their customers. 

To help keep riders and employees safe, Metro is requiring face coverings; providing hand sanitizing stations; deep cleaning trains daily; using new air filtration systems to provide fresh outdoor air; restoring certain routes; and offering an app to gauge crowdedness on trains and buses. Metro's health and safety commitment is featured in a new video series, "Metro is Doing Our Part."

Alexandria COVID-19 Data At-a-Glance
The seven-day moving average chart below shows the number of COVID-19 cases and the daily and cumulative case and fatality counts, and provides detailed information about how preventive measures are impacting Alexandria's response to the pandemic. An interactive version is available at alexandriava.gov/114883. Vaccination charts include total doses administered across all facilities, the percentage of residents ages 12 and older who have been partially and fully vaccinated, and weekly doses administered. Vaccination charts are available with definitions and data source information at alexandriava.gov/120654. Detailed data, including data on age, race and ethnicity, are available through links at alexandriava.gov/Coronavirus.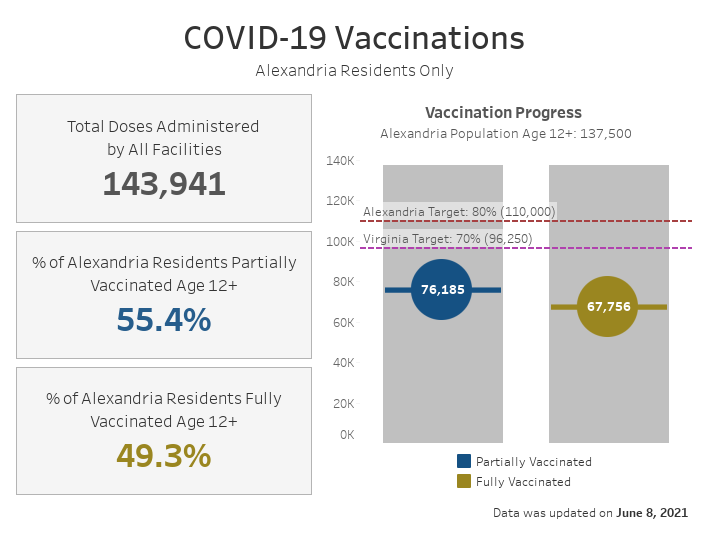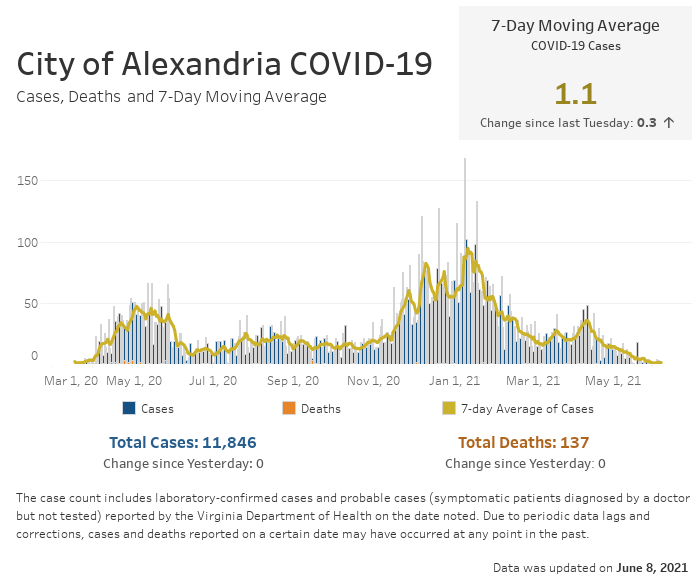 Continue following measures to stop the spread of COVID-19 even after vaccination. Get tested if you have been exposed to someone with COVID-19. If you test positive, help loved ones and neighbors by informing your close contacts using " What to Do If You Get Sick" guidance, which is available in Spanish, Amharic, Arabic, and Farsi or this brief video. 
# # #

This news release is available at alexandriava.gov/122761.