Translate
City of Alexandria Provides COVID-19 Updates; Participate in Summer Youth Activities Safely; New Curative Testing Hours and Expanded Services; Rare Side Effects Should Not Delay Vaccination
­­For Immediate Release: June 25, 2021
Help end the pandemic by wearing a mask over both your nose and mouth, washing your hands frequently, and getting vaccinated. Approximately 1 in 20 Alexandrians who have tested positive for COVID-19 have required hospitalization, so without these critical steps, additional lives may be at risk.
Participate in Summer Youth Activities Safely
The Alexandria Health Department offers guidance to help parents with unvaccinated children participate in summer programs more safely. Summer programs are essential for youth socialization, educational enrichment, physical activity, mental health, and overall well-being. Programs, such as in-person learning, summer camp, and swim lessons, also offer parents and guardians a safe and affordable childcare option. Follow these helpful tips to keep your family safe from COVID-19 this summer.
New Curative Testing Hours and Expanded Services
Starting Monday, June 28, Curative testing kiosks and mobile van operating hours will be adjusted to reflect the times of greatest use:
Charles Houston Recreation Center, 901 Wythe St.
Monday-Friday 11 a.m.-7 p.m., and Saturday 10 a.m.-3 p.m.
Ben Brenman Park, 4800 Brenman Park Dr.
Monday-Friday 9 a.m.-5 p.m., Saturday and Sunday 10 a.m.-6 p.m.
Mobile Van, 4109 Mt. Vernon Ave.
Saturday and Sunday 10 a.m.-1 p.m. 

Curative patients will also have the ability to test for COVID-19, Flu A, Flu B, and Respiratory Syncytial Virus (RSV) in a single appointment. Curative is partnering with Abbott, a global healthcare leader, to offer the new innovative test, which provides the ability to get tested for several contagious diseases in one stop at convenient locations. Book a testing appointment at the Curative website.
Rare Side Effects Should Not Delay Vaccination
The Centers for Disease Control and Prevention (CDC) Advisory Committee on Immunization Practices met on June 23 to review rare reports of heart inflammation (known as myocarditis or pericarditis) after vaccination. Symptoms developed after immunization with the Pfizer or Moderna COVID-19 vaccines, particularly in adolescents and young adults. Most patients who received care responded well and felt better quickly. The benefits of COVID-19 vaccination far outweigh the known and potential risks, including the possible risk of myocarditis or pericarditis. The CDC and Virginia Department of Health continue to strongly recommend COVID-19 vaccination for everyone 12 years of age and older.

Seek medical care if you or your child experience chest pain; shortness of breath; leg swelling; or feelings of a fast-beating, fluttering, or pounding heart within a week of COVID-19 vaccination. Report any health problems after vaccination to the CDC's Vaccine Adverse Event Reporting System (VAERS).

Alexandria COVID-19 Data At-a-Glance
The seven-day moving average chart below shows the number of COVID-19 cases and the daily and cumulative case and fatality counts, and provides detailed information about how preventive measures are impacting Alexandria's response to the pandemic. An interactive version is available at alexandriava.gov/114883. Vaccination charts include total doses administered across all facilities, the percentage of residents ages 12 and older who have been partially and fully vaccinated, and weekly doses administered. Vaccination charts are available with definitions and data source information at alexandriava.gov/120654. Detailed data, including data on age, race and ethnicity, are available through links at alexandriava.gov/Coronavirus.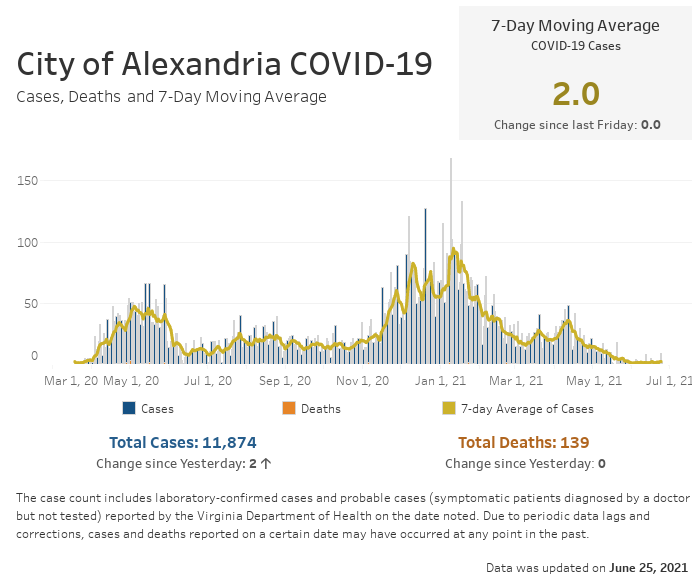 The vaccination chart uses the most recent vaccination data in the Virginia Department of Health's Virginia Immunization Information System database. Health care providers have up to 72 hours after vaccine administration to input information into the database. The chart may not reflect all administered vaccinations as of the report date. Doses administered by federal agencies or outside of Virginia are not reported to VIIS; and are not included in the dashboard. Therefore, the total number of residents vaccinated is likely an underestimate.The City of Alexandria has chosen to use "partially vaccinated" and "fully vaccinated" rather than "at least one dose" to avoid the double counting of residents who received the J&J vaccine. 

Partially Vaccinated: Total number or percent of people who received the first dose of a two-dose vaccine course (i.e. the first dose of the two-dose Pfizer or Moderna COVID-19 vaccine).

Fully Vaccinated: Total number or percent of people who have completed the recommended series of a given vaccine product (i.e. two doses of the two-dose Pfizer or Moderna COVID-19 vaccine or one dose of the one-dose Johnson & Johnson Janssen COVID-19 vaccine).

Continue following measures to stop the spread of COVID-19 even after vaccination. Get tested if you have been exposed to someone with COVID-19. If you test positive, help loved ones and neighbors by informing your close contacts using " What to Do If You Get Sick" guidance, which is available in Spanish, Amharic, Arabic, and Farsi or this brief video. 
# # #
This news release is available at alexandriava.gov/123092.