Translate
City of Alexandria Provides COVID-19 Updates; Waterfront Street Closure for Holiday Weekend; Updated Mask Requirements for K-12 Settings; Masks Continue as Tool Against Spread
­­For Immediate Release: July 2, 2021
Help end the pandemic by wearing a mask over both your nose and mouth, washing your hands frequently, and getting vaccinated. Approximately 1 in 20 Alexandrians who have tested positive for COVID-19 have required hospitalization, so without these critical steps, additional lives may be at risk.
Waterfront Street Closure for Holiday Weekend
To provide additional space for pedestrians and prevent the spread of COVID-19, the unit block of King Street and portions of the 100 block of Strand Street will be temporarily closed to vehicles over the July 4 holiday weekend. The closure will be in effect Friday, July 2 through the morning of Tuesday, July 6. The 100 block of King Street remains closed to vehicle traffic through the end of 2021.
Updated Mask Requirements for K-12 Settings 
As of July 1, Governor Northam's Amended Declaration of Emergency for COVID-19, Executive Order 51, is no longer in effect. To address potential gaps in critical prevention measures at schools this summer, the State Health Commissioner, Dr. Norm Oliver, issued a Public Health Emergency Order effective July 1, requiring children and adults aged 5 and older to wear masks in public and private K-12 schools through July 25. The requirement applies to individuals regardless of vaccination status. The mask order also applies on school buses. Individuals are not required to wear masks when outside on school property, however the Virginia Department of Health (VDH) recommends that unvaccinated individuals aged two and older wear a mask in crowded outdoor settings.
Masks Continue to Serve as Tool Against Spread
VDH encourages Virginians to continue to wear masks to help prevent the spread of COVID-19 as recommended by the Centers for Disease Control and Prevention (CDC) and allowed by law. There is no legal barrier to wearing masks to protect oneself and others from the virus, nor should anyone be penalized for doing so. While the state law prohibits wearing a mask for the purpose of concealing one's identity, it does not prohibit wearing a mask for the purpose of preventing the spread of COVID-19. This is true even now that Virginia is no longer under a statewide declaration of emergency. Businesses may still require masks and some employees may still be required by their employer or state regulations to wear masks, even if fully vaccinated. 
Alexandria COVID-19 Data At-a-Glance
The seven-day moving average chart below shows the number of COVID-19 cases and the daily and cumulative case and fatality counts, and provides detailed information about how preventive measures are impacting Alexandria's response to the pandemic. An interactive version is available at alexandriava.gov/114883. Vaccination charts include total doses administered across all facilities, the percentage of residents ages 12 and older who have been partially and fully vaccinated, and weekly doses administered. Vaccination charts are available with definitions and data source information at alexandriava.gov/120654. Detailed data, including data on age, race and ethnicity, are available through links at alexandriava.gov/Coronavirus.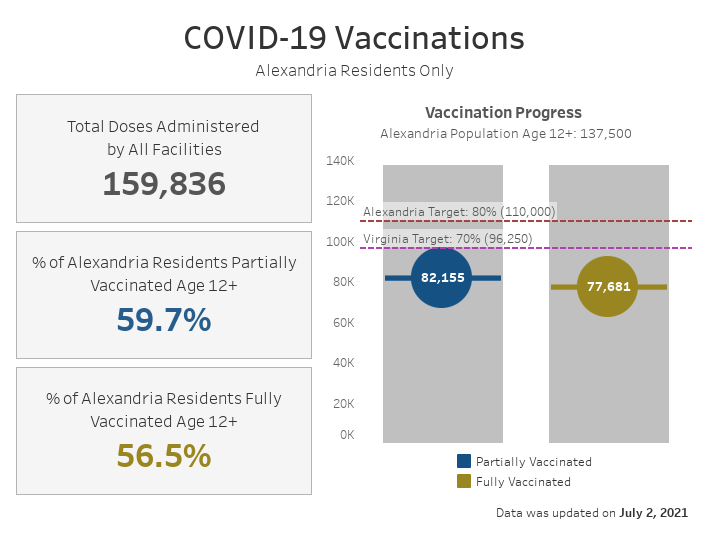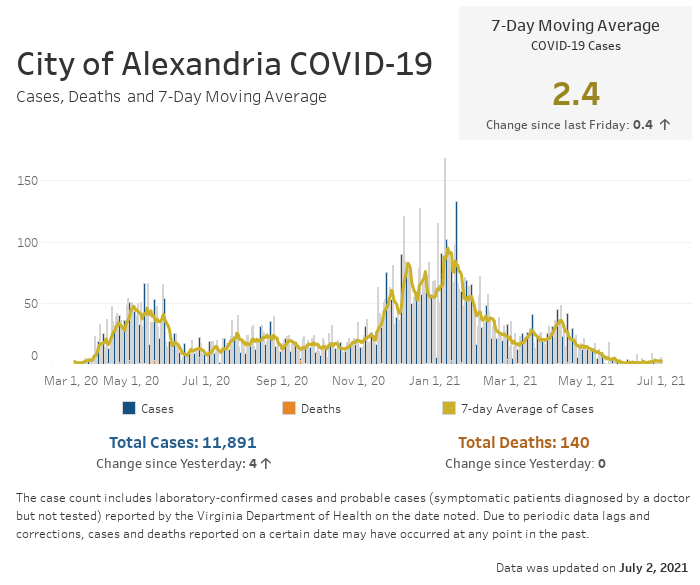 The vaccination chart uses the most recent vaccination data in the Virginia Department of Health's Virginia Immunization Information System database. Health care providers have up to 72 hours after vaccine administration to input information into the database. The chart may not reflect all administered vaccinations as of the report date. Doses administered by federal agencies or outside of Virginia are not reported to VIIS; and are not included in the dashboard. Therefore, the total number of residents vaccinated is likely an underestimate.The City of Alexandria has chosen to use "partially vaccinated" and "fully vaccinated" rather than "at least one dose" to avoid the double counting of residents who received the J&J vaccine. 

Partially Vaccinated: Total number or percent of people who received the first dose of a two-dose vaccine course (i.e. the first dose of the two-dose Pfizer or Moderna COVID-19 vaccine).

Fully Vaccinated: Total number or percent of people who have completed the recommended series of a given vaccine product (i.e. two doses of the two-dose Pfizer or Moderna COVID-19 vaccine or one dose of the one-dose Johnson & Johnson Janssen COVID-19 vaccine).

Continue following measures to stop the spread of COVID-19 even after vaccination. Get tested if you have been exposed to someone with COVID-19. If you test positive, help loved ones and neighbors by informing your close contacts using " What to Do If You Get Sick" guidance, which is available in Spanish, Amharic, Arabic, and Farsi or this brief video. 
# # #
This news release is available at alexandriava.gov/123210.