Translate
City of Alexandria Provides COVID-19 Updates: June-July Case Analysis by Age; CDC Recommends Third Dose for Immunocompromised Individuals; Masking in Schools; Return to Earn; Food Distribution Update
­­For Immediate Release: August 13, 2021
Help end the pandemic by wearing a mask over both your nose and mouth, washing your hands frequently, and getting vaccinated. Approximately 1 in 20 Alexandrians who have tested positive for COVID-19 have required hospitalization, so without these critical steps, additional lives may be at risk.
June and July COVID-19 Case Analysis
Following significant recent increases in cases, the Alexandria Health Department (AHD) conducted an analysis of June and July cases by age group. Children ages 0-11 and adults ages 18-44 had more cases of COVID-19 than expected when compared to the percentage of the population that they comprise. Children under 12 years old are not yet eligible for vaccination and people ages 25-44 have the lowest vaccination rates among adults in Alexandria. View details of case counts and vaccination rates as compared to percentage of population. Case counts of less than five have been removed from this analysis to protect privacy. Anyone eligible for vaccination is strongly encouraged to get vaccinated. In advance of an anticipated authorization this fall, AHD is collaborating with schools and community partners to finalize plans to vaccinate children ages 5-11.
CDC Recommends Third Dose for Immunocompromised Individuals
The CDC now recommends a third dose of mRNA COVID-19 vaccines for moderately or severely immunocompromised individuals. The decision follows emergency use authorization by the FDA and a unanimous recommendation by the CDC's Advisory Committee on Immunization Practices. The City's Vaccines website will be updated when third doses are available at AHD clinics.  A third dose is not recommended for the general public at this time. Individuals who are moderately or severely immunocompromised include those who have been receiving active cancer treatment for tumors or cancers of the blood, received an organ transplant and are taking medicine to suppress the immune system, received a stem cell transplant within the last two years or are taking medicine to suppress the immune system, moderate or severe primary immunodeficiency (such as DiGeorge syndrome or Wiskott-Aldrich syndrome), advanced or untreated HIV infection, or active treatment with high-dose corticosteroids or other drugs that may suppress your immune response. 
Universal Masking Required in K-12 Schools
On August 12, Governor Northam announced a Public Health Emergency Order requiring universal masking in all indoor settings in Virginia's K-12 schools. This order reinforces current state law, which requires Virginia schools adhere to mitigation strategies outlined by the Centers for Disease Control and Prevention (CDC). As of July 28, CDC guidelines include universal masking for all students, teachers, and staff.  

Return to Earn Grant Program
Last month, Governor Northam launched the Return to Earn Grant Program to support small businesses with their post-pandemic hiring needs. Through this initiative, Virginia's local workforce development boards will match up to $500 that a qualifying small business pays directly to a new employee hired on or after May 31, 2021, in the form of a hiring bonus. Childcare businesses are not required to match.

Additional eligibility requirements include the following:

Only employers with fewer than 100 employees across all Virginia locations may qualify for funds. 
The employment facility where new hires will be placed must be located in the Commonwealth of Virginia, and the employer must also be incorporated in Virginia.
Wages for new hires must be a minimum of $15 per hour. The position must be W-2 employment, but can be part- or full-time.

For more information on the program, please visit the Alexandria/Arlington Workforce Council website. Applications for businesses within the city limits of Alexandria can be completed and submitted online. 

ALIVE! Food Distribution Update
The August 10 COVID-19 Update release included incorrect information about emergency food distributions. The next ALIVE! Truck-to-Trunk food distribution is scheduled for Saturday, August 28 , from 8:30-10:30 a.m. The distribution will provide drive-through and walk-up service at Cora Kelly Elementary School (3600 Commonwealth Ave.); drive-through service only at NOVA Northern Virginia Community College Alexandria Campus (lot B-1 via Dawes Ave.); and walk-up service only at William Ramsay Recreation Center (5650 Sanger Ave.). Additional food assistance resources are available for Alexandria residents. 

Alexandria COVID-19 Data At-a-Glance
The Alexandria COVID-19 Dashboard below shows the daily change in the number of COVID-19 cases, deaths and 7-day average, as well as the cumulative totals. The chart focuses on the past 90 days and provides context for the CDC transmission levels. An interactive version is available at alexandriava.gov/114883. The Alexandria COVID-19 Vaccination Dashboard below includes total doses administered across all facilities, the percentage of residents ages 12 and older who have received at least one dose, the number partially and fully vaccinated, and progress toward Alexandria's and the state's vaccination goals. Vaccination charts are available at alexandriava.gov/120654. Detailed data, including data on age, race and ethnicity, are available through links at alexandriava.gov/Coronavirus.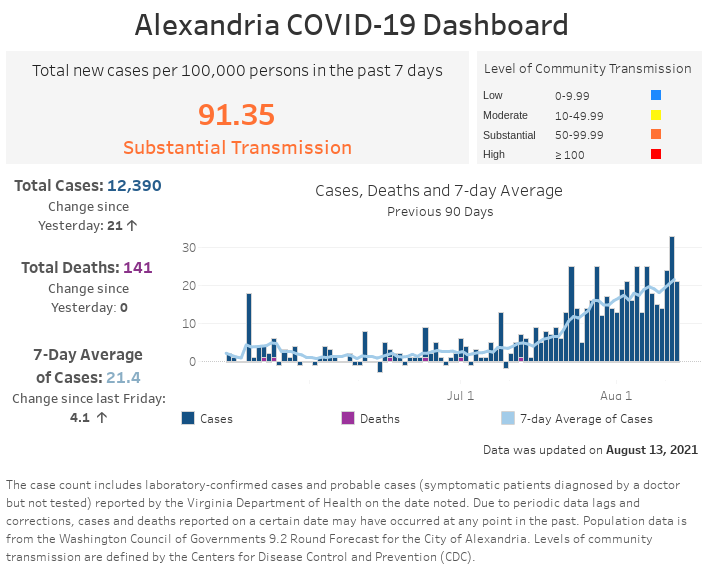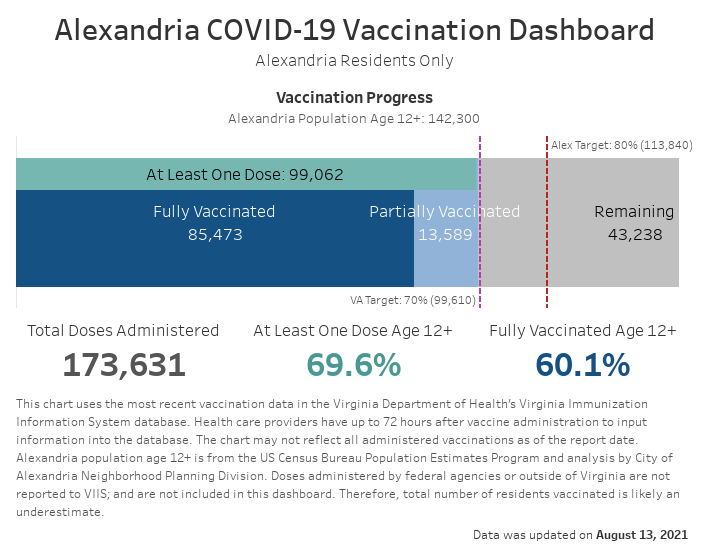 At least one dose: Total number of people who received at least one dose of a COVID-19 vaccine, including those who received one dose of the single-dose Johnson & Johnson's Janssen (J&J) COVID-19 vaccine. This metric includes all people who have received only one dose and those who received at least one dose.

Fully Vaccinated: Total number or percent of people who have completed the recommended series of a given vaccine product (i.e., two doses of the two-dose Pfizer or Moderna COVID-19 vaccine or one dose of the one-dose Johnson & Johnson's Janssen (J&J) COVID-19 vaccine).

Partially Vaccinated: Total number of people who have received the first dose of a two-dose vaccine course but have not yet received the second dose. 

Continue following measures to stop the spread of COVID-19 even after vaccination. Get tested if you have been exposed to someone with COVID-19. If you test positive, help loved ones and neighbors by informing your close contacts using " What to Do If You Get Sick" guidance, which is available in Spanish, Amharic, Arabic, and Farsi or this brief video. 

# # #

This news release is available at alexandriava.gov/123745.