City of Alexandria Officials Warn of Dangers Posed by Recent Spike in Opioid Overdoses, Especially Among Youth ­­
Page updated on
May 18, 2022 at 12:30 AM
City of Alexandria Officials Warn of Dangers Posed by Recent Spike in Opioid Overdoses, Especially Among Youth ­­
For Immediate Release: May 4, 2022
City of Alexandria officials warn the community about a recent spike in suspected fentanyl-related overdoses, especially in school-aged youth who report using a "little blue pill" they believed was Percocet. Illicit drugs are often laced with fentanyl, an inexpensive substitute that is up to 100 times more potent than morphine and can be deadly.
"Most juvenile cases reported involved either smoking or ingesting a 'blue pill' that is being sold as a Percocet pill," said Captain Monica Lisle, Commander of the Criminal Investigations Division at the Alexandria Police Department. "There were two reported overdose deaths of juveniles last week in a neighboring jurisdiction involving this same type of pill, so we are doing all we can to warn youth and other community members of the resources available to combat this epidemic. We are asking for the public's help in understanding the prevalence of opioid overdoses, how they can be prevented, and to speak with youth regarding the dangers of all illicit drugs, particularly these 'little blue pills'."     
Pictured below (left) is a recently confiscated small, round, pale blue pill, with the imprint of a capital M inside a square shape to mimic an authentic M30 tablet. According to the Drug Enforcement Administration, counterfeit pills like this are extremely dangerous because they often appear identical to legitimate prescription pills, and the user is likely unaware of how lethal they can be. As shown below (right), burnt tin foil is often used to facilitate the inhalation of the pills.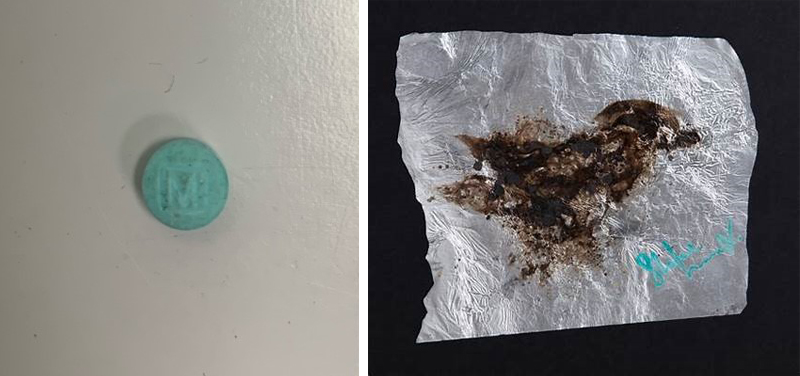 Between April 1 and May 1, twelve opioid overdoses were reported in the City of Alexandria, six of which occurred in persons under the age of 17. None of these overdoses resulted in a fatality and many of the victims were revived by first responders equipped with Narcan, an opioid overdose reversal medication. Since the start of 2022, 30 opioid overdoses have been reported in Alexandria. Of these, two people died in January of confirmed fentanyl overdoses.  
The City has resources available to help combat the opioid epidemic, including Narcan, a safe, easy-to-administer nasal spray that is available in Virginia without a prescription. Narcan can be obtained at no charge from the Alexandria Opioid Work Group's Mail Out program by emailing opioids@alexandriava.gov and at the Alexandria Health Department (4480 King St.). Narcan is also available at most pharmacies throughout Alexandria.  
For life-threatening situations, call 9-1-1 immediately. If you have information regarding the illegal sale of opioids or other drugs, please call the Alexandria Police Department at 703.746.6277. 
If you or someone you care about needs help, please call 703.746.3400 to speak with staff at the Department of Community and Human Services. Treatment for opioid use can be accessed by calling the City's Opioid Treatment Program intake line at 703.746.3610 and detox services can be accessed by calling 703.746.3636. Additional treatment options can be found at samhsa.gov or by calling 800.662.HELP (4357). 
The City also encourages residents to dispose of expired or unneeded medications.  Several medication disposal boxes are located throughout the City. 
Visit alexandriava.gov/Opioids for more information on the opioid crisis and how the City is responding, including a flyer on overdose symptoms and how to get help. 
For inquiries from the news media only, contact Andrea Blackford, Editorial Communications Manager, at andrea.blackford@alexandriava.gov or 703.746.3959.
                                                                                                  # # #
This news release is available at alexandriava.gov/go/3600.