City of Alexandria Announces Locations of School Zone Speed Cameras
Page updated on
March 28, 2023 at 6:52 PM
City of Alexandria Announces Locations of School Zone Speed Cameras
Ver esto en Español , ይህንን በአማርኛ ይመልከቱ , انظر الى هذا باللغة العربية , این را در دری ببینید
For Immediate Release: March 28, 2023
This year, the City of Alexandria is planning to install speed cameras in the following school zones:
Francis Hammond Middle School (Seminary Road, between Kenmore Avenue and North Jordan Street)
John Adams Elementary School and Ferdinand T. Day Elementary School (North Beauregard Street, between North Highview Lane and Reading Avenue)
George Washington Middle School (Mount Vernon Avenue, between Braddock Road and Luray Avenue)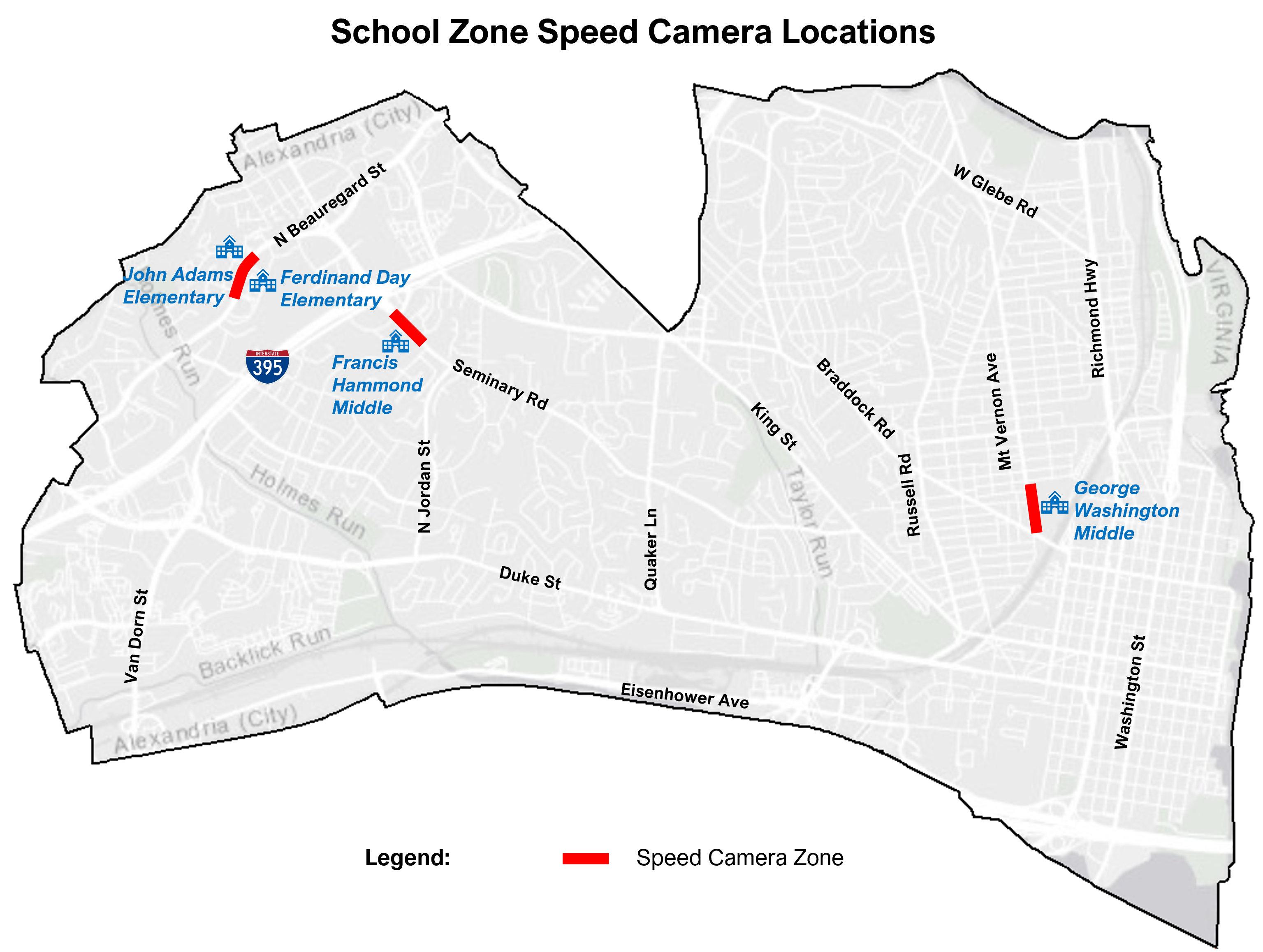 The City selected the above locations using a data-driven process that considered factors such as crash history, traffic volumes, vehicle speeds, and age and number of students. The cameras are expected to be installed this spring, after which the program will go through a testing and warning period. The program is expected to be active for the 2023-24 school year.
Each school zone is approximately ¼ mile in length and has a 15 MPH speed limit when school signs are flashing, which is when the speed cameras will be active. Clear signs will be displayed to inform drivers they are entering a speed camera zone.
The Alexandria City Council approved an ordinance authorizing the use of speed cameras in school zones and work zones in October 2022, and funding for five speed cameras is included in the Fiscal Year 2023 Approved Budget.
The City has committed to providing Safe Routes to School, and vehicle speed is among the top concerns cited by parents and guardians when asked about their children walking or biking to school. Speed cameras are a proven safety countermeasure that can reduce the number of crashes by more than 50%, according to the U.S. Department of Transportation (USDOT). They can also free up police officers to handle other duties Citywide.
The speed cameras will automatically record speed limit violations using radar technology. After a sworn law enforcement officer affirms a violation, a speeding citation will be mailed to the vehicle's owner, lessee, or renter. The maximum fine is $100.
Visit alexandriava.gov/go/3785 for more information about the City's speed camera program.
For inquiries from the news media only, contact the Office of Communications & Public Information at newsroom@alexandriava.gov or 703.746.3969.
# # #
This news release is available at alexandriava.gov/go/4476.