Waterfront Park - I Love You
The fourth installment of the Site See: New Views in Old Town public art series at Waterfront Park.
Page updated on
March 7, 2023 at 12:52 PM
Overview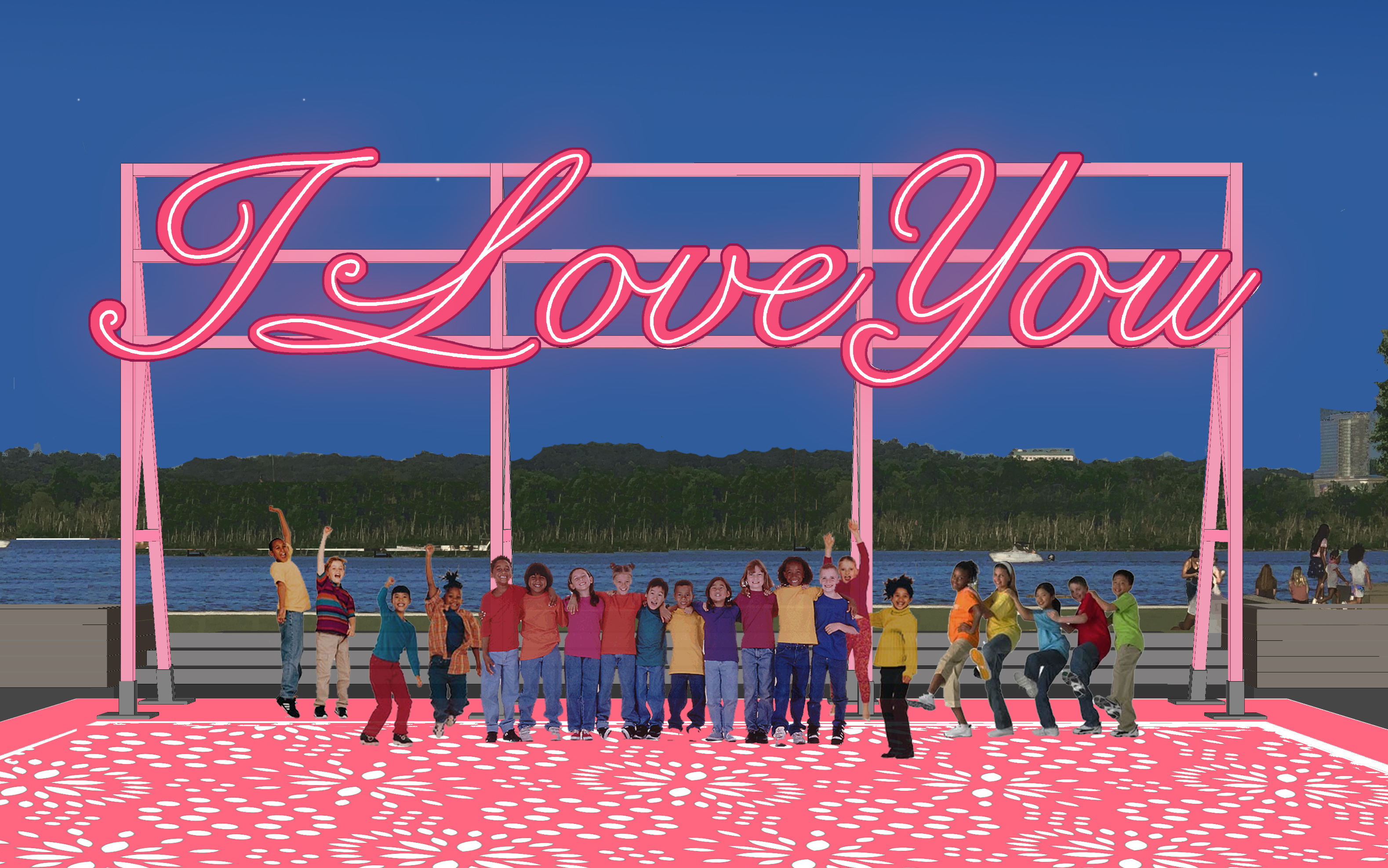 The City of Alexandria will unveil its newest public art installation, I Love You, in Alexandria's Waterfront Park (1 Prince St.) on March 25. This new temporary installation by Roberto Behar and Rosario Marquardt of R&R STUDIOS is the fourth in the Site See: New Views in Old Town annual public art series. The installation will be on view through November 2022.
Commissioned to create an original installation for Waterfront Park in Old Town, Behar and Marquardt focused on the community-building possibilities of public art. I Love You captures public imagination in a celebration of friendship and camaraderie in the heart of Alexandria.
The installation features the words "I Love You" illuminated in pink neon lights. Mounted 15 feet high, the scripted letters will bathe viewers in a soft pink hue. Below, a hand-painted ground mural of a pink and white carpet will define the space as an open room welcoming everyone. It's an unexpected and luminous contemporary social space in the heart of Old Town that beckons visitors to get lost for a few moments in this fictional realm.
"I Love You provides physical evidence of the possibility of the fantastic as part of everyday life," R&R STUDIOS wrote in their artist statement. "It is an instant landmark that brings people together with a simultaneously universal and personal message."
The Site See: New Views in Old Town temporary public art series highlights Waterfront Park as a civic space. Waterfront Park is a key location for original commissioned art in Alexandria. This installation follows Mark Reigelman's 2021 Groundswell, Olalekan Jeyifous's 2020 Wrought, Knit, Labors, Legacies and SOFTlab's 2019 Mirror Mirror installation.
R&R STUDIOS was selected to create this site-specific artwork by a community task force with approval from the Alexandria Commission for the Arts. The City of Alexandria will also work with regional artists for activations in response to I Love You later this year.
Visitors can see I Love You at Waterfront Park from 5 a.m. to 10 p.m. daily starting March 25. The artwork will remain on view until November 2022. Installation begins March 9.
About R&R STUDIOS
Roberto Behar and Rosario Marquardt are founding partners of R&R STUDIOS. They received diplomas in architecture from the Universidad Nacional de Rosario in Argentina and later attended the Institute for Architecture and Urban Studies in New York City. They have taught, lectured and served as visiting critics at major universities including Harvard GSD, Yale University, Cornell University, Universita IUAV di Venezia, and the Ecole Polytechnique Federale de Lausanne; and have been visiting artists and fellows at the Getty Research Center in Los Angeles and the American Academy in Rome. Their practice has been recognized with multiple awards and over 350 publications worldwide. Their work has been exhibited internationally in solo and group museums shows, and is in the permanent collections of the Museum of Modern Art in Buenos Aires, the Archives d'Architecture Moderne, in Brussels, the Perez Art Museum Miami, and Madison MOCA among others. They are currently working in three permanent large public art projects at Princeton University. Roberto Behar is a professor at the University of Miami School of Architecture. Learn more at rr-studios.com or follow @rrstudiosmiami on Instagram. 
About Public Art in Alexandria