Work-Based Learning Program
The City of Alexandria Workforce Development Center's Work-based Learning Program provides a three-month educational real-life work experience where you can apply your knowledge and skills to help increase your employment opportunities. Participants are paid an hourly stipend during the program, the minimum rate is $15/hour.
Page updated on
Apr 18, 2023 at 12:23 PM
Candidate Information for Work-Based Learning Program
**"Due to an overwhelming interest in the Work-Based learning Program, we have placed a pause on registration as we sort through registrants, determine eligibility and assign work experiences. Thank you for your patience."**
                                                                               - WDC Work-Based Learning Team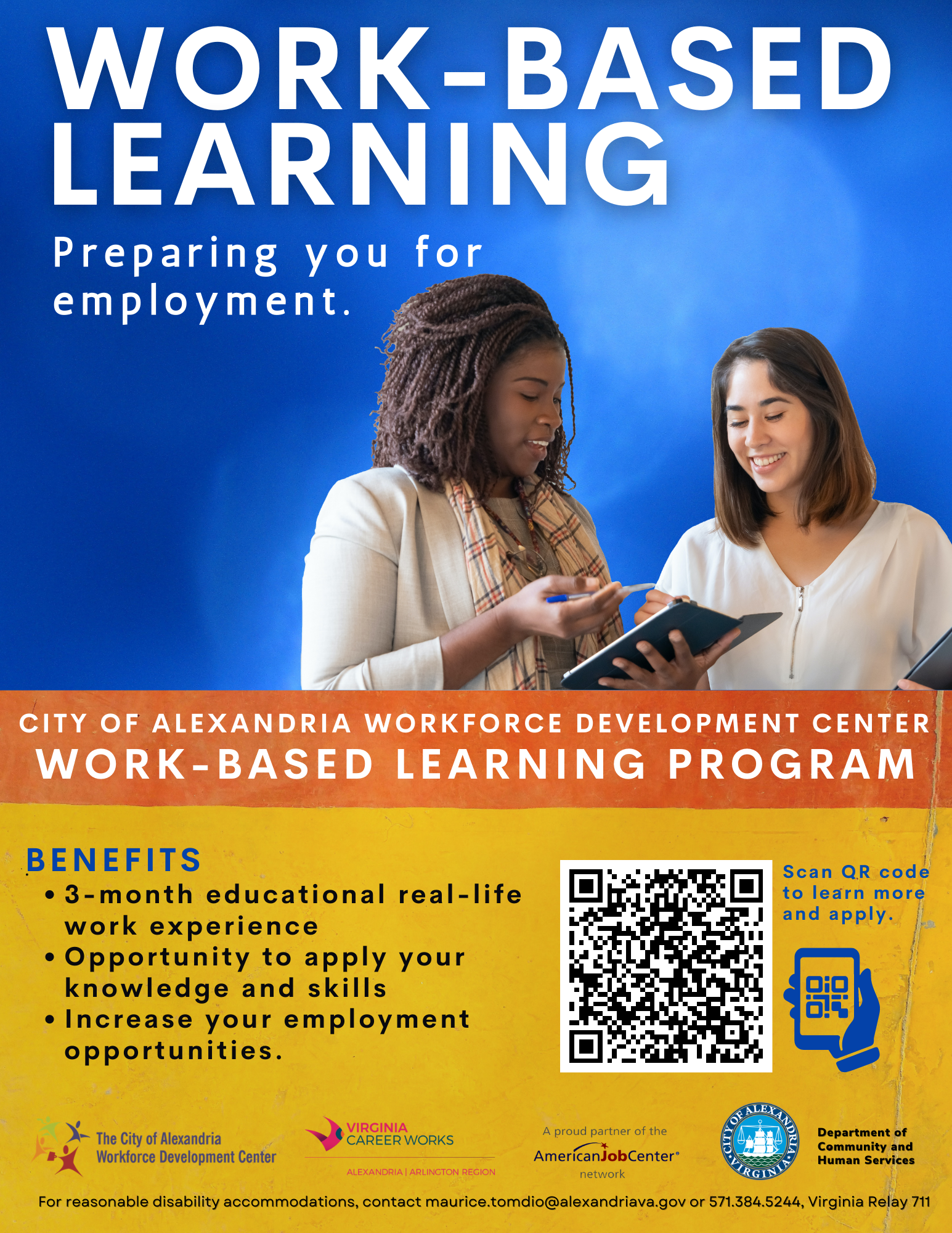 The benefits of work-based learning (WBL) include: 
Development and improvement soft skills
Increase your professional network and connect with future employers
Opportunity to learn new technologies and ideas
Increase work experience on your resume
Establish a work schedule and the opportunity to earn while you learn
Increase self-confidence
For more information, download the English or Spanish flyer.
Business Information for Work-Based Learning Program
Download Flyer here: Business Information for WBL Flyer
How can my company benefit by working with local talent?
Companies can save time and money by investing in local talent and identifying and recruiting future employees. Companies benefit from increased brand awareness and their status as locally preferred employers thanks to the relationships they develop with local talent and the Alexandria community. Our Workforce Development Staff assist by prescreening qualified candidates, case management, and matching employers with local talent who are interested and have related technical and soft skills, and serving as the primary point of contact at the our Workforce Development Center.
What is Work-Based Learning (WBL)?
Work-based learning (WBL) is an educational approach that provides people with real-life work experiences where they can apply academic and technical skills to develop and increase their employability. It also serves as an opportunity for employers to be able to hire talent after the WBL experience.
Why is WBL needed in The City of Alexandria?
WBL has been shown to reinforce the value of work as well as the critical employability skills employers want most. By matching talent with workplace mentors and positive employment through WBL, participants receive a positive and rich work experience. WBL has been shown to lead to positive future employment and improved lifelong earnings. Companies can better build a sustainable workforce and healthy, vibrant communities can flourish.
Your business has the opportunity to be a part of an innovative approach to work at not cost to you. To partner with us to give Alexandrians opportunities to thrive, join us to be a host site for Work-based Learning by completing our short questionnaire. Register your business today!