Community Emergency Response Team (CERT)
The Community Emergency Response Team program trains community members to be better prepared to respond to emergency situations in Alexandria.
Page updated on
February 15, 2022 at 2:52 PM
About CERT
Join with other concerned members of the Alexandria community to learn how to increase your neighborhood's disaster readiness and support the first responders who serve your neighborhood. The CERT program educates you to prepare yourself, your family, and your community to address hazards that may impact the City of Alexandria and to respond to emergency situations. Learn basic disaster response skills such as damage assessment after a disaster, triage and giving first aid to victims, extinguishing small fires, performing light search and rescue, and providing much needed assistance in times of crisis. When emergencies happen, CERT members can give critical support to first responders by providing immediate assistance to victims and organizing volunteers at a disaster site. CERT members can also participate in non-emergency projects that help improve the safety of the community.
I want to help! What do I need to do?
Attend the CERT training course to become a Team Member. You will learn how to prepare yourself, your family and your community for a disaster. Become familiar with tools to help you organize after a disaster and how to conduct triage and provide basic first aid. Learn to assess damage after the disaster, extinguish a small fire, conduct searches and rescue victims safely, and complete a small-scale disaster simulation.
I want to find out more!
The next basic CERT course will take place online in Spring 2022. For more information about CERT training, call or email Acting Emergency Manager Ray Whatley at 703.746.5266 or ray.whatley@alexandriava.gov.
CERT Training
Registration for the Spring 2022 virtual session of Community Emergency Response Team training is now open. The deadline to register is Monday, March 7. You MUST register to participate. The program is open to anyone 18 or older who lives, works, or owns a business in the City of Alexandria.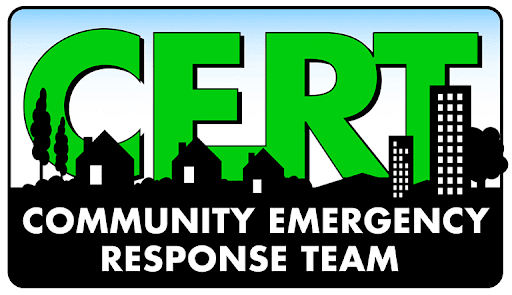 Participants are required to attend all classes and the final exercises in order to graduate. Classes are on Zoom Thursday evenings, 7 p.m. to 10 p.m. Class dates are as follows:
March 10, 2022
March 17, 2022
March 24, 2022
March 31, 2022
April 7, 2022
April 14, 2022
April 21, 2022
Skills exercises and graduation will be held Saturday, May 7, 2022, 8:30 a.m. to 1 p.m. This will take place in person at an outdoor venue. Additional class details will be sent to registered participants on Tuesday, March 8. If you are unable to attend these classes, another course will be held in Fall 2022.
The City of Alexandria is committed to compliance with the Americans with Disabilities Act, as amended. To request a reasonable accommodation, email ray.whatley@alexandriava.gov or call 703.746.5266.