Gang and Youth Violence Prevention and Intervention
The City of Alexandria is committed to preventing violence and gang activity in the community. Staff from the Alexandria Court Service Unit and the Gang Prevention team involve community members, government officials, law enforcement, city agencies, and youth and families, working together to address these issues.
Page updated on
January 19, 2023 at 9:42 AM
About Gang and Youth Violence Intervention and Prevention
Although the City of Alexandria has experienced relatively low amounts of criminal activity by gang members, gangs are a considerable threat to the safety of any community. Gang Task Force members work to not only suppress criminal gang activity, but also to prevent youth from joining gangs. When necessary, interventions with individual gang members are performed in the attempt to offer alternative opportunities for the individual to separate from the gang and become a positive member of the community.
This website is intended to be a useful resource for our community. In the spirit of the comprehensive gang model that guides our mission, there is a role for every member of the community in the suppression, intervention and prevention of gangs.
Read on to learn about the teamwork of the Northern Virginia Regional Gang Task Force, the  Alexandria Senior Policy Work Group on Gangs and the  Alexandria Gang Prevention Community Task Force. For more resources, see WHERE TO GO FOR HELP.  To report graffiti, call the Alexandria Police Department's nonemergency number at 703.746.4444.
For more information, or to get involved, call 703.746.4144.
The following are public service announcements in English and Spanish: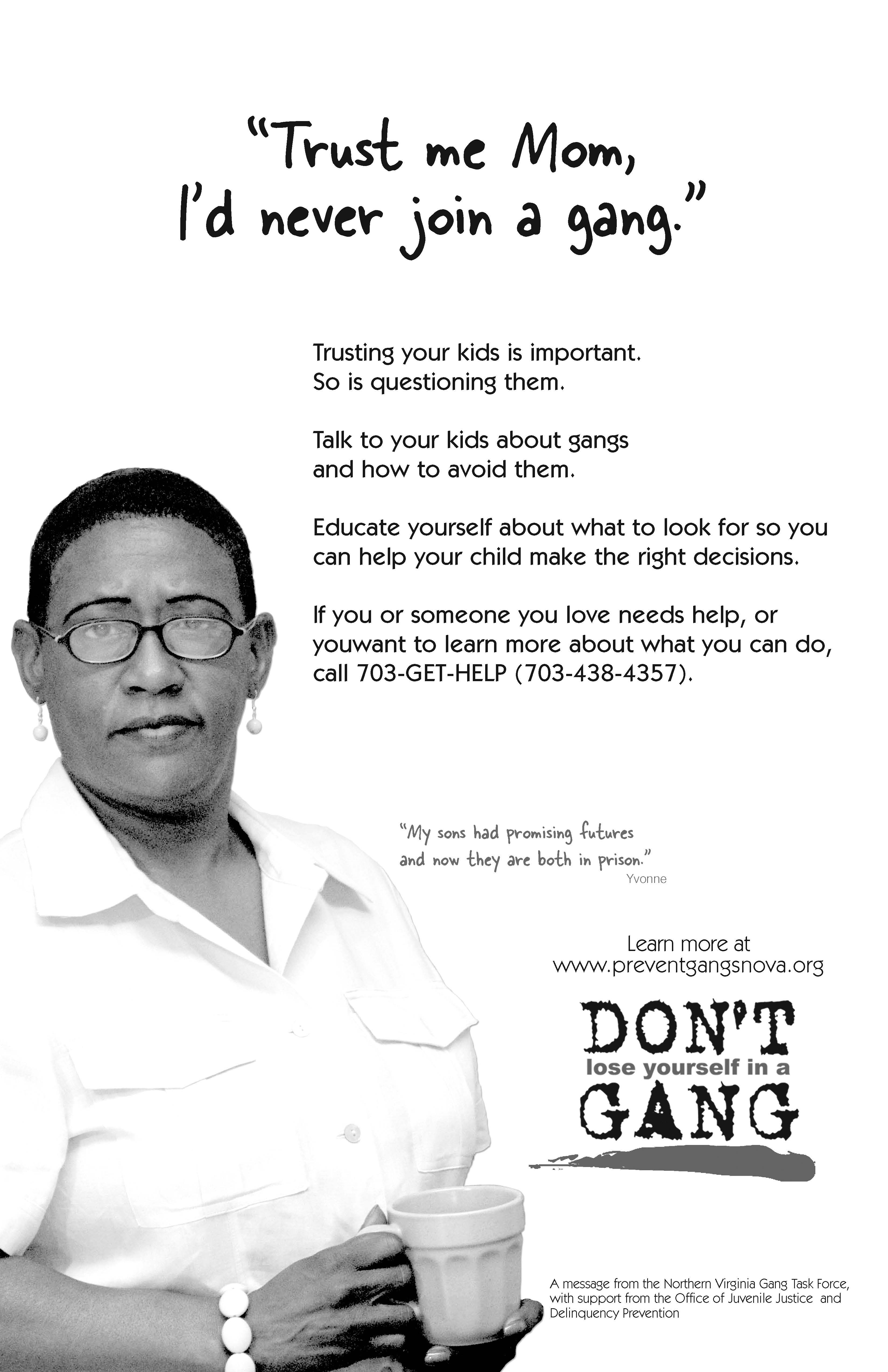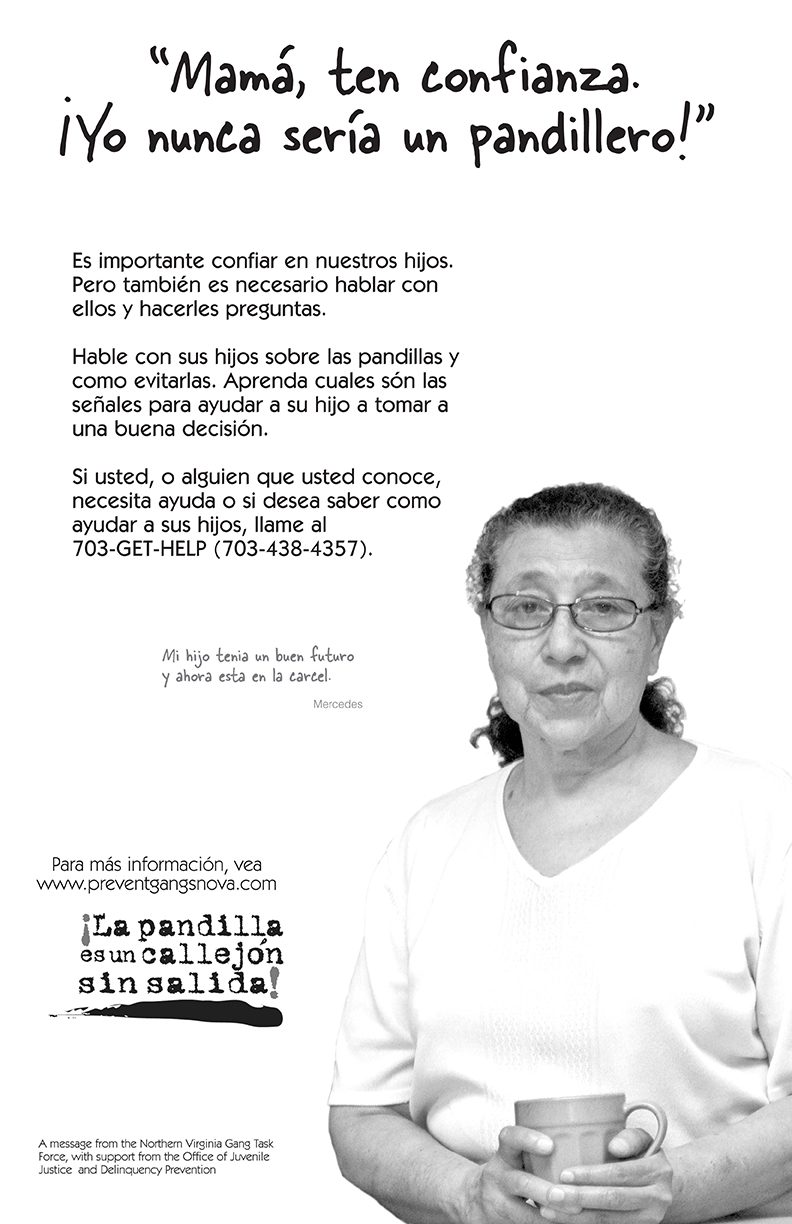 .
Additional Resources
 Human Trafficking of Children-in-the United States: A Fact Sheet for Schools
 Human trafficking is a serious federal crime with penalties of up to imprisonment for life. Federal law defines "severe         forms of trafficking in persons" as: "(A) sex trafficking in which a commercial sex act is induced by force, fraud, or               coercion, or in which the person induced to perform such act has not attained 18 years of age; or (B) the recruitment,         harboring, transportation, provision, or obtaining of a person for labor or services, through the use of force, fraud, or           coercion for the purpose of subjection to involuntary servitude, peonage, debt bondage, or slavery." 
An unknown number of U.S. citizens and legal residents are trafficked within the country for sexual servitude and forced labor. Contrary to a common assumption, human trafficking is not just a problem in other countries. Cases of human trafficking have been reported in all 50 states, Washington D.C., and the U.S. territories. Victims of human trafficking can be children or adults, male or female, U.S. citizens or foreign nationals. In January 2015, the Department of Education released a new guide for educators on ways to identify and help prevent child trafficking in schools. Human Trafficking in America's Schools is a free guide for school staff that includes information about risk factors, recruitment, and how to identify trafficking; what to do if you suspect trafficking, including sample school protocols and policies; and other resources and potential partnership opportunities. The Department has also partnered with the U.S. Department of Health and Human Services and President Lincoln's Cottage, a site of the National Trust for Historic Preservation, to sponsor a youth campaign focused on raising awareness about preventing human trafficking. 
The Big Lie: Unmasking the Truth Behind Gangs  (in English)   (in Spanish)
As a follow-up to the success of Virginia's first anti-gang video, The Wrong Family, the Office of the Attorney General identified a need to create a video for youth. The Big Lie was produced in collaboration with law enforcement and psychologists to expose the dark reality of gangs preying upon children through lies and manipulation. The video is a frank, unscripted documentary and presents an extraordinary opportunity for pre- and early teens to learn about the false promises gang members make to lure them into their ranks. The video features gang members, law enforcement, and children who speak directly to the audience about gang recruiting methods, specific ways kids can avoid joining a gang, and most importantly, lifestyle choices to help them stay away from gangs.  
Youth Topics 
Youth Topics, a service of the Center for Children and Families, Department of Community and Human Services, provides information on issues relevant to today's youth, including subjects ranging from careers and volunteerism to education and youth well-being. 

Circle of Girls Club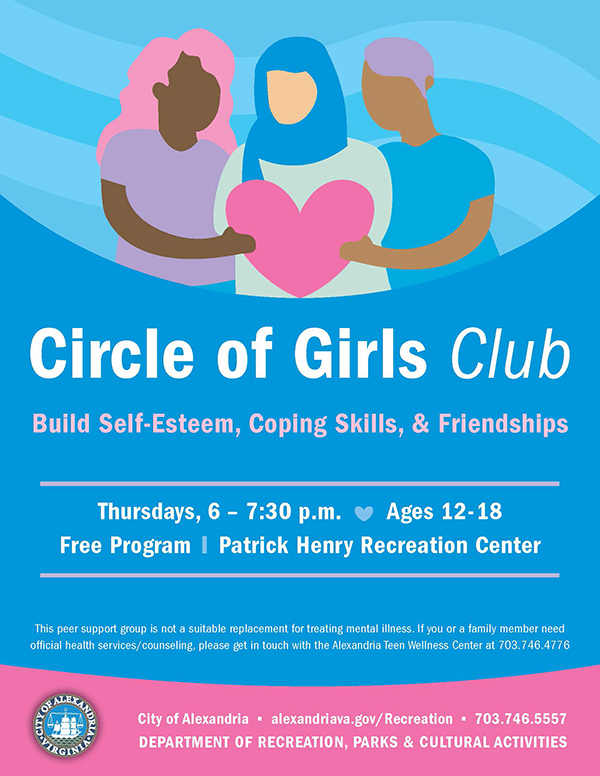 Did You Know? 
Important information about gang crimes, properties used in gang crimes, and other gang related matters.