Celebrating Halloween in Alexandria
Halloween is celebrated with a variety of family friendly festivities all over Alexandria. The City of Alexandria does not set official trick or treating hours for Halloween, so expect the children in your neighborhood to head out for trick-or-treating on the day it is traditionally celebrated - October 31.
Page updated on
May 22, 2023 at 12:15 PM
Halloween Events in Alexandria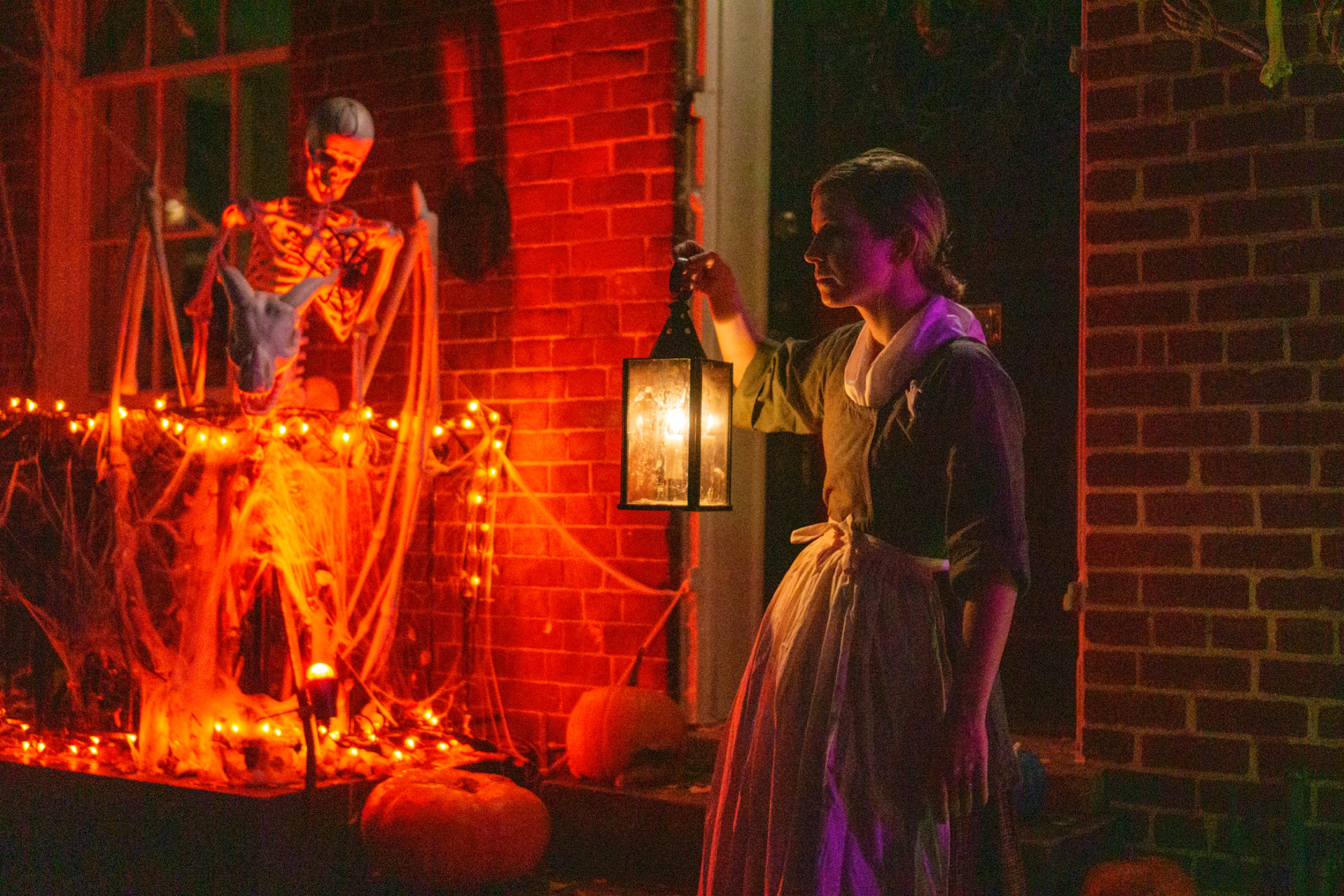 Photo Credit: Misha Enriquez for Visit Alexandria
Stay Safe
Alexandria Police will be out to make sure trick-or-treaters have a safe Halloween night by enforcing violations involving speeding, stop signs and pedestrian cross walks during the evening. Follow these safety tips to help keep your child safe on Halloween:
CHILDREN SHOULD:
Go only to well-lit houses and remain on porches rather than entering houses.
Travel in small groups and be accompanied by an adult.
Know their phone number and carry cell phones for emergency telephone calls.
Have their names and addresses attached to their costumes.
Bring treats home before eating them so parents can inspect them.
Use costume knives and swords that are flexible, not rigid or sharp.
PARENTS AND ADULTS SHOULD:
Supervise the outing for children under age 12.
Establish a curfew (a return time) for older children.
Prepare homes for trick-or-treaters by clearing porches, lawns, and sidewalks and by placing jack-o-lanterns away from doorways and landings.
Avoid giving choking hazards such as gum, peanuts, hard candies, or small toys as treats to young children.
Inspect all candy for safety before children eat it.
Parents and adults should ensure the safety of pedestrian trick-or-treaters
Make sure children under age 10 are supervised as they cross the street.
Drive slowly.
Watch for children in the street and on medians.
Exit driveways and alleyways carefully.
Have children get out of cars on the curb side, not on the traffic side.
WHEN WALKING IN NEIGHBORHOODS:
Use flashlights, stay on sidewalks, and avoid crossing yards.
Cross streets at the corner, use crosswalks (where they exist), and do not cross between parked cars.
Stop at all corners and stay together in a group before crossing.
Wear clothing that is bright, reflective, and flame retardant.
Consider using face paint instead of masks. (Masks can obstruct a child's vision.)
Avoid wearing hats that will slide over their eyes.
Avoid wearing long, baggy, or loose costumes or oversized shoes (to prevent tripping).
Be reminded to look left, right, and left again before crossing the street.
Be Healthy
Options that help keep children healthy and happy on Halloween:
BEST HEALTHY TREATS TO GIVE THE GOBLINS AND GHOULS WHO KNOCK ON YOUR DOOR:
Trail mix or dried fruit (individually pre-packaged)
Protein bars
BEST TRICK-OR-TREATING PRACTICES:
Give your child a light meal or snack before trick-or-treating to prevent snacking on too many goodies
Have them wait until they get home before eating their treats so that you can inspect the goodies first
Tell children not to accept – and especially not to eat – anything that isn't commercially wrapped
Inspect all candy and treats, including commercially wrapped ones, for signs of tampering. Throw away anything that looks suspicious.
Parents of very young children should remove any choking hazards such as gum, peanuts, hard candies or small toys
Consider providing non-food treats for children that visit your home
If juice or cider is served to children at Halloween parties, make sure it has been pasteurized to destroy harmful bacteria. Juice or cider that has not been treated will say so on the label.