TRAILS Mental Health Program for Young Adults Experiencing First Psychosis
Transitioning Adults into Living Successfully (TRAILS)- Providing early and effective treatment for adolescents and young adults who have recently experienced symptoms of psychosis.
Page updated on
November 3, 2023 at 11:48 AM
HOME
HOME |    INDIVIDUALS |   FAMILIES |   PROVIDERS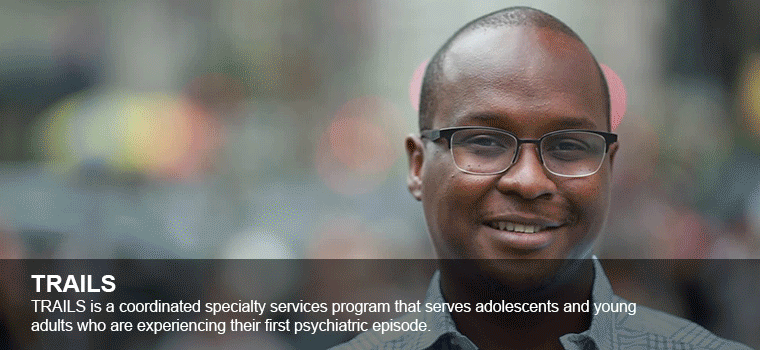 What is TRAILS?
TRAILS is a coordinated specialty services program that serves adolescents and young adults who are experiencing their first psychotic episode.
Who can participate?
Individuals ages 15-30 
City of Alexandria residents 
Have experienced symptoms of psychosis within two years of referral 
Have an ability to benefit from services
Are willing to work with a multi-disciplinary team 
Signs of psychosis may include the following:
Hearing or seeing things that other people don't 
Developing unusual thoughts or ideas 
Difficulty thinking or having disorganized thoughts 
Decreased energy or lack of motivation
Significant change in emotions and/or behaviors
What services does TRAILS provide?
Outreach and referral
Evaluation and assessment
Psychiatric treatment
Recovery coaching
Case management
Psychotherapy
Vocational and educational support
Medication management
Peer support
Supportive housing
Psychosocial rehabilitation programming
Who sponsors TRAILS?
TRAILS is a program of the Department of Community and Human Services' Alexandria Community Services Board.  Major funding is provided by the Virginia Department of Behavioral Health and Disability Services.  Private insurance may be billed for some services. 
Get Help Now
Without treatment, these thoughts, feelings and behaviors can become worse over time.
For more information about the City of Alexandria TRAILS program or to make referrals, contact us. TRAILS: Email trails2recovery@alexandriava.gov | Phone 703.746.3441
Get Help Outside of the City of Alexandria
Fairfax County and the cities of Fairfax and Falls Church: TurningPoint, 703.383.8500
Charles City, Henrico and New Kent counties: InSTRIDE, 804.727.8515.
Washington County and the City of Bristol: NAVIGATE, 276.525.1942 or 276.525.1550.
Loudoun County:  Department of Mental Health, Substance Abuse and Developmental Services. Call 703.771.5155.
Culpeper, Fauquier, Madison, Orange and Rappahannock counties: Young Adult Coordinated Care Program, Call 540.825.3100. 
Prince William County: GetOnTrack, 571.229.3418 or 703.792.7800.
Isle of Wight and Southampton counties and cities of Franklin and Suffolk: Life Management Program, 757.255.7134.
State-wide oversight of coordinated specialty care for young adults by Virginia Department of Behavioral Health and Disability Services. Call the Office of Child and Family Services at 804.371.4604.