Severe Storm and Flash Flood Events
Page updated on
March 28, 2022 at 8:53 AM
Introduction
Since 2019, the City of Alexandria has experienced more intense and severe storm events. Three severe storms that took place over a 14-month period between 2019-2020 prompted the City Manager to establish an interdepartmental task force focused on flooding. This task force launched the Flood Action Alexandria initiative in 2021. Also starting in the summer of 2021, the City installed several local rain gauges across the City to provide a more localized assessment of storm events. This webpage provides an overview of recent severe storm and flash flood events.
Radar Rainfall Analysis Report, Alexandria, VA, October 29, 2021
Flash Flood Event History
September 16, 2021
Staff characterizes the Sept. 16, 2021 storm as a 10-year* event according to the city's Intensity-Duration-Frequency curves. The characterization the City uses is more conservative than the state standard, which would rate the storm at a 25 to 50-year event.
The main area of impact appeared to be nearest the Beach Park gauge, but it appears rainfall was also extremely intense between Beach Park and the Mount Vernon gauges, in SE Del Ray, based on resident reports. T&ES staff were active during this after-hours event and responded to 12 requests from the 311 system, a mix of public (street flooding, manholes) and private property impact reports. Staff is in process of assigning some of the requests to stormwater design for further assessment and three tickets remain open for further Public Works Services staff investigation of inlets and manhole structures.
Public safety was also active. The Office of Emergency Management closely monitored the storm and sent an emergency alert message to about 2,800 people, near Pickett and Van Dorn. The water level at Backlick Run was 3.94' at 5:16 pm. APD did send an officer out to investigate and reported no impacts. APD and Fire also responded to the Braddock-West intersection which was closed for a brief period of time, before reopening soon after 6 pm. Separately, the Lake Barcroft Water Improvement District did reach out to OEM during the storm. OEM also sent several messages to its Alexandria Tech Center/Pickett group. This was a separate notification.
August 15, 2021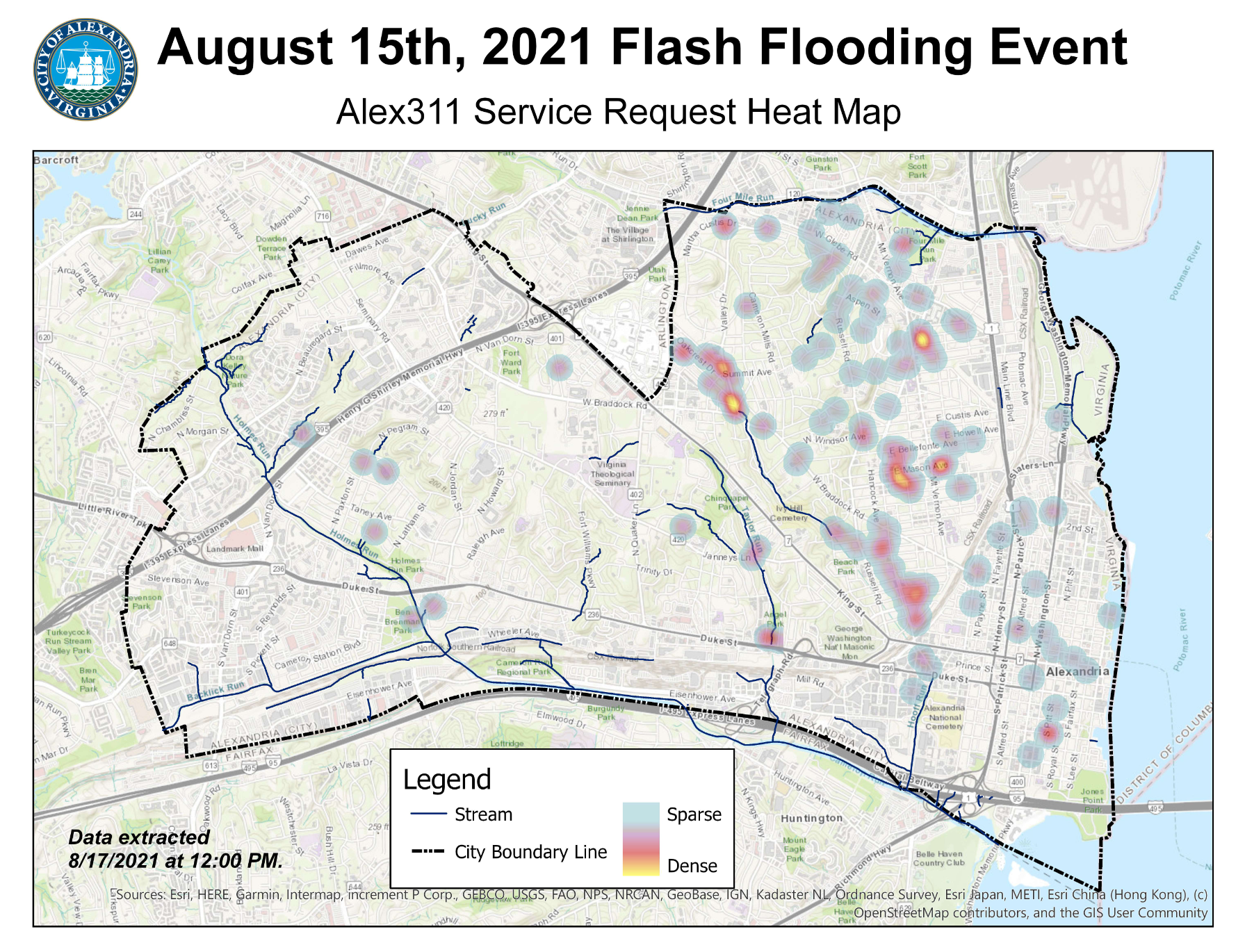 Starting around midnight on August 15, Alexandria experienced flash flooding from an intense, severe storm. Preliminary rainfall data from the newly installed City rain gauge network indicates that between 3 to 5 inches of rain fell in about an hour, with very heavy rainfall rates for 30 minutes. The storm caused widespread flooding, as well as power outages, sanitary backups, road closures, displaced manhole covers, traffic light outages, sink holes and other impacts on City infrastructure.
The highest rain gauge reading was at George Mason Elementary, which recorded a massive 3.19 inches in 30 minutes, 4.43 inches in one hour, and 5.19 inches in two hours, finishing the event with a total of 5.47 inches at the six-hour mark. From a historical perspective, these rainfall intensities correspond to a 200 – 500-year storm event based on the City's Intensity, Duration, Frequency (IDF) curves. The amount of rainfall from this event corresponds to approximately the amount of rain the City receives in one month. These climate-change induced flash floods are much more intense, bringing more rain in less time and are therefore less predictable and more dangerous.
September 10, 2020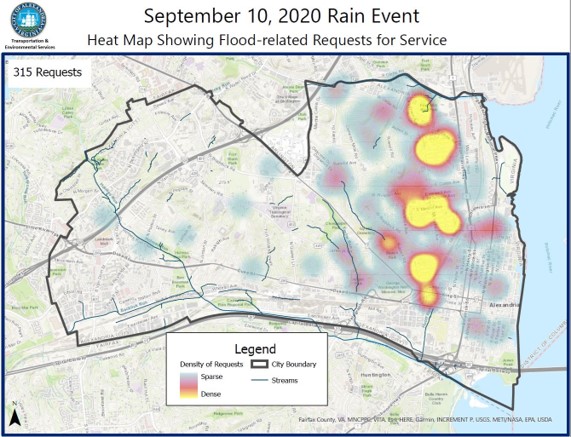 The September 10, 2020 rainfall event was approximately 2.5 to 4 inches at a rate as high as 3 inches in 10 minutes. This was an intense, regional storm that caused widespread flooding throughout Alexandria, particularly in the eastern portion, and included storm sewer line surges and sanitary backups.
July 23, 2020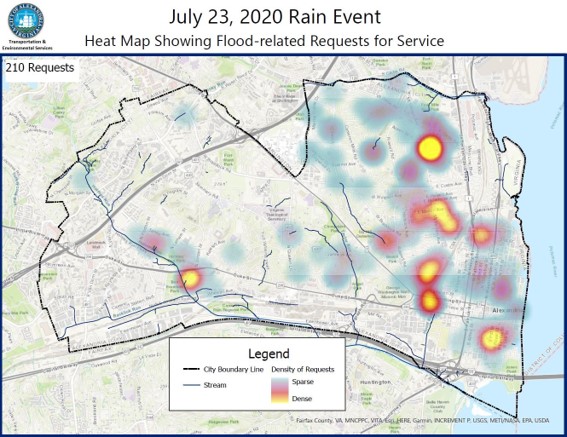 The severe storms and flash flooding of July 23 dropped 2 to 3 inches of rain in 30 minutes, creating a brief, extremely high-intensity event that caused significant flash flooding in many areas, including some not normally impacted by flooding.
July 8, 2019
The regionally significant severe storm on July 8, 2019 dropped up to four inches of rain in an hour.
What You Can Do
Flash floods develop quickly during periods of heavy rainfall, sometimes in just a few minutes. Staying informed to prepare for flooding is one of the best ways to protect yourself and your property. Sign up to receive severe weather alerts through the free Alexandria eNews service. Consider having a weather radio on hand to receive all watches, advisories or warning messages from the National Weather Service and subscribing to receive text messages or email alerts from a private weather app.