Fund for Alexandria's Child
Page updated on
April 14, 2023 at 2:33 PM
Spring2ACTion - Alexandria's Giving Day
On April 26, 2023, we will be participating in Spring2ACTion, Alexandria's Giving Day. But don't miss out…..Early Giving Day starts on April 12 and ends on April 26, so you can start making a difference now!
All Children deserve a safe, comfortable place to lay their heads. Sadly, many children go without a bed—or even a pillow, to sleep on. These children end up sleeping on couches, blankets, and even floors. This can affect their happiness and health.  The Fund for Alexandria's Child will be raising $10,000 for our emergency bed fund as we believe, Every child deserves a safe place to sleep. Safe sleeping locations are especially crucial for newborns in the first months of their life. This goal will let us fulfill more than 100 requests with any remaining funds being directed toward other emergency bedding needs (mattresses, blankets, sheets) for children in foster care or youth at risk for coming into care.
Here's how you can help us:
Thank you for supporting our community's most vulnerable children and families.
See our full Spring2ACtion letter.
20th Annual Fostering the Future Gala
The Fund for Alexandria's Child is excited to welcome you to our 20th Annual Fostering the Future Gala: Hope Grows Here! Our event will be held at Above ALX Community premier rooftop and penthouse venue in the heart of Old Town on Friday, May 19th. Guests will enjoy an enticing silent/live auction, heavy hors d'oeuvres, cocktails, and spectacular 360-degree panoramic views of historic Old Town, the Potomac River, and the sights of DC in the distance.
This annual spring gala serves as our major fund-raiser to support The Fund's mission: enhancing the quality of life of children in foster care and children at risk of abuse and neglect, supporting aging out youth, and supporting the placement of children with relatives.
We look forward to celebrating with you! Thank you for your support of The Fund for Alexandria's Child and the children and families we serve in the City of Alexandria!
E.R. Inside Out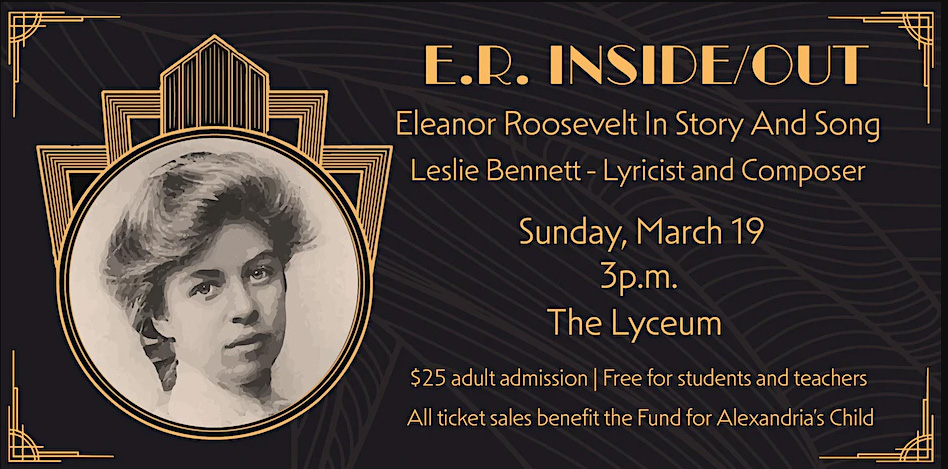 E.R., Inside/Out is a chamber work for a first-person narrator, Laura Marling; soprano, Nancy M. Smith; and piano, Rosanne Conway. Leslie Bennett is both librettist and composer. E.R. was both conceived during the pandemic, beginning with E.R. as a small child, her world through her eyes, Inside/Out.
Tickets will be on sale at the event, and 100% of ticket sales benefit the Fund for Alexandria's Child.
2022 Holiday Sharing Program Recap
Because of the overwhelming generosity of our donors and volunteers, it was possible for many families, foster children, seniors, and disabled residents of our community to experience the joy and blessings of generosity and the holiday season! Our community's belief in helping others and supporting the mission of The Fund for Alexandria's Child Holiday Sharing program has made it possible for us to make a difference in the lives of so many individuals and families in our community.  This year…
426 families with a total of 960 children received grocery and gift cards, presents, bikes, and holiday cheer
The holidays were brighter and merrier for 87 children and teenagers in foster care
The Community Toy Drive organized in partnership with Volunteer Alexandria, received an enormous number of educational toys for children ages 0-3 as well as new books for children of all ages. 137 families participated in the Community Toy Drive which undoubtedly put 156 smiles on all of the children who were served
133 Seniors and disabled adults received grocery and gift cards.

WOW!!

We received $29,732.38 in monetary donations and had a total of 309 Sponsors which included 66 Organizations!
THANK YOU! Each gift, donation, time volunteered, and continuous support matters, especially yours. We could not do this work without you. Together, we are able to do so much more!
Stay tuned for more information about our Fostering the Future Gala 20th Anniversary and other spring happenings….
Who We Are
Because of the generosity of our Alexandria neighbors, we can proudly say that we are a community "taking care of our own."
Our Mission
The Fund for Alexandria's Child works to enhance the quality of life of children in foster care and children at risk of abuse and neglect by promoting community awareness, involvement, and resource development. We achieve our mission by ensuring each child has their basic needs met and providing life-enhancing, life-enriching opportunities such activities as dance, art or karate lessons, summer camping, school field trips, scouting and team sports.  
Because of our community of support, DCHS Family Services Specialists can request direct assistance for:  
Funding Fun! Activities, Camps, and Special Occasions
Basic Needs
Supporting Aging out Youth
Supporting the placement of Children with Relatives  
Every day, The Fund processes requests to provide immediate assistance in the form of basic needs and life-enhancing opportunities to children in foster care and children at risk of abuse and neglect.
How You Can Help
Year-Round Giving Opportunities 
The Advisory Council depends heavily on the generosity of local businesses, faith groups and individuals who donate money, goods and services in support of our fundraising events or year-round as needs arise. Donations are tax-deductible. Please consider volunteering, becoming an event sponsor, or making a financial contribution.
Donate to The Fund for Alexandria's Child  https://fundforalexandriaschild.z2systems.com/donation.jsp?campaign=12&
To donate by mail:
The Fund for Alexandria's Child
2525 Mt Vernon Ave
Alexandria, VA 22301
Support our kids and our cause all year long! Your monthly gift helps us make sure that every request is granted.  
Consider an Honorary or Memorial Donation
The Fund would be honored to receive a contribution in honor or in memory of a loved one who cared about the well-being of our most vulnerable children. Donate by sending a check to the Fund for Alexandria's Child, 2525 Mount Vernon Ave., Alexandria, VA 22301. The donor and the person/family being honored will be notified when contributions are received.
Consider a Donation of Stocks
Donors may also choose to contribute Stock in lieu of a cash donation. The benefit to the donor is the savings of capital gains tax and also the receipt of a full charitable deduction for the value of the stock at the time of the gift. Please call 703.746.5663 for further information.
Fostering the Future: The Fund for Alexandria's Child Video
The Fund for Alexandria's Child Works to enhance the quality of life for children in foster care and those at risk of abuse and neglect by providing funds for them to participate in the activities of childhood such as sports, dance, art, summer camp, field trips and prom.
The Fund for Alexandria's Child Families Helping Families...From Our Home to Yours Virtual Gala was a success!
How do you hold a virtual fundraiser during a pandemic? With a lot of help from staff, volunteers, and friends throughout the City of Alexandria and beyond!  The Families Helping Families...From Our Home to Yours Virtual Gala held on Thursday, August 12, was a tremendous success thanks to sponsors, in-kind donors, volunteers, staff, local businesses, and an estimated 200 viewers! 
Though we could not all come together in person for the gala, we were very excited for the opportunity to still connect to our supporters, social workers, resource parents and other community members located across Alexandria and beyond. We laughed, we cheered, and some of us may have even shed a few tears watching short testimonial videos from our foster parents describing the impact of The Fund.
Thanks to the generosity of sponsors, donors, and guests, the event exceeded the fundraising goal of $35,000 raising over $45,000. We are so grateful.
Advisory Council and Coordinator
The Advisory Council for The Fund for Alexandria's Child is made up of volunteers, people like you, from all walks of life who want to make a difference in the lives of the most vulnerable children in our community. Through family service specialists at the Department of Community & Human Services, we are able to identify children in need and enrich the lives of children in our community who are most at risk. We plan fundraising events, help with the collection and distribution of gifts and other items for the children, and offer our expertise to fulfill our charge: helping Alexandria's foster children and those at risk of experiencing abuse and neglect.
Advisory Council Co-Chairs: Erin Crudden and Lindsay Houff
Coordinator of Community Resources:  
Christine Levine
thefundforalexchild@alexandriava.gov
703.746.5663