Eisenhower Avenue Roadway Improvements
The City of Alexandria is constructing roadway, sidewalk, and bicycle facility improvements along portions of East Eisenhower Avenue between Mill Road and Holland Lane.
Page updated on
Sep 21, 2023 at 12:44 PM
Project Overview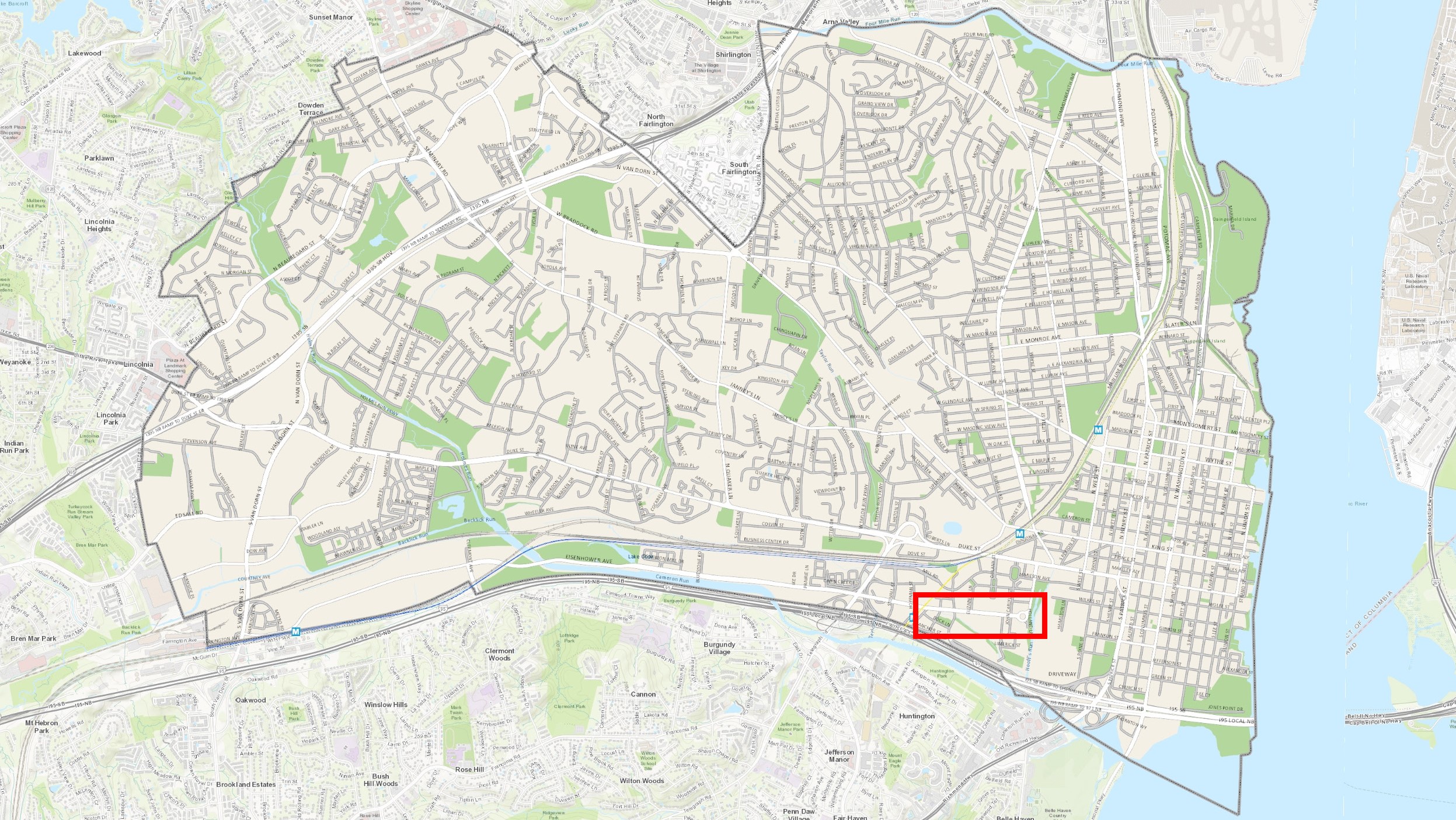 Phase: Construction
Status: Active
Location: Eisenhower East
Managing Dept.: Project Implementation
Sponsor Dept.: Transportation & Environmental Services
Updates
The City would like to share the following message regarding the status of project construction: 
Dear Residents:
Please accept our sincere apology for the extended construction duration and any inconveniences this may have caused.  Construction continues to advance although at a slower pace than anticipated.  Work continues to be hampered by the discovery of utility conflicts.  The City and the Contractor (Sagres) have identified a path forward on the known conflicts.  An early Spring 2023 completion date is now projected.  During the upcoming weeks, drivers and pedestrians will notice continued construction activities along Eisenhower Avenue between Mill Road and Holland Lane.  
Although the completion date has been extended, new pedestrian routes and access to the open-spaced Eisenhower East Community Park at the intersection of Eisenhower Avenue and Mill Road are now available. 
Thank you for your continued patience.
Please feel free to reach out should you have any questions or require additional information.
More information about the causes and impacts of the project delays can be found in the Construction section below.
Project Description
The City of Alexandria is making improvements to portions of the roadway and sidewalks along East Eisenhower Avenue between Mill Road and Holland Lane.
Roadway improvements will be constructed in the following locations:
Eisenhower Avenue from Mill Road to Elizabeth Lane
Eisenhower Avenue from Hooffs Run Drive to Holland Lane
Construction includes:
Addition of a second left-turn lane from westbound Eisenhower Avenue onto Mill Road and new corresponding receiving lane on Mill Road.
Conversion of the roundabout at Eisenhower Avenue and Holland Lane to a "T" intersection. 
Full-width resurfacing of Eisenhower Avenue between Holland Lane and Mill Road. 
Sidewalk and bicycle facility improvements will be installed in the following locations:
Eastbound Eisenhower Avenue

Eisenhower Avenue from Mill Road to Elizabeth Lane
Elizabeth Lane and Hooffs Run Drive (new curb ramps only)
Hooffs Run Drive and Holland Lane
Westbound Eisenhower Avenue

Elizabeth Lane to Mill Road
Holland Lane to John Carlyle Drive
Improvements include:
New eastbound bike lane between Hooffs Run Drive and Holland Lane.
All sidewalks will receive new curb ramps for improved accessibility by Persons with Disabilities. 
Additional enhancements vary by location, but may include:

New street lighting
High visibility crosswalks
Countdown pedestrian signals
Increased signage  
As future private redevelopment occurs adjacent to Eisenhower Avenue, new improved and widened sidewalks will be required, as well as dedicated bicycle facilities.
View a video presentation about the project and improvements being made to Eisenhower Avenue.
Schedule
Construction
Start Date: December 2020
Site Mobilization: January 2021
Completion Date: Spring 2023
Construction
Construction Progress Update
The project has experienced several unexpected utility conflicts involving multiple utilities providing electricity, water, and communications services that were constructed after the design was completed. Scheduling the required relocations has been impacted by the availability of utility construction crews and materials. 
The project team is working through each conflict diligently and expeditiously. The City added resources to our construction management team to advance coordination efforts. The contractor is very cooperative and shifts construction crews to another task and location on the project site when a utility conflict interrupts their work.
We will continue to evaluate temporary lane and sidewalk closures to ensure all pedestrians, cyclists, and drivers can safely navigate the corridor during construction as the focus of activity on-site changes. Update: New pedestrian routes and access to the open-spaced Eisenhower East Community Park at the intersection of Eisenhower Avenue and Mill Road are now available.
At this time, the City anticipates the entire project will be completed in early Spring 2023.
What to Expect During Construction
Traffic will be maintained along Eisenhower Avenue and Holland Lane during construction, but anticipate slightly longer travel times
Access to business will be maintained at all times
Construction will be coordinated with the RiverRenew program for the Combined Sewer System
Civic Engagement
Construction Open House (Virtual)
December 15, 2020
Zoom Webinar
Event Materials:
Special Topics from the Construction Open House
The following special topics were discussed during the Q&A portion of the virtual Eisenhower Avenue Widening Construction Open House on December 15, 2020. This section has been and will continue to be supplemented with information requested by the public.
Environmental Review and Impacts
A  Categorial Exclusion (CE) was submitted to the Federal Highway Authority (FHWA) in 2011 and updated in 2012, as required by the National Environmental Policy Act (NEPA). The DCE identified existing environmental issues and potential impacts associated with the project, including socio-economic, parkland and cultural resources, natural resources, air quality, noise and other factors. As documented in the CE, the project meets the criteria for a Categorical Exclusion and will not result in significant impacts to the human or natural environment.
Construction Noise
The City of Alexandria governs construction noise through Sec. 11-5-4 (b)15 of the city's Noise Ordinance; Construction activities are regulated by permitted hours and not by decibel levels. Construction activities including the use of construction devices and power equipment, equipment loading/unloading, material delivery, communication devices, worker arrivals/departures are permitted during the following hours: Monday - Friday: 7:00 am to 5:00 pm; Saturday:9:00 am to 6:00 pm.
Mill Rd. Widening and Pond Impacts
A Development Special Use Permit (DSUP) amendment #2012-0028 and Master Plan Amendment #2012-0002 was approved by City Council on June 15, 2013, for the final development on Eisenhower East Block 19 (Parc Meridian apartment building at 2250 Mill Road). The DSUP and Master Plan Amendment includes the design for the BMP pond within the Resource Protection Area (RPA). The BMP pond functions as a publicly accessible open space, while achieving stormwater management functions. The BMP / pond is located on land owned by both the developer and the City, and a public access easement allows for use by the public. The DSUP requires the coordination of the development and the future Eisenhower Avenue project, including the widening of Mill Road at Eisenhower Avenue. It also includes the requirement for a construction easement by the property owner, needed on a small portion of the development property for the Eisenhower Avenue project.
Installation of "T" Intersection at Eisenhower Ave. and Holland Ln.
The Eisenhower East Small Area Plan, completed in 2003 and updated in 2020, recommends the installation of a "T" intersection at Eisenhower Avenue and Holland Lane to better accommodate traffic pattern changes anticipated to occur in conjunction with the future new development in Eisenhower East. The "T" intersection will improve pedestrian safety by featuring signalized crosswalks across both Eisenhower Avenue and Holland Lane, as well as provide more accessible open space on both sides of Eisenhower Avenue. This improvement also addresses lane safety concerns caused by large trucks navigating the roundabout by providing a structured intersection with sufficient clearance for these vehicles to turn on and off Eisenhower Avenue.
Consistency with City Plans
The proposed improvements along Eisenhower Avenue are consistent with the City's Environmental Action Plan, the Complete Streets Design Guidelines and the Pedestrian and Bicycle Master Plan.
Transit Impacts
Traffic along Eisenhower Avenue and Holland Lane will be maintained during construction. There are currently no transit routes that use Eisenhower Avenue between Mill Road and Holland Lane, and no transit routes use Holland Lane. There are routes (REX Richmond Highway Express, Metrobus NH2) along Mill Road and on Eisenhower Avenue west of Mill Road, and those routes will be maintained during construction.  The City has been coordinating with both DASH and Metrobus during construction.
Sidewalk and Bicycle Facilities Adjacent to Project Area
City Council adopted the 2019 Eisenhower East Small Area Plan Update on March 14, 2020. The plan recommends additional mixed-use development, as well as increased building heights and more public open spaces, all linked via an improved pedestrian and bicycle network consisting of sidewalks, trails and bike facilities. The proposed network includes improved sidewalks and dedicated bike facilities along Eisenhower Avenue, the Old Cameron Run Trail, and sidewalks and shared bicycle facilities along a new future street grid in Eisenhower East. The Plan does not recommend changes to the established guidance for the Carlyle community, which falls within the borders of the Eisenhower East Small Area Plan. Carlyle is governed by by an approved Coordinated Development District (CDD) and Special Use Permit (SUP) that provide detailed direction on land uses and design. Learn more about the Carlyle and the Carlyle Design Review Board.
Sidewalk Repairs Outside of Project Scope
The project scope does not include replacement/repair for all segments of sidewalk adjacent to Eisenhower Avenue. Residents may contact the City's  311 Service to request sidewalk repairs. Damaged sidewalks will be inspected by the City's Public Works Services to determine the proper remedy or solution for repair. 
Coordination with the Old Cameron Run Trail Project
The City is also currently designing the  Old Cameron Run multi-use trail, a parallel facility to Eisenhower Avenue, that will connect from Payne Street to Hooffs Run Drive along Old Cameron Run. Any extension of the trail to Mill Road is dependent on the redevelopment of private property. If that occurs, the City will work closely with the developer to address accessibility and public safety.
Vegetation Removal During Construction
Tree removal is required to widen Eisenhower Avenue and the additional lane on Mill Road. Tree replacements will be provided per project requirements. In addition, new vegetation will be added to the median.This also includes water quality improvement planters containing trees and shrubs. The planters capture rainwater runoff before if flows into stormwater inlets, allowing pollutants to absorb into the ground instead of flowing into rivers and streams.  The landscape plans can also be found on the project webpage.
Project Inception and Duration
Safety of Students Using School Buses
Pedestrian curb ramps and pavement markings will be updated at the intersection of Eisenhower Avenue and Mill Road, which will improve safety. Drivers are required to follow certain laws when encountering a school bus. Virginia motorists must:
stop for school buses with flashing red lights and an extended stop sign when approaching from any direction;
remain stopped until everyone is clear, and the bus moves again; and,
stop whenever the bus is loading or unloading passengers, even if the lights and stop sign are not activated.
In addition, the Virginia has two new traffic safety laws:
For more information on the new traffic laws, see the City's Vision Zero webpage.
Eisenhower Statue Relocation
The Eisenhower statue has been relocated to a storage facility. The Carlyle Community Council (CCC) is currently evaluating new location options for the statue. There are no specific plans at this time for where the statue will be relocated.  
Design
Civic Engagement
Design Public Hearing
April 4, 2013
Nannie J. Lee Memorial Recreation Center
Event Materials: