City of Alexandria Provides COVID-19 Updates; Use FDA-Approved COVID-19 Home Test Kits
Page updated on
April 5, 2022 at 9:57 AM
City of Alexandria Provides COVID-19 Updates; Use FDA-Approved COVID-19 Home Test Kits
For Immediate Release: March 8, 2022
Alexandria is currently at a low COVID-19 community level according to the Centers for Disease Control and Prevention (CDC). Everyone should stay up to date with COVID-19 vaccines and get tested if they have symptoms. Individuals may choose to wear a mask at any time. Specific settings, such as health care and congregate facilities, may require masks.
Use FDA-Approved COVID-19 Home Test Kits 
The U.S. Food and Drug Administration (FDA) has issued warnings to only use certain COVID-19 tests that have been authorized, cleared or approved by the FDA for distribution or use in the United States. Though no reports of injuries have been associated with use, there is a risk of false results when using unauthorized tests. For the most reliable results, select a COVID-19 home test kit labeled as "FDA authorized SARS-CoV-2 diagnostic test." Do not use the following test kits: 
Visit the City's testing webpage for additional COVID-19 testing options.
Alexandria COVID-19 Vaccination Data At-a-Glance
The dashboard below includes the percentage of residents ages 5 and older who are fully vaccinated, the number partially and fully vaccinated, and progress toward Alexandria's and the state's vaccination goals. Vaccination charts are available at alexandriava.gov/120654. Detailed data, including data on age, race and ethnicity, are available at alexandriava.gov/Coronavirus.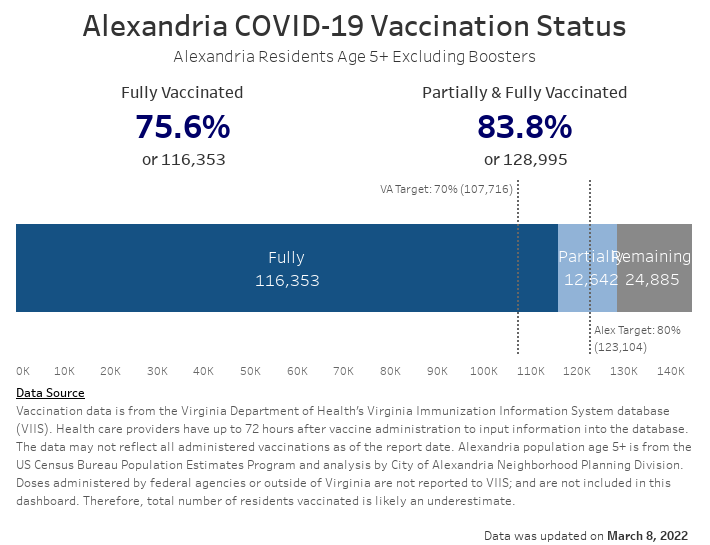 At least one dose: Total number of people who received at least one dose of a COVID-19 vaccine, including those who received one dose of the single-dose Johnson & Johnson's Janssen (J&J) COVID-19 vaccine. This metric includes all people who have received only one dose and those who received at least one dose.
Fully Vaccinated: Total number or percent of people who have completed the recommended series of a given vaccine product (i.e., two doses of the two-dose Pfizer or Moderna COVID-19 vaccine or one dose of the one-dose Johnson & Johnson's Janssen (J&J) COVID-19 vaccine).
Partially Vaccinated: Total number of people who have received the first dose of a two-dose vaccine course but have not yet received the second dose. 
Continue following safety measures even after vaccination. Get tested if you have been exposed to someone with COVID-19. If you test positive, help loved ones and neighbors by informing your close contacts using "What to Do If You Get Sick" guidance, which is available in Spanish, Amharic, and Arabic. 
# # #
This news release is available at alexandriava.gov/go/3399.