City of Alexandria Provides COVID-19 Updates; COVID-19 Symptom Screening Still Critical
Page updated on
April 5, 2022 at 9:56 AM
City of Alexandria Provides COVID-19 Updates; COVID-19 Symptom Screening Still Critical
­­For Immediate Release: March 15, 2021
Alexandria is currently at a low COVID-19 community level according to the Centers for Disease Control and Prevention (CDC). Everyone should stay up to date with COVID-19 vaccines and get tested if they have symptoms. Individuals may choose to wear a mask at any time. Specific settings, such as health care and congregate facilities, may require masks.
COVID-19 Symptom Screening Still Critical

 
As case numbers continue to decline and restrictions ease, the City of Alexandria and the Alexandria Health Department remind everyone to be aware of COVID-19 symptoms and stay home when feeling ill. As part of this effort, a new resource is available for businesses to remind workers what to watch for, when to stay home, and what to do next if they have symptoms or might have COVID-19. The Symptom Screening flyer (English/Spanish and Amharic/Arabic) and other resources are available in the City's COVID-19 Resource Catalog as downloadable PDFs for distribution or reproduction by residents, businesses and organizations. 
Alexandria COVID-19 Vaccination Data At-a-Glance
The dashboard below includes the percentage of residents ages 5 and older who are fully vaccinated, the number partially and fully vaccinated, and progress toward Alexandria's and the state's vaccination goals. Vaccination charts are available at alexandriava.gov/120654. Detailed data, including data on age, race and ethnicity, are available at alexandriava.gov/Coronavirus.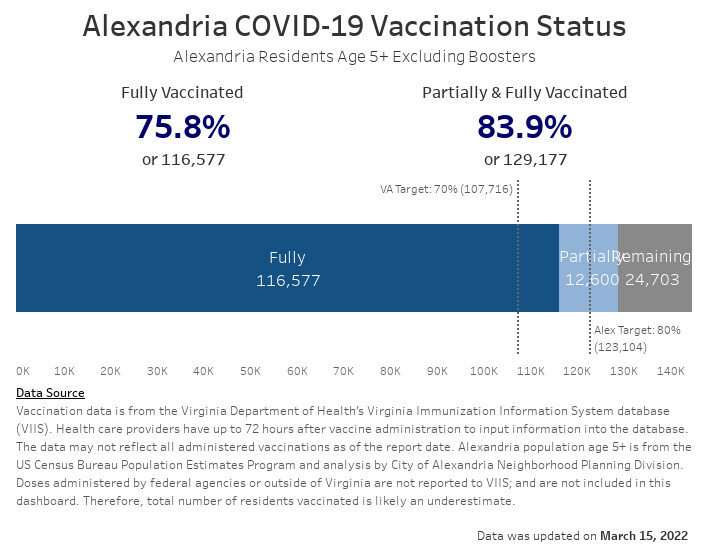 At least one dose: Total number of people who received at least one dose of a COVID-19 vaccine, including those who received one dose of the single-dose Johnson & Johnson's Janssen (J&J) COVID-19 vaccine. This metric includes all people who have received only one dose and those who received at least one dose.
Fully Vaccinated: Total number or percent of people who have completed the recommended series of a given vaccine product (i.e., two doses of the two-dose Pfizer or Moderna COVID-19 vaccine or one dose of the one-dose Johnson & Johnson's Janssen (J&J) COVID-19 vaccine).
Partially Vaccinated: Total number of people who have received the first dose of a two-dose vaccine course but have not yet received the second dose. 
Continue following safety measures even after vaccination. Get tested if you have been exposed to someone with COVID-19. If you test positive, help loved ones and neighbors by informing your close contacts using "What to Do If You Get Sick" guidance, which is available in Spanish, Amharic, and Arabic. 
                                                                                             # # #
This news release is available at alexandriava.gov/go/3430.