Renee Gordon, Director of Department Emergency and Customer Communications in City of Alexandria, Appointed as FirstNet Authority Board Member 
Page updated on
November 28, 2022 at 12:30 AM
Renee Gordon, Director of Department Emergency and Customer Communications in City of Alexandria, Appointed as FirstNet Authority Board Member 
For immediate release: November 14, 2022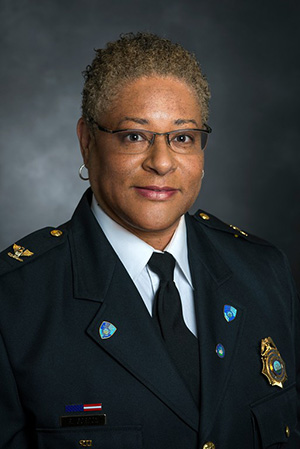 On Friday, November 4, U.S. Secretary of Commerce Gina Raimondo announced the appointment of Renee Gordon, Director of the City of Alexandria's Department of Emergency and Customer Communications (DECC), to serve on the Board of the First Responder Network Authority (FirstNet Authority). 
Gordon will serve as one of 12 non-permanent members selected by the Department of Commerce. Three permanent seats are occupied by the Attorney General of the United States, the Secretary of Homeland Security, and the Director of the Office of Management and Budget. The Board oversees activities to ensure that the FirstNet Authority and AT&T—its commercial partner—develop, build, and operate a nationwide public safety broadband network that will best equip first responders to save lives and protect U.S. communities. 
"Director Gordon brings an undeniable spark to any room she walks into. Her leadership is unparalleled.," said Tenesia P. Wells, Assistant Director of Alex 311. "She is innovative and passionate – a mixture needed to propel any endeavor forward." 
Gordon has provided excellent executive leadership as Director of DECC since 2015. DECC serves as a full-service communications center, handling all the City's 911, 311 and non-emergency calls for police, sheriff, fire, and other local public safety departments. During her tenure, she established the nation's first remote 911 call-taking program using FirstNet technology.  
Gordon began her career as a police officer in Prince George's County, Maryland. Later, she moved on to 911 and emergency communications for the Metropolitan Washington Airports Authority's Public Safety Communications Center and the City of Baltimore 911 and Emergency Communications.   
The First Responder Network Authority is an independent entity within the Department of Commerce's National Telecommunications and Information Administration (NTIA). In March 2017, the Department of Commerce and FirstNet announced a partnership with AT&T to build and operate the first responder network. It is delivering the technologies and infrastructure that public safety relies on for day-to-day operations, disaster response and recovery, and securing large-scale events. 
Visit alexandriava.gov/DECC for more information. 
For inquiries from the news media only, contact the Office of Communications & Public Information at newsroom@alexandriava.gov or 703.746.3969. 
                                                                                        # # # 
This news release is available at alexandriava.gov/go/4118.