Emergency and Customer Communications
The Department of Emergency and Customer Communications (DECC) ensures the effective delivery of routine and emergency calls for service to the City of Alexandria public safety departments.
Page updated on
April 11, 2022 at 5:46 PM
The Department of Emergency & Customer Communications (DECC) is the Public Safety Answering Point for all emergency services within the City of Alexandria.  All 9-1-1 calls are routed through DECC along with non-emergency telephone calls of varying concerns and requests. DECC provides 24-hour, two-way radio communications and other essential services to police, sheriff, fire and other local public safety departments.
Our Mission 
We provide a safe and secure environment by facilitating Police, Fire and Medical dispatch, to preserve and protect the lives and property of all persons living in and visiting the City of Alexandria.
Our Vision
To provide our community with exemplary service in Public Safety 911
National Public Safety Telecommunicators Week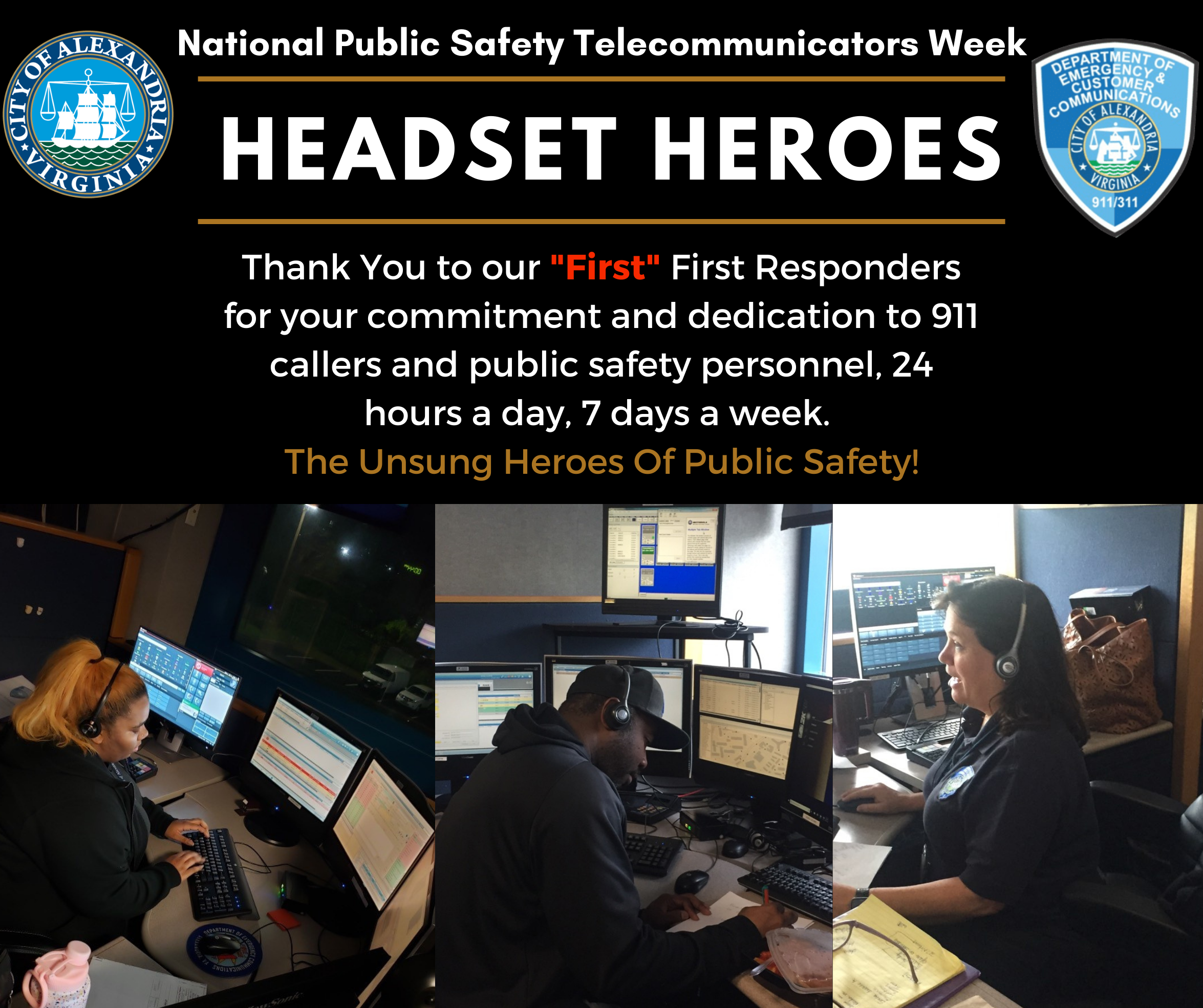 National Public Safety Telecommunicators Week, April 10-16, is an annual recognition dedicated to raising appreciation and awareness of hard-working public safety call takers and dispatchers across the country. Nearly three dozen City telecommunicators dispatch law enforcement, fire, and emergency medical personnel and coordinate with other agencies. Public Safety Telecommunicators are the "first of the first responders" — the first point of contact for people responding to emergencies, and the first point of contact for those seeking emergency services, ranging from persons dealing with intense personal crises to communitywide disasters like the COVID-19 pandemic. In 2021, the City received approximately 71,000 calls to 911. The City's public safety telecommunicators are committed and dedicated to helping every caller through any emergency, 24 hours a day, seven days a week. Your worst day is our workday.
DECC Services
9-1-1 Dispatch: receive and dispatches 9-1-1 emergency calls
Non-Emergency: Police, Fire, EMS non-emergency calls (703.746.4444)
Alex311: provides a single point of contact for City government services and information via 311 or 703.746.4311
City Radio Manager: operates and maintains the Project 25 (P25) Standard radio system utilized by DECC and other City departments
CALEA Accreditation
The City's 9-1-1 center gained public safety communications accreditation through the Commission on Accreditation for Law Enforcement Agencies, Inc. (CALEA) in 2018. Alexandria's 9-1-1 center is the first in the region, and one of seven centers in Virginia to hold such accreditation.
Our Core Values
Professionalism: We exhibit conscientious, courteous, and businesslike behavior in the workplace and conform to the highest ethical and technical standards of our profession.
Integrity: We are strongly committed to the highest performance standards, moral and ethical conduct, and truthfulness in all relationships.
Service: We provide quality service in a courteous, efficient, and accessible manner.
Excellence: We consistently strive to demonstrate our professional and technical excellence.
Respect: We treat all persons, including our co-workers and residents during their time of need, in a fair, in an impartial, unbiased, dignified and courteous manner, with respect for individual differences and ethnic and cultural diversity.
Dignity: We treat all persons with dignity during their time of need.
Pride: We take great pride in our skills, our fellow co-workers, our organization and in our commitment to public service.
Partnership: We value our relationships with others and make quality, transparent decisions in cooperation with our co-workers and customers.
Accountability: We hold ourselves accountable for our actions and we are accountable to the community for all that we do.
Technical and Operational Assessment and Pandemic Operations
Alexandria Department of Emergency and Customer Communications (DECC) Technical and Operational Assessment Pandemic Operations Submitted to: Alexandria, Virginia By APCO International