Stormwater Utility Fees and Credits for Non-Residential Properties
The Stormwater Utility Fee will provide funding for the stormwater management program to reduce the impact of stormwater pollution, flooding, and ensure Alexandria is in compliance with state and federal stormwater regulations. Non-Residential properties include all properties not considered residential properties, such as commercial or industrial properties, apartment buildings, and non-profit or faith-based properties.
Page updated on
June 27, 2023 at 11:43 AM
What is My Fee?
The Stormwater Utility Fee is billed to property owners as a separate line item on their real estate tax bills, half in May and half in October. Properties who do not pay tax receive a bill for just the Stormwater Utility fee. The fee is based on a property's impervious area, or hard surfaces like roofs and driveways that don't let rain runoff soak into the ground. 
To view the Stormwater Utility Fee for any property: Use the property search or Stormwater Utility Fee Viewer and enter the property address. Approved credits will only show on the property search.
Non-residential properties are billed using a calculated method.  The calculated fee is based on a billing unit of 2,062 square feet.  The total impervious area on a property, such as a building footprint and parking lot, are calculated using GIS analysis. 
The fee for the total impervious area of a non-residential condominium building is divided among the condo units proportionally based on the interior floor area of each condo to the total interior floor area. Non-residential condominiums in a mixed-use building will be charged a flat fee, unless their total interior floor area exceeds a certain threshold of the total building interior floor area. The impervious area calculation still only considers hard surfaces that a rain drop could fall on, so it does not consider the interior square footage of a building. 
The stormwater utility fee has increased to accelerate capital stormwater projects and maintenance to mitigate flooding impacts from more intense rainfall events that have occurred over the last three years. City Council voted on an increase for FY22 via revision to the ordinance at the Jan. 26, 2021, Legislative Session and adopted on second reading at the Feb. 20, 2021 Public Hearing. The City Manager proposed a 5% increase to the SWU fee for FY23 that was adopted on May 4, 2022. For FY24, an increase of 5% was proposed by the City Manager and adopted by Council on May 3, 2023. The stormwater utility is billed twice a year in May and October and each billing is based on half (½) the billing rate.  The October 2023 billing rate will be $308.70 and billed at $154.35 (half of $308.70).
Learn more about the Stormwater Utility Fee and the services it funds.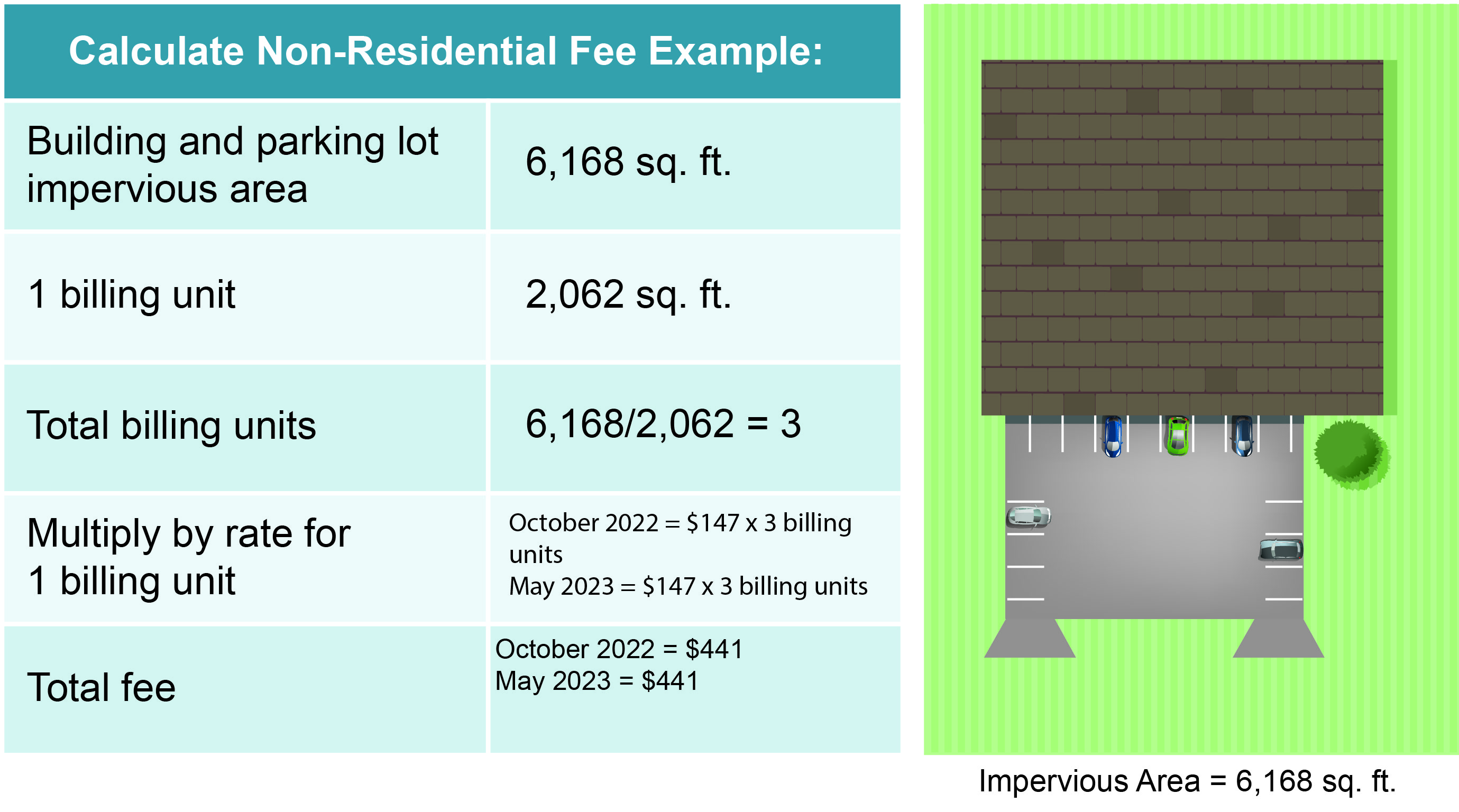 How Do I Pay?
Most customers receive the bill as a line item on their real estate tax bill that is received directly or through their mortgage company in May and October each year. Properties who do not pay real estate tax, receive a bill for just the stormwater utility fee. Contact the Finance Department for assistance or to pay a bill.
Latest Updates on SWU Credits
On November 9th, 2022, the City Council approved the latest Stormwater Utility Credit Manual. The manual provides a menu of credit options per property type. Please read through your property type menu to see what current and new credits are available for you to implement and apply for during the credit application window which starts December 1st and ends February 15th. 
Non-Residential Credit Menu
Combine eligible credits can reduce fees by up to 50 percent! Check out Section 8 of the Stormwater Utility Fee Credit Manual for more information on each practice for non-residential properties. 
Further information about the SWU Credit Program
Property owners can apply for Stormwater Utility Fee credits annually between December 1 and February 15. Registration for litter cleanup programs is open year-round.
Eligible credits may reduce fees by up to 50 percent. Credit eligibility and documentation requirements vary by property type. Learn about the credit policy and how to apply:
Read the Credit Manual to learn more about the credit policies and visit stormwater management best practices to learn more about the design and construction of these practices. 
CREDITS FOR Condition of development STORMWATER FACILITIES
To be eligible for credit, condition of development stormwater management best practices must be designed and installed as per the most current version of the Virginia Department of Environmental Quality (DEQ) BMP Clearinghouse standards or per the standard at the time of development, if the BMP or detention facility was installed as a mandatory condition of development or sale. 
Applications must be submitted with required documentation, including design information, if not on record with the City (this is rare). Generally, annual documentation consists of a certification of proper functioning. 
Upon receipt of a completed application, the City will check that the property and the facility meet the eligibility requirements described in the Credit Manual, including whether a Stormwater Management / BMP Facilities Operation and Maintenance Agreement is on file. The City will contact you if the agreement is not on file or if additional information is required to process the credit application.
CREDITS FOR LITTER CLEANUP PROGRAMS
Registration for litter cleanup programs is open year-round. We encourage property owners or groups associated with the property to register for voluntary programs during the credit application window a year in advance to allow time to conduct the volunteer activities throughout the year. Registration can be performed by either the owner or the group contact for litter cleanup events.
The Credit Manual includes credits for three different litter cleanup programs: Adopt-A-Waterway, Adopt-A-Block, and Adopt-A-Storm Drain.
Step 1: Register during the year. Use the following guides / maps to identify features for adoption:
Adopt-A-Blocks Maps (There are two Adopt-A-Block programs run by Transportation and Environmental Services. The one under the stormwater management program offers participants a stormwater utility fee reduction and the one under the Street Cleaning program offers participants a sign with their group or organization name.)  
Adoptable storm-drains are those on your property. You must have a minimum of 5 to be eligible.
Step 2: Apply for credit during the annual credit application window. Documentation requirements for non-residential voluntary activities include:
Completed program registration
Total number of cleanup hours (Adopt-A-Waterway) and (Adopt-A-Block) or total number of private storm drains adopted (Adopt-A-Storm Drain)
Date-stamped photos from cleanup events
Tally Sheets of pounds of litter collected
How Do I Appeal my SWU Fee?
You may request an adjustment to the fee if there is an error on your bill. Appeals are due June 15th within 30 days of billing.  
Pay your stormwater utility fee even if you've submitted an appeal, because payments are applied first to fees, then to any prior period outstanding balance. This may cause late payment penalty and interest to the assessed on the current tax and fees, if the total due is not paid by the respective due date of the real estate property tax bill.
Once you've submitted an appeal, the City will review and make a determination upon the receipt of a complete application, including any additional information requested by the City. If a petition to adjust your fee is approved, you will receive a revised bill or payment credit.  There are two ways to apply for a appeal. 
If you have any questions, please contact Stormwater@alexandriava.gov
Apply for the Stormwater Utility Fee Credit Program
December 1st through February 15th, you can apply for credit towards your 2024-2025 SWU fees! To learn more about the different practices that are eligible for a SWU fee credit, view the updated SWU Credit Manual. 
To apply online for credits, please follow these steps: 
1.) Go to the real estate assessment website here: Real Estate Property Search
2.) Type in your property details and click search.
3.) Click "Tax and Fee Info" button. This will take you to a new page. 
4.) Scroll all the way to the bottom of the page. It will look like the below screenshot.
5.) Click "Apply for Stormwater Utility Credit" and fill out the application. Our team will be in correspondence with you to let you know the status of your application.  
If paper forms are preferred they can be accessed here: Residential Property, Condo Associations, Non-residential property
For a list of native trees and plants, please review the following list: City of Alexandria Plant List
Contacts