Alexandria LGBTQ+ Community, Task Force and Resources
Information for people who identify as Lesbian, Gay, Bisexual, Transgender and Queer (LGBTQ+) and all who want to build equity and inclusive environments.
Page updated on
October 18, 2023 at 10:30 AM
Alexandria LGBTQ+ Task Force
The Alexandria LGBTQ+ Task Force is a space where LGBTQ+ people and allies gather quarterly to network, share ideas, and plan training and community events. The goal of the Task Force is to create safe and inclusive service provision to LGBTQ+ people in the City of Alexandria. 
We invite all people who believe in equity for the LGBTQ+ community to join the Task Force! The Task Force is governed by the Leadership Team:
Executive Board:

LGBTQ+ Navigators:

Chair – Diana Maurer

Vice Chair – Christopher Pierce

Secretary – Jenifer Eoff

Alexandra Lydon

Charles Costen-Sumpter

Lauren Brown
Interested in joining the Alexandria LGBTQ+ Task Force and attending quarterly meetings? For more information and to join as a community member and/or service provider, please contact members of the Leadership Team and/or the staff facilitator, Erika Callaway Kleiner (she/her), at Erika.Kleiner@alexandriava.gov.
History of the Alexandria LGBTQ+ Task Force
​ Learn about how the Task Force began and the By-Laws that govern its actions.
History
The Task Force began in 2007 as the Alexandria LGBTQ+ Victim Services Advisory Board through a grant to improve services to underserved communities. Staff from the Alexandria Domestic Violence Program and Sexual Assault Center partnered with leadership of what was then the Alexandria Gay and Lesbian Community Association (the AGLCA was later folded into the Arlington Gay and Lesbian Association and is now Equality NoVa).
The Task Force is housed in and supported by the Department of Community and Human Services and has been and is currently funded by various grants.  The Task Force has partnered with many City agencies and community organizations to train thousands of service providers on how to create safe and inclusive environments for LGBTQ+ community members. Service providers include law enforcement, social workers, counselors, advocates, attorneys, teachers, administrators, supervisors, clergy, healthcare professionals, firefighters, and other City, non-profit, and private sector employees. What began as a goal within the sexual and domestic violence programs has grown into a City-wide effort.  The overarching aspiration continues to be improving services and access to services for LGBTQ+ people throughout the City. 
The Task Force also organizes various local awareness events geared to LGBTQ+ community members. In 2018, the Task Force partnered with the Alexandria Library to hold the first Alexandria Pride Fair at Charles E. Beatley, Jr. Central Library. In 2023, Alexandria Pride moved to Alexandria's City Hall and Market Square.
Training to Build LGBTQ+ Inclusive Spaces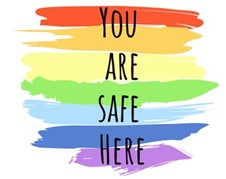 Are you interested in having members of the Alexandria LGBTQ+ Task Force provide training on building LGBTQ+ inclusive spaces to service providers/staff/employees/community members/parents at your organization? The Task Force has trained thousands of service providers, and our trained facilitators tailor each workshop to your audience. Contact Erika Callaway Kleiner (she/her), at Erika.Kleiner@alexandriava.gov.
Support Group for Parents of LGBTQ+ Children and Youth
This group is for parents of LGBTQ+ youth who are looking for support along their journey to be the best parent they can be for their kid(s). We discuss topics such as:
dealing with family members who are not supportive

building a trusting relationship with your youth

coming out as a parent of an LGBTQ+ child

supporting your kid as they find their identity

helping your child to navigate social media influences

learning LGBTQ+ terms and definitions

reconciling your faith with your LGBTQ+ child

locating safe spaces both for you and your child

and much more! 
We are a diverse group of parents and facilitators who are committed to self-growth. We may not feel like we have all the answers but we know that we're not alone. We meet virtually on Fridays during lunch hour, 12-1 pm and are now accepting new participants. If the time/day of the group does not work for you, please let us know! Please email vaparentsoflgbtqyouth@gmail.com for more information and/or to complete a screening.
Progress Pride Flag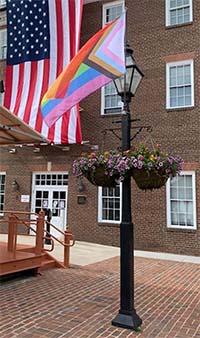 A 2018 redesign of the Rainbow Pride Flag, the Progress Pride Flag is designed by Daniel Quasar and highlights black, indigenous, and people of color (BIPOC), transgender and nonbinary communities. The flags are displayed throughout June to show support for Alexandria's LGBTQ+ community and the City's ALL Alexandria commitment to reduce and eliminate disparities and inequities experienced by all residents, especially those in communities of color and other groups who have been historically and systemically marginalized.
Celebrate Alexandria Pride!
The City offers residents a variety of events and opportunities to celebrate Lesbian, Gay, Bisexual, Transgender and Queer + (LGBTQ+) Pride Month in June and to recognize LGBTQ+ people and their contributions to Alexandria's diverse community and the nation. The Alexandria LGBTQ+ Task Force in partnership with the Alexandria Library, Department of Community and Human Services, and many community partners hosts an annual Alexandria Pride fair. Previous Fairs have provided information about LGBTQ+ inclusive services in Alexandria, free and confidential health testing and vaccines, LGBTQ+ Family Storytime, art and poetry workshops, music, refreshments and LGBTQ+ Pride swag. For more information or to register your organization as an exhibitor at a future fair, contact Erika Callaway Kleiner at erika.kleiner@alexandriava.gov.
Since 1970, Pride month has been celebrated in June to commemorate the Stonewall Riots, which precipitated the first major demonstrations for LGBTQ+ rights in America. On June 28, 1969 police raided the Stonewall Inn in New York City's Greenwich Village, but bar patrons fought back. This resistance is now viewed by many as the beginning of the LGBTQ+ rights movement in the United States.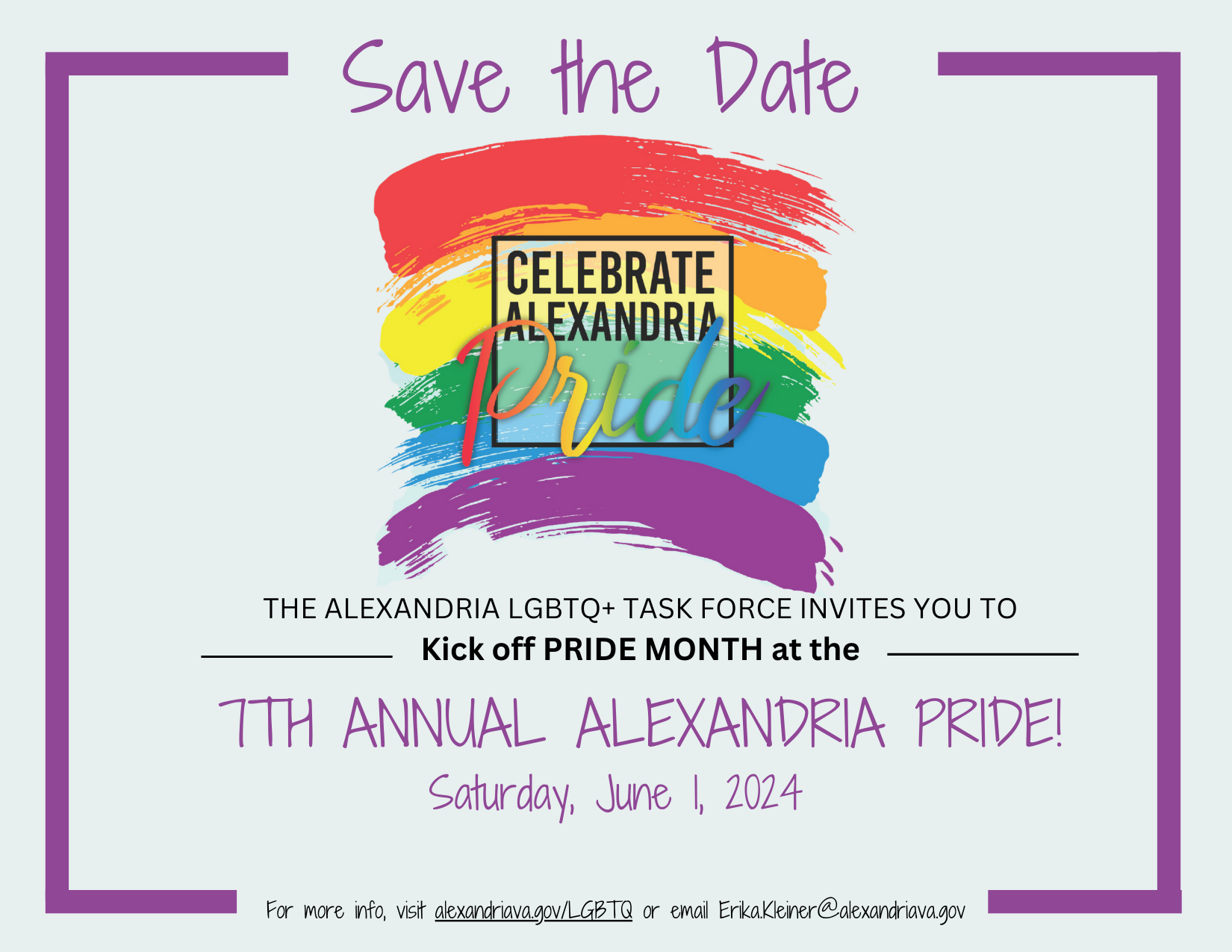 Community Partners
Community Partners who participated in Alexandria Pride 2023
Alexandria Library

Legal Services of Northern Virginia

Virginia Equality Bar Association

Safe Space NOVA

Alexandria Health Department

At Home in Alexandria

NovaSalud, INC

Alexandria Mentoring Partnership

Alexandria Fire Department

Transgender Education Association

SCAN of Northern Virginia

Alexandria Sheriff's Office

Equality NoVa (formerly known as AGLA)

The Oakley Group

Latina Institute for Reproductive Justice, Virginia

Healthy Minds Therapy

Christ Church Alexandria

Impacto LGBT

Leslie Jerkins - Old Town Therapy

Pampered Pet Boutique and Bakery

Alexandria Aging and Adult Services

Alexandria Office of the Arts

Department of Community and Human Services (DCHS)

Alexandria Sexual Assault Center & Domestic Violence Program

Alexandria Campaign on Adolescent Pregnancy (ACAP)

Substance Abuse Prevention Coalition of Alexandria (SAPCA)

Alexandria Community Service Board (CSB)/TRAILS

Alexandria City Public Schools (ACPS)

Alexandria Office of Human Rights

Teen Wellness Center

Sand and Steel Fitness

Saint James United Methodist Church

Alexandria Police Department

Equality Virginia

Heard Program

Alive!

Alexandria Democratic Committee

Commonwealth Baptist Church

Sentara Healthcare

Lauren Brown - LGBTQIA+ Affirmative Counseling

Friends of Guest House

Salon deZEN

Alexandria Recreation, Parks and Cultural Activities
Make sure you're ready to celebrate Pride safely! Review the Prepped for Pride Checklist from the Alexandria Health Department. Prepped for Pride (alexandriava.gov)
Alexandria Pride Photo Gallery
LGBTQ+ History Month
In recognition of October as LGBTQ+ History Month, the LGBTQ+ Task Force is sharing information about queer history in Alexandria and around Northern Virginia. Did you know that Alexandria was the first locality in Virginia to extend protections to gays and lesbians through its human rights ordinance? Or that the owner of a gay bar in Alexandria successfully sued to overturn a Virginia law that had prohibited bars from selling alcohol to gays and lesbians?
The Office of Historic Alexandria has published several Out of the Attic columns and social media posts on these and other compelling aspects of local LGBTQ history.
City of Alexandria Earns Perfect Score on Human Rights Campaign's Municipal Equality Index!
Alexandria's Municipal Equality Index Score
The Human Rights Campaign scores over 500 cities nationwide based on capital status, size, and proportion of same-sex couple residents, among other factors. Scores range from 0-100 and are capped at 100 points.  
Points are awarded based on, among other criteria: 
Non-discrimination in private employment, housing, and public accommodations 
Non-discrimination in City employment, including both sexual orientation and gender identity 
Community-facing Human Rights Commission and LGBTQ+ Liaison in City executive's office 
Youth bullying prevention for City services, and services supporting LGBTQ+ youth 
Leadership's public position and legislative efforts on LGBTQ+ equality 
There are 100 standard points that apply to all municipalities scored, and 22 flex points that may not apply to all cities scored. Flex points are awarded for items which apply to some but not all cities.
More information on the HRC's Municipal Equality Index can be found here. Scores for Alexandria, VA can be found here.
LGBTQ+ Resources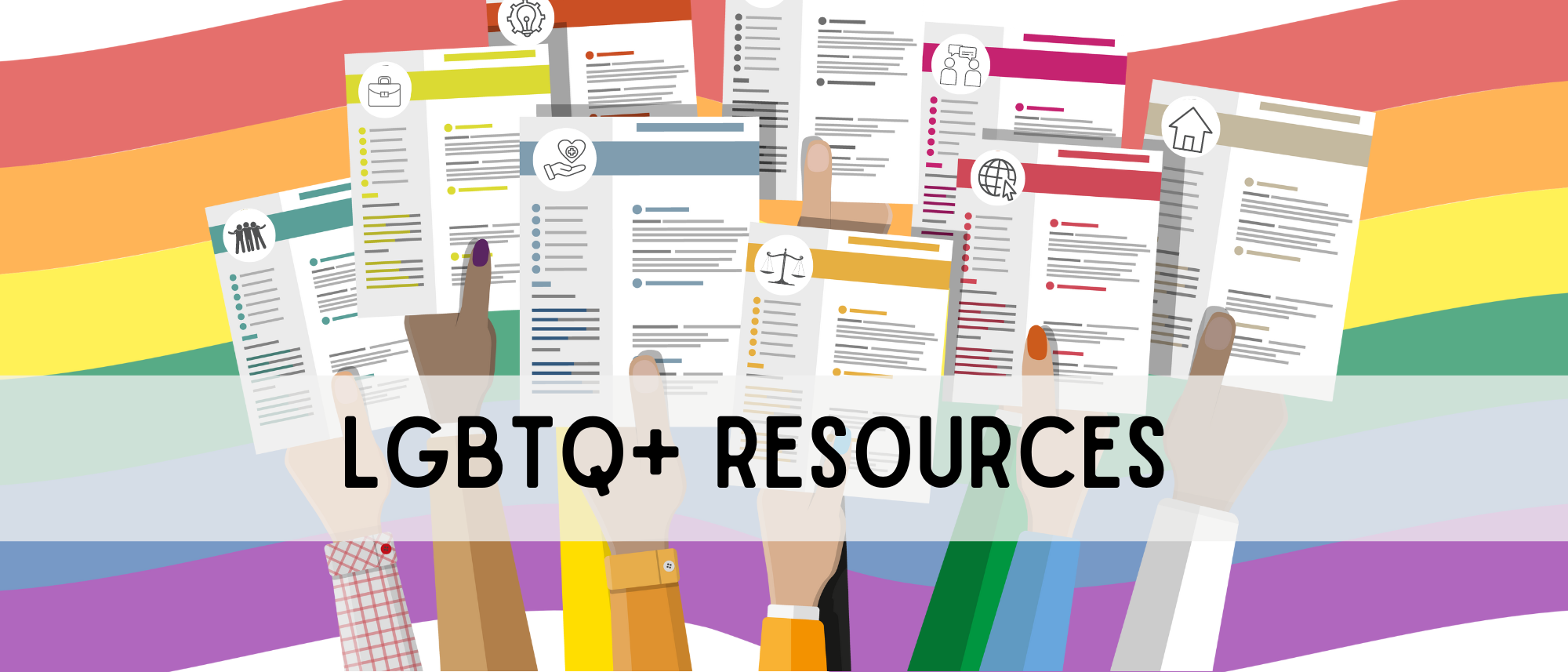 Creating Safety 
| | |
| --- | --- |
| |                                                        |
People who identify as LGBTQ+ often face additional barriers to accessing services.  For example, research shows that intimate partner violence exists in LGBTQ+ relationships at the same rate as in heterosexual and gender conforming relationships.  Abusive LGBTQ+ relationships have similar dynamics of power and control as other abusive relationships; however, abusers can also take advantage of a heterosexist and homophobic society. For instance, some abusers threaten to "out" the survivor to parents, friends or employers, which could have detrimental consequences for the survivor.  In addition, people who identify as LGBTQ+ are often targeted for sexual violence and hate crimes perpetrated by family members, acquaintances, partners or strangers. Since many service providers have historically not been culturally competent and equipped to serve LGBTQ+ survivors, intimate partner violence, sexual violence, and hate crimes against LGBTQ+ people have frequently gone undetected and unreported.  The Alexandria LGBTQ+ Task Force is working to help remove barriers to services and create emotional and physical safety for all people in Alexandria, including LGBTQ+ people. 
If you or a friend have survived or are surviving sexual or intimate partner violence, please call our trained hotline staff for support.
     Hotline: 703.746.4911   
     Hotline: 703.683.7273