LGBTQ Community, Task Force and Resources
Information for people who identify as Lesbian, Gay, Bisexual, Transgender and Queer (LGBTQ).
Page updated on
March 23, 2023 at 4:47 PM
Pride Month in Alexandria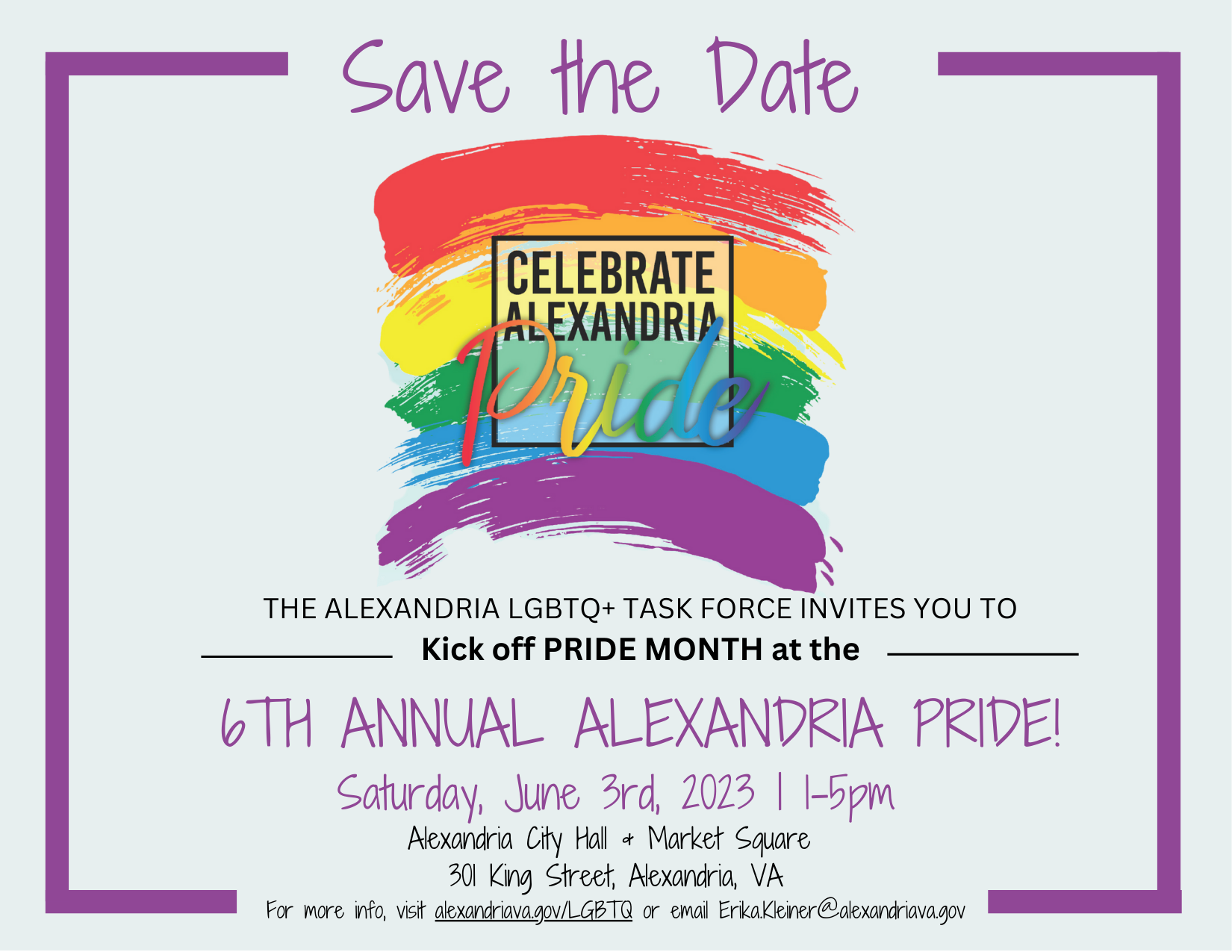 Is your organization interested in being an exhibitor this year at Alexandria Pride on June 3? Please fill out this registration form. Thank you!
The City offers residents a variety of events and opportunities to celebrate Lesbian, Gay, Bisexual, Transgender and Queer (LGBTQ+) Pride Month in June and to recognize LGBTQ+ people and their contributions to Alexandria's diverse community and the nation. The month kicks off with Celebrate Alexandria Pride workshops, and other events. Residents are also encouraged to access and share resources for individuals in the LGBTQ+ community and those who support them, including anti-violence, educational and health resources as well as resources for youth, parents and older adults.
Progress Pride Flag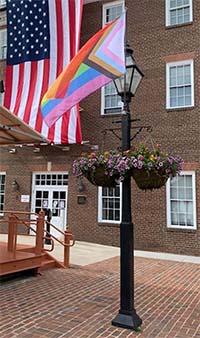 A 2018 redesign of the Rainbow Pride Flag, the Progress Pride Flag is designed by Daniel Quasar and highlights black, indigenous, and people of color (BIPOC), transgender and nonbinary communities. The flags will be displayed throughout June to show support for Alexandria's LGBTQ+ community and the City's ALL Alexandria commitment to reduce and eliminate disparities and inequities experienced by all residents, especially those in communities of color and other groups who have been historically and systemically marginalized.
Annual Alexandria Pride Fair
Typically, the Alexandria LGBTQ Task Force celebrates Lesbian, Gay, Bisexual, Transgender and Queer (LGBTQ) Pride Month by hosting annual Pride Month Fairs.
Previous Fairs have provided information about LGBTQ-inclusive services in Alexandria, free and confidential HIV testing, LGBTQ Family Storytime, light refreshments and LGBTQ Pride swag. The Fair is sponsored by the Alexandria LGBTQ Task Force, Alexandria Domestic Violence Program, Alexandria Sexual Assault Center and Alexandria Public Libraries. For more information or to register your organization as an exhibitor at a future fair, contact Erika Callaway Kleiner at erika.kleiner@alexandriava.gov.
Since 1970, the month has been celebrated in June to commemorate the Stonewall Riots, which precipitated the first major demonstrations for LGBTQ  rights in America. On June 28, 1969 police raided the Stonewall Inn in New York City's Greenwich Village, but bar patrons fought back. This resistance is now viewed by many as the beginning of the LGBTQ  rights movement in the United States.
LGBTQ History Month
In recognition of October as LGBTQ History Month, the LGBTQ Task Force is sharing information about queer history in Alexandria and around Northern Virginia. Did you know that Alexandria was the first locality in Virginia to extend protections to gays and lesbians through its human rights ordinance? Or that the owner of a gay bar in Alexandria successfully sued to overturn a Virginia law that had prohibited bars from selling alcohol to gays and lesbians?
The Office of Historic Alexandria has published several Out of the Attic columns and social media posts on these and other compelling aspects of local LGBTQ history.
Gay Fairfax, a public access cable television program that aired in the early 1990s, sometimes covered news in Alexandria. In 1991, Gay Fairfax covered the opening of the French Quarter bar at 808 King Street. The segment includes interviews with owners and patrons. https://youtu.be/E58Y7v0STBQ?t=115 Photo: In 1991, the Washington Blade published on its front page this photo showing patrons at the French Quarter bar in Old Town celebrating after a federal judge determined Virginia's ban on serving alcoholic beverages to gays and lesbians was unconstitutional. An owner of the French Quarter, then the only gay bar in Northern Virginia, had initiated the suit shortly after opening the establishment at 808 King Street. Credit: Copyright © by the Washington Blade, photo by Doug Hinckle.
Gender Nonconforming Entertainers Perform in Alexandria Theater
Photo Louis Diggs Courtesy AFRO American newspapers
Remarkable Visibility of Hannah Nokes, a Transgender Woman in Jim Crow Virginia
Photo: Hannah Nokes in Rural Electrification News, courtesy University of Michigan Library, reproduction by Robert Pfaff.
Northern Virginian Bruce Scott Challenges Federal Government for Disqualifying Gay Civil Service Applicants
Alexandria Approves Changes to Human Rights Ordinance to Extend Protections to Gays and Lesbians Facebook post
Women Win Complaint After Being Kicked Out of Old Town Bar for Dancing Together Facebook post
Gay Bar Opens on King Street, Successfully Challenges ABC Prohibition on Selling Alcohol to Gays and Lesbians Alexandria Times Article
Virginia drops ban on serving drinks to Gays," Washington Blade, October 25, 1991
https://mattachinesocietywashingtondc.files.wordpress.com/2016/04/bladevaabc.pdf
Mapping Gay Space in Northern Virginia
https://www.alexandriava.gov/uploadedFiles/historic/info/attic/2021/Attic20210624GayGuides.pdf
Mapping the Gay Guides: Understanding Queer Spaces in Pre- and Post-Stonewall America
https://www.youtube.com/watch?v=pI82T9SISCc
Alexandria Adds Gender Identity and Transgender Status to City Protections
https://alextimes.com/2019/12/city-council-trans/ 
LGBTQ Task Force
The Alexandria LGBTQ Task Force is a space where LGBTQ people and allies gather quarterly to network, share ideas, and plan training and community events. The goal of the Task Force is to create safe and inclusive service provision to LGBTQ people in the City of Alexandria. 
  
The Task Force began in 2007 as the Alexandria LGBTQ Victim Services Advisory Board and has always been supported through the Alexandria Domestic Violence Program and Sexual Assault Center.  The Task Force has partnered with a number of City agencies and community organizations to train thousands of service providers on how to create a safe and welcoming environment for LGBTQ community members. Service providers include law enforcement, social workers, counselors, advocates, attorneys, teachers, administrators, supervisors, clergy, healthcare professionals, firefighters, and other City employees. What began as a goal within the sexual and domestic violence programs has grown into a City-wide effort.  The overarching aspiration continues to be improving services and access to services for LGBTQ people throughout the City.  The Task Force trains service providers and also organizes local awareness events geared to LGBTQ community members. 
For more information or to join the Task Force as a community member and/or service provider, please contact members of the Executive Board of the Alexandria LGBTQ+ Task Force and the staff facilitator, Erika Callaway Kleiner (she/her), at Erika.Kleiner@alexandriava.gov.
General Resources
Resources for Youth and Parents
Parent Support Group for Virginia Parents and Caregivers of LGBTQ+ Children and Youth  - This support group is for Virginia Parents and Caregivers of LGBTQ+ Children and Youth and is 

free, online, confidential and weekly, starting this spring

. Join us if you want to learn more about how to support your child and yourself, while connecting with other parents. View 

flyer

 for more information or

email VAparentsofLGBTQyouth@gmail.com to register.
PFLAG  (Parents, Families, and Friends of Lesbians and Gays) | Metro DC PFLAG | Email pflag.alexandria@gmail.com or arl.pflag@gmail.com for information on local chapters and support groups.
LGBTQ Family Acceptance - a new online resource for LGBTQ youth and families to help decrease isolation, family rejection, mental health risks, and increase well-being
The Trevor Project  - The leading national organization focused on crisis and suicide prevention efforts among lesbian, gay, bisexual, transgender and questioning (LGBTQ) youth
Side by Side (formerly Richmond Organization for Sexual Minority Youth ROSMY)
Sexual Minority Youth Assistance League (SMYAL), Washington, DC
Helping Families Support Their Lesbian, Gay, Bisexual, and Transgender (LGBT) Children  - A brief by Dr. Caitlin Ryan, Director of The Family Acceptance Project
Coming Out in Middle School  - NY Times Article
Education Resources
Creating Safety 
People who identify as LGBTQ often face additional barriers to accessing services.  For example, research shows that intimate partner violence exists in LGBTQ relationships at the same rate as in heterosexual and gender conforming relationships.  Abusive LGBTQ relationships have similar dynamics of power and control as other abusive relationships; however, abusers can also take advantage of a heterosexist and homophobic society. For instance, some abusers threaten to "out" the survivor to parents, friends or employers, which could have detrimental consequences for the survivor.  In addition, people who identify as LGBTQ are often targeted for sexual violence and hate crimes perpetrated by family members, acquaintances, partners or strangers. Since many service providers have historically not been culturally competent and equipped to serve LGBTQ survivors, intimate partner violence, sexual violence, and hate crimes against LGBTQ people have frequently gone undetected and unreported.  The Alexandria LGBTQ Task Force is working to help remove barriers to services and create emotional and physical safety for all people in Alexandria, including LGBTQ people. 
If you or a friend have survived or are surviving sexual or intimate partner violence, please call our trained hotline staff for support.
Domestic Violence/Intimate Partner Violence Hotline: 703.746.4911   
Sexual Assault Center (SAC) Hotline: 703.683.7273