Honoring Deputy Chief Brian Hricik
Page updated on
April 11, 2023 at 1:00 PM
Honoring Deputy Fire Chief Brian Hricik
It is with great sadness that Alexandria Fire/EMS Chief Corey A. Smedley announced the death of Medical Service Deputy Chief Brian Hricik. After a battle with cancer, Chief Hricik died on February 23, 2023, with his family and loved ones by his side.
Brian began his EMS career with the Alexandria Fire Department in 1997 after volunteering in Prince William County. Over the past 25 years, Brian proved himself as an outstanding leader and advocate for a high performing EMS system. Prior to becoming the Medical Services Deputy Chief, he served in various capacities including medic, EMS Training Coordinator, and EMS Supervisor.
The Alexandria Fire Department has not only lost an outstanding employee and Medical Services Deputy Chief, but a dedicated and well-respected colleague and friend. This is a time of great sadness for the department and for the City of Alexandria.
Please direct all inquiries to 311 or (703) 746-4311
Memorial Service
Arrangements are as follows:
Viewing:
Friday, March 10, 2023, Time: 2-4 p.m. and 6-8 p.m.
9902 Braddock Rd., Fairfax, VA
Memorial Service:
Saturday, March 11, 1 p.m.
124 Park St. NE, Vienna, VA
Live streaming of the service can be viewed here on the day of the memorial service.
NOTE: All attendees are urged to carpool and use public transit to attend the memorial service, as parking at Vienna Presbyterian Church is limited and by invitation only during the memorial service. Due to the estimated number of attendees, parking will be allowed at Wolf Trap (1645 Trap Rd., Vienna, VA) beginning at 10 a.m. on Saturday, March 11, and shuttle buses will begin transporting attendees to the church beginning at 10:30 a.m.
Impact on the Community
Mutual Aid - At no cost and as part of mutual aid agreements, Alexandria will be covered by regional partners to allow the Department personnel to attend memorial services. When calls for service are made, they are answered by first responders from neighboring jurisdictions with their own apparatus and staff, who provide the same high quality service that is given from our own Alexandria Fire Department.
Traffic - Impact to traffic in the city will be minimal during the procession on Saturday, March 11.
Timeline of Processional & Memorial Service
6:15 a.m. – Road closures begin at Powhatan and Second streets surrounding Station 204 (900 Second St., Alexandria, VA)
8 a.m. – Road closures begin on Mill Street near Vienna Presbyterian Church (124 Park St. NE, Vienna, VA)
11 a.m. – Processional leaves Station 204 en route to Vienna Presbyterian Church
12:15 p.m. – Processional arrives at Vienna Presbyterian Church
1 p.m. – Memorial service begins
2 p.m. – Memorial service ends
5 p.m. – AFD units return to the City of Alexandria and go back in service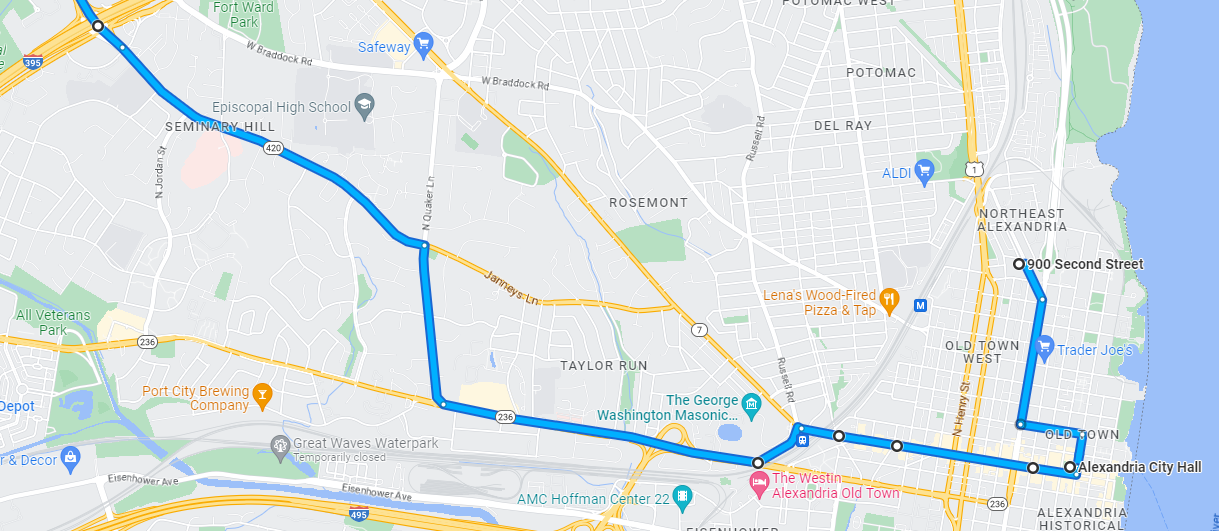 Donations & Condolences
Anyone wishing to send condolences or show support for the Hricik Family can send floral arrangements to Fairfax Memorial Funeral Home. You can also learn more about Deputy Chief Brian Hricik and donate at Responder Care.
Fire Department Family
The Alexandria Fire Department appreciates the support of our extended family of public safety colleagues locally, regionally, and nationally. We're also grateful for the support of the community and our City of Alexandria partner agencies.
Photos: Procession & Memorial Service
Public safety personnel from across Northern Virginia support the Alexandria Fire Department and pay their respects to Medical Services Deputy Chief Brian Hricik on Saturday, March 11, 2023 at Vienna Presbyterian Church. After a battle with pancreatic cancer, Chief Hricik passed away on Thursday, February, 23, 2023. Photos by Louis Tinsley and Zak Arctander.